"We are still open for business and I have a shit ton of work to do," says Tori Socha when I ask what's going on in the unscripted group at the Paramount Network. It is a very candid and bold statement from a complex executive at a critical turn in her career, as VP of original programming at the net, formerly Spike TV. "I'm trying to be as aggressive as I can. Bring me something bold and original and let me take my swing."
An encounter with Tori often hits you like a dance with a windstorm. You think you have it figured out until a sudden gust reminds you how strong forces of nature can be.
She grew up in Fairfax, Virginia just below the Mason Dixon line and although she tolerates country music, loves a good shrimp and grits and drops a "Bless your heart" on the daily, she wants me to know she's not Southern. I'm not buying any of it, but such is the paradox that is Tori Socha. She is equal parts kind, tough, shrewd and smart. And if you don't pay close enough attention, you might miss what she's really throwing down.
"I was an adventurous kid and a bit of an attention hog," she says casually. Maybe that explains why she went down a double black diamond the first time she went skiing. "I tended to sometimes do dumb things, like roller blade down concrete steps across the school campus," she admits. "I was a cheerleader, played music and sports and danced a lot. I always was the kind of person who just kind of went for it."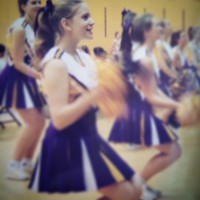 It's possible that this headstrong spirit came from her parents. She was born to a teen mom and an entrepreneurial dad who ran successful delis in the Northwest section of DC. "My father is Polish and my mom was Greek and these cultures give you a love and appreciation for great food, music and dance," she says.
In fact, it was at a karaoke night, fresh off her killer performance of Pump Up the Jam, that Tori met the guy she would marry. "He wouldn't get on the stage and sing but he later challenged me to a sidewalk dance-off as we left the club. And that's what made me fall in love with him," she recalls. "It definitely was an electric night. Something shook in the earth.
"I'm lucky," she adds. "I found a man not because I needed him but because I wanted him in my life. I wanted a partner I could be equal with and that was very special to me. He was going to be my person from early on. You know who you love."
Tori's dues-paying journey to her current post at Paramount has the ring of a scripted project. She survived cold, grey winters at Syracuse University to earn her degree while treating herself to an Eat, Pray Love-style internship in Florence, Italy to fulfill her minor in art history. She crashed on a friend's couch when she first came to LA while interning at Comedy Central and for Extreme Makeover. A stint at a literary management company co-owned by Michael Douglas exposed her to the value of life rights, adapting IP and building a film from the ground up. She even survived a not-so-pleasant experience in talent agency boot camp, making valuable relationships with such fellow assistants as Amir Shahkhalili and David Sherman.
"I would literally write in lipstick on the mirror, 'You can do this,'" she recounts. "I promised myself I wouldn't stay for more than a year. On the 363rd day I left and wound up on Nancy Daniels' desk at CBS. I attribute anything and everything I ever learned to her. She was my greatest mentor."
Tori stayed as a part of Team Daniels through stints at Discovery Studios and later at TLC. "I remember at Discovery Studios it was just three of us trying to turn this idea of a studio into something real," she says. "I think at one point I was the IT person. It was a total start up. I always had that entrepreneurial blood in me from watching my dad build his business. Getting to experience a version of that in a field I loved with people I admired left me so fulfilled."
Two years at Syfy would eventually segue to a gig at Spike, which became Paramount Network, where she has been for almost six years. Paramount has recently taken a big swing, rebooting Wife Swap, which will run until June 6.
Family has always been such an integral part of Tori's life and recently she became a mom herself.
"At 15 months, my daughter is bold and fearless," she gushes. "She has this great sense of humor and a way of keeping me from becoming jaded about the wonders of the world and life.
"My biggest regret is not having my mom here to experience it all with me," she adds. "She was my best friend, unpaid therapist and someone I shared everything with. Right before she succumbed to lung cancer, she said the only regret she would have in life would be not knowing her future grandchildren. But the thing is, my daughter knows my mother, through the songs I sing her, the meals I make her, the way I love her — all things my mother gave to me, and I now give to my daughter."
But just when you begin to think you know who Tori Socha is, she reminds you: "I have more spitfire in me than people realize. I am not lacking in confidence. I know who I am. People mistake kindness for weakness. I can be aggressive when it's time to get business done."
As I walk out the building I think of all the interactions I have had with Tori over the years. Job interviews. Pitches. Small talk at Realscreen events. I can't help but wonder which exchange earned me a "Bless your heart." No matter, I'm more than fine with it.
Joe Livecchi is founder and CEO of the prodco Noble Savages. Through these monthly profiles, you'll learn more about top executives through an unprecedented glimpse into their personal lives — as Livecchi says, "who they are and what made them that way." For more profiles, keep an eye on realscreen.com and also check the Noble Savages site.