Entrepreneur and television personality Jon Taffer is heading back to Viacom-owned pay-TV channel Paramount Network for a six-episode spin-off of its Bar Rescue franchise.
The 6 x 60-minute Marriage Rescue will follow Taffer (pictured) as he applies similar conflict-diffusing tactics he employs in Bar Rescue in an attempt to helps a diverse set of couples and newlyweds whose relationships are on the brink of failure.
Marriage Rescue will follow Taffer as he invites troubled couples to five-star beach resorts in the Caribbean in an effort to save their relationships by escaping the distractions of the daily grind of their lives. Once in warmer climes, Taffer explores the issues straining each couple's marriage through a series of customized and exotic challenges.
Each standalone episode of the 3 Ball Entertainment-produced relationship series will culminate with the couples deciding whether they leave the show together or opt to part ways.
Marriage Rescue is executive produced by Jon Taffer, Ross Weintraub, Ronak Kordestani and Joel Rodgers. Paramount Network's Chaz Gray, executive producer of current and original series, oversees production.
Marriage Rescue premieres June 2 at 10 p.m. ET/PT on Paramount.
Ahead of the premiere, Realscreen caught up with 3 Ball Entertainment CEO Ross Weintraub (pictured below, left) and Devin McGovern (right), Rescue franchise co-EP, to discuss what sets Marriage Rescue apart from others in the relationship space.
This interview has been edited and condensed for clarity and length.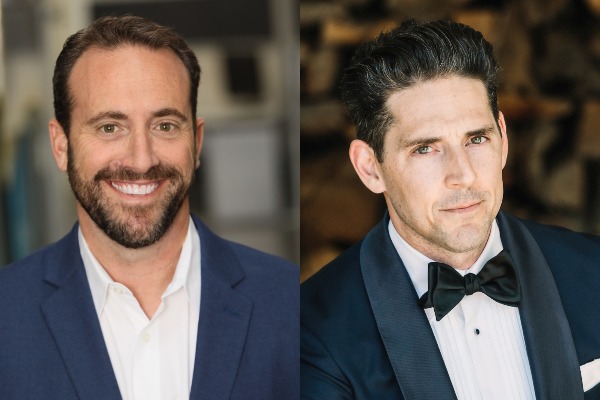 How did the idea for Marriage Rescue come about?
Ross Weintraub: It actually came from Jon as both shows [Bar Rescue and Marriage Rescue] deal with relationships at the core. When Jon's in the field with Bar Rescue, it ultimately comes down to fixing a relationship whether it's in the bar, whether it's the managers or employees, or some kind of family structure within the bar. From there, Jon said 'I'm really good at this people side of it', and he pitched us the idea and we took it to Paramount.
Does Jon have any formal training as a therapist, marriage expert or anything like that?
Devin McGovern: Not that we know of, he doesn't have any formal professional training. A lot of these couples have gone that route, and the great part about this show is that they've done that professional therapy route. Taffer doesn't have that type of training, but he has actual hands-on training from years of BarRescue and even years before when he worked with relationship partnerships, business owners.
What sets Marriage Rescue apart from others in the relationship space?
DM: In Bar Rescue and Marriage Rescue, Jon is direct. There's no bullshit, and he really puts the issues back in their face and they have to figure out how to resolve it and fix it. He doesn't put up with excuses, and I think that's what really sets Jon apart from other relationship type shows.
What are some of the production or development challenges that come with working on an ambitious project like Marriage Rescue?
RW: At the end of the day we're dealing with human emotions and emotions don't go by whatever the production calendar is. But the producing staff are really fantastic about really diving in to the core problems and Jon watches them interact while he's there and really can pull out what the issues are. He's then able to really go after the specifics with each couple. The challenge is we don't always know going into the episode or the shooting that day exactly what the problems are because they have to come out a little organically versus 'the bar is failing' – that's pretty black and white. A lot of these people don't necessarily know exactly what their problem is or how to fix it.
DM: And John really only has about a week to fix years and years of problems and couples being set in their ways. He has a very limited amount to A) get to the root of the problem and then B) start fixing it. With Marriage Rescue, he needs both parties in the relationship to really jump on board and follow everything that Jon's recommending and having them do, which is not an easy task.
The Bar Rescue franchise is nearing its 200th episode after being recommissioned by Paramount for a 7th season, and the franchise has previously expanded with a handful of specials. But can you tell me about how you manage to reinvent the franchise to keep the audience engaged?
RW: It's relatable. Marriage Rescue is even more relatable to the audience than Bar Rescue, because it crosses a much larger audience. These marital issues, a lot of people have. They may not be on the brink of getting a divorce, but there is definitely always something, whether it's communication issues or trust issues or what have you. I think the relateability of these projects is what drives the audience in, more than anything.
DM: At its core it's a transformation show, and people love watching somebody transform. The great part about it is that there's only a handful of problems with Bar Rescue and even with Marriage Rescue, but the way that people handle them makes every episode feel different. You may have two couples that have trust issues but the way they handle it or how they don't trust each other is very different. Taffer is able to deal with them in a very different way, yet the problem may be the exact same. So it is always different, and people like to see people overcome and then change.
Can you tell me about any similarities or differences viewers can expect from the spin-off in comparison to the original flagship series?
DM: I would say that marriages, to a certain point, carry a little more weight. There is a lot: children are involved, you have parents that are involved. There's a lot at stake. That's not to say there isn't a lot at stake with a bar, but there are opportunities to rebuild, open up another bar or get another job, but a marriage is something that directly affects another individual and you don't want to just throw that away as easily as you do if your bar is failing. It carries a lot of pressure on Jon as well to really dive in and give these people a second chance to get their marriage back on track.
Can you tell me about how this project fits with 3 Ball's brand and why it's such an important title in your production stable?
RW: It's transformation. We look back on the near 20 years of 3 Ball and almost every show has some form of transformational element in it, whether it's weight loss, whether it's fish out of water – there is always some kind of transformation. This is again a transformation of a relationship and there are outcomes and you start fighting for people and that's what it's about. It definitely checks all the boxes within the 3 Ball world of it's transformational, it's loud because of Jon, and it fits very nicely.
Ross, you were obviously re-upped in January to sole CEO at 3 Ball. What does the near future look like under your remit at the company? 
RW: Well things are looking great. Parabolic is a pod that we have internally with us at 3 Ball as well as a joint venture with JJP, Jeff Jenkins Productions, so I'm looking at things through a different lens. Obviously my background is a little bit more business than it is creative. I've been in this business for over 20 years but on the business side. I can see what we need and how we can change with the environment as the media sector shifts and we have to always be nimble enough to shift with it. So 3 Ball will definitely be adding joint ventures and some pods to our repertoire.
We want to be aligned with producers that tell us stories as we cover stories and can tell unique and interesting and different stories to get out there. We want to be able to check all boxes of genres, and through one entity it's very hard to do that just based on relationships and whatnot. I want 3 Ball to be a home for multiple JVs and multiple pods so that we can have some of their content coming out in the industry and extend the legacy of 3 Ball.
Watch an exclusive clip of Marriage Rescue below: