Howard Lee has spent a good portion of his life curiously staring at the world through his own unique prism. "I'm the first to tell you I'm peculiar," he says.
"Because I didn't grow up in a traditional household, I gravitate toward underdog stories, lives and subcultures that viewers didn't know existed."
The president and general manager of Discovery networks TLC and Discovery Life says, with typical humor, that he was "probably an 'oops baby," as his three siblings were born one year apart and then he came along five years later. "My parents both worked and I would be home alone as young as 8 or 9 years old," he recalls.
"My mother didn't speak any English, and I translated for her wherever we went. My dad spoke enough to allow him to run his own restaurants. I was self-guiding and figuring everything out on my own… My parents bucked the whole Asian 'tiger parents' cliché."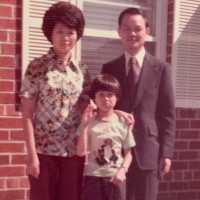 Cue the flashback transition that takes us to a 1970s, middle-class Queens, New York neighborhood. A young Howard Lee proudly rocked his Fonzie t-shirt while gaining the life experience that would eventually influence his rise as an unlikely tastemaker and pop culture maverick.
"Growing up I was always the one in charge of setting the daily summer playtime agenda among my friends," he says. "I was a latch key kid and in many ways raised by television. Shows like Sesame Street, The Electric Company and Mister Rogers' Neighborhood helped shape my values and ignite my imagination. Who would have thought all those endless hours in front of the TV would help shape my character and my career?
"There wasn't a large Asian population where I grew up and I felt like an outlier," he continues. "Sometimes kids at school would say mean things based on race and I would just stare at them and say nothing."
I can imagine a young Howard Lee navigating ignorant taunts with a subversive non-verbal taunt of his own. It's a powerful counter move that courageously uses the awkwardness of the situation to turn the tables. Without saying a single word Howard was telling the world around him, "Yes, I look different from you, now get over it."
Provocation would become one of Howard's professional trademarks. "[At TLC] we will sit on long uneasy moments in our shows to get at the 'why, why, why' of a story. If you're patient, it can lead to profound moments of joy and happiness."
The approach has yielded a list of eye-popping series that have earned TLC some of its highest ratings in network history, such as 90 Day Fiancé, Here Comes Honey Boo Boo, Toddlers & Tiaras and more recently, Dr. Pimple Popper. These are massive hits told with unflinching and unapologetic authenticity.
But originally, the aim was to provoke in front of the camera. "When I turned 13, I knew I wanted to get out of my neighborhood so I announced to my parents I was trying out for the High School of the Performing Arts in Manhattan," he recounts. "You know, the Fame school. I auditioned with a drama monologue as a dare to myself and got in. It was eye-opening and frightening. Sometimes it felt traumatic. You feel very exposed and constantly judged. It's not something I could talk with my parents about, as they wouldn't have understood.
"I decided I didn't want to be an actor and I tried out for the NYU film program. I didn't know what the program really was but told my dad I wanted to do this and live on campus. My parents never held me back but I sometimes wished for some advice and direction on what to do.
"They gave me deposit money for the dorm room but I had to figure out how to pay for the rest," he says. "It was the era before the Internet and you really had to hunt down grants and loans and scholarship opportunities. It's so funny how self-dependent you become when put in that situation."
Howard didn't have the money to put into a student film that could have become his calling card, so he followed the work he could find and it wasn't always pretty.
"I worked on a lot of bad, low-budget horror films," he says. "You do everything from getting coffee to picking up trash. You don't realize how exposed you are and how people can take advantage. You just hope someone spots you."
This is the second time Howard talks about feeling vulnerable and alone as he was coming of age. I want to go all 'Tony Robbins' on him and say it's your decisions, not the conditions of your life that determine your destiny but there's a lot I still need to learn about Howard so I keep quiet.
"I recall always being nervous about the freelance world and jumping from job to job," he continues. "I worked on a John Wayne doc for PBS and eventually landed a gig doing cue cards for Denis Leary on a talk show for HA! (now Comedy Central). They realized I had the neatest handwriting and I was doing cue cards for Denis Leary around the clock. They asked if I wanted to audition to do cue cards on Saturday Night Live and join the union. I said, 'Are you out of your mind?'"
It was about this point in his career that people were really beginning to take notice of Howard. He was a self-starter, a bit audacious and most of all, hungry for success. It led to a producing job in children's television but Howard was still restless and searching for his path. He wanted to explore other forms of programming.
"Personally, at this time I was sick of New York and needed a change," he offers. "I felt this [self-imposed] deadline looming over me, this sense that I had to go out and be somebody and I couldn't focus on anything else. I wasn't choosing non-fiction, it just started happening on its own.
"I remember interviewing for an EP job at a new cable channel and I was telling them about their line-up and what I would change. I was commenting on every one of their shows."
Lee got the job at the fledgling Travel Channel in Maryland, played a key leadership role in the buzz-filled launch but short-lived eco-focused channel Planet Green, and eventually landed at TLC where he has been ever since. I don't think it's a coincidence that Howard would eventually find his footing as a network executive. He was now able to provide the constant guidance to production companies that he himself craved during his formative years.
As his responsibilities grew, he was once again able to lead and influence his colleagues as he did during playtime with his childhood friends back in Queens. He took risks on shows that seemed interesting but were far from a sure bet, just as he did with his education at the H.S. of Performing Arts in Manhattan and the NYU film program.
It turns out that the boat without a rudder, or the script with no act structure that was the first 30 years of Howard's life was actually a blueprint for one of the longest and most successful careers in the history of cable television. "I was helped by so many mentors who believed in me and steered me over my career, like Eileen O'Neill, who mentored me both at TLC and Planet Green."
For all his self-proclaimed eccentricities, Lee is not that hard to figure out. "I lack patience, I am often in hurry-up mode and I wish I could do better," he says. "My team thinks I can be too blunt and sometimes that creates hurt feelings. [But] I don't ever want anyone to walk away from a conversation with me and ask what did he mean? It's about the work and not personal. If you don't agree with what I say then challenge me. I feel it's important everyone chimes in, that everyone has a voice. At TLC we want people to challenge each other, watch out for and protect each other."
Once again, the value Howard puts on individual voices, and unique points of view — all the things he sought out as a kid — are unsurprisingly part of the DNA of TLC's culture and some of their biggest hits. Lee shares a tool he learned as a young performer that he still uses to this day.
"When you are an actor, they teach you to ask 'What is your character's intention?' What do they want? Everyone has something they want. I think about this a lot with all our programming. Are we being clear enough in our storytelling with what our characters really want and how they are going to get it? The conflict arises when two people want very different things."
I quietly file this away for future use across all aspects of my life. It seems now that Howard is the one to go all Tony Robbins on me. At this point, it's time for me to know exactly what Howard wants for TLC.
"I want TLC to be a place where our shows illustrate that family means so many different things," he says. "90 Day Fiancé redefines what family means in different cultures. An Amish community of friends organically become 'family' when they search for a new life. Our Counting On series proves families can function at any size. I know there are more hidden pockets of America for us to explore.
"I'm fortunate to have what I consider to be the most talented team among our entire competitive set – they're out there every day finding and creating these stories," he continues. "The team and I dread ever becoming a channel that only shows a singular POV and it's something Kathleen (Discovery Inc.'s chief lifestyle brands officer Kathleen Finch) and I talk about a lot. Not everyone looks like each other and it's OK to be different and have a platform to tell your story. That is what TLC is all about."
Howard seems comfortable in his position as a vanguard for nonconformists. His next meeting is patiently waiting — an Italian baker from Hoboken with an outsized smile and a bunch of cakes in each hand. He's another performer on Howard's stage play of America — a story that originated on the streets of Lee's 1970s New York and now plays nightly for an audience that can't seem to look away.
Joe Livecchi is founder and CEO of the prodco Noble Savages. Through these monthly profiles, you'll learn more about top executives through an unprecedented glimpse into their personal lives — as Livecchi says, "who they are and what made them that way." For more profiles, keep an eye on realscreen.com and also check the Noble Savages site.