As networks and media organizations move toward increasing diversity onscreen and behind the camera, it only makes sense that relationship programming would become more inclusive.
LGBTQ+ identities have been part of the reality TV landscape for decades. The original "Fab Five" made their debut on Bravo's Queer Eye for the Straight Guy in 2003. Three years before that, Richard Hatch, an openly gay man, won the first season of what was to become an unscripted juggernaut, Survivor on CBS.
Beyond queer cast members in reality staples such as The Real World and Big Brother, entire shows have been built around LGBTQ+ characters and identities over the last couple of decades. Examples include TRANSform Me, The Real L Word, Gaycation, RuPaul's Drag Race, Fire Island, I Am Jazz, I Am Cait, My Fabulous Gay Wedding/First Comes Love and Girls Who Like Boys Who Like Boys.
Another unscripted sub-genre, however, has been slower to move out of its established comfort zone. With ABC's The Dating Game premiering in 1965, dating shows are firmly entrenched within popular culture. The basic premise — one man and one woman fall for each other — has been the norm since then, whether in The Bachelor and The Bachelorette, Joe Millionaire, Paradise Hotel or countless other formats.
But the status quo may be changing, as dating formats buck the trend in favor of greater diversity among participants. Last May, MTV announced that the cast of the latest season of its dating format Are You the One? (above) would be made up entirely of people identifying as sexually fluid, meaning that any of the 16 participants could potentially pair off with one another, regardless of gender.
Just a few months earlier, in time for Valentine's Day, Netflix premiered Dating Around, the global streamer's take on the dating show, featuring six singles going on dates in New York. Of the six, two went on same-sex dates. Other examples of the shift include E!'s The Bi Life from last year, Logo and VH1′s Finding Prince Charming from 2016 and Logo's Transamerican Love Story, now more than a decade old, having aired in 2008.
With Are You the One?, bringing on sexually fluid contestants was prompted by the casting process of previous seasons. Lighthearted Entertainment's Rob LaPlante, EP and co-creator of the series, says the move was an organic one. "We started to see people talking to us about sexuality in a way that was different, interesting, eye-opening, and rather than turn our backs on that and try to make the show continue to be what it always has been, we decided to open our ears and say, what is this thing?" he tells Realscreen.
With Dating Around (pictured, below), on the other hand, the premise was always tied to capturing a snapshot of the New York dating scene in all its diversity. For Chris Culvenor, creator and EP for Eureka Productions, that would have been impossible to accomplish while looking through a strictly straight lens. "It just felt absolutely natural to us. I think good casting is about being flexible and being able to be nimble when you see something new and different in that process."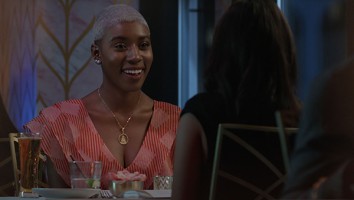 The two shows approached the question of LGBTQ+ representation from very different vantage points. Are You the One? already had an established fan base. In opting for a sexually fluid cast, it was sticking to an established format while arguably flipping the whole endeavor on its head.
"Any time you make a change to an existing franchise like this, you get concerned that you might aggravate the audience in some way, just because they like it — they're watching it [as it is]," says LaPlante.
In the end, the move paid off, prompting coverage from The Atlantic, NPR, Vice, Slate, The New York Post, CNN and more. Viewership nearly doubled in its first four weeks on MTV.
As a new show, Dating Around had nowhere to go but up, and didn't have a set brand to adhere to. "We actively avoided any reference points, because we wanted it to be a distinctly different dating show," says Culvenor. "I think it was fascinating to see how a 73-year-old person dates, or how a 22 year-old person dates. We didn't worry about alienating straight viewers, because we thought it was such a fantastic opportunity just to see how different people date."
LaPlante and Culvenor both report that MTV and Netflix, respectively, were supportive from the start, pointing to goodwill across the board. MTV even suggested training sessions with GLAAD so that the production team on Are You the One? could learn about how LGBTQ+ communities have been represented — and misrepresented — in the past, helping them avoid certain common pitfalls.
Are You the One? and Dating Around stand out, not only as successful entries in the genre but as formats that do not treat LGBTQ+ identities as requiring a new hook or twist. They are dating shows, full stop, and they can work as-is regardless of who appears on screen. Are You the One? has been a successful franchise for years, while Dating Around features several episodes without LGBTQ+ participants.
"I think it was fascinating to see how a 73-year-old person dates, or how a 22 year-old person dates. We didn't worry about alienating straight viewers, because we thought it was such a fantastic opportunity just to see how different people date."
Some previous attempts at integration, however, opted for gimmicks or narrative twists. In 2004, Fox's Playing It Straight saw a woman on a ranch with a group of men, going on dates with them to figure out which were gay and which were straight. In the UK, Sky1′s 2003 format There's Something About Miriam had six men trying to woo Mexican model Miriam, with the revelation that she was a transgender woman saved for the final episode. Fox's 2008 A Shot at Love with Tila Tequila, meanwhile, saw men and women competing for the TV and social media star's affections, finding out she was bisexual only at the end of the first episode.
Such shows may have emerged in less progressive times, but perhaps they also served to clear a path to today's more receptive atmosphere. Doug Ross, creator and EP of Bravo's 2003 series Boy Meets Boy, fondly recalls the process of pitching a gay version of The Bachelor. While that idea didn't fly, he was able to get a greenlight when he added a twist — some of the contestants vying for the star's affections would be straight, and part of the challenge for him would be to suss out the truly eligible contestants before picking one.
Ross was also producing Gay Weddings for Bravo as he moved forward on Boy Meets Boy. For context on how far society has come, Gay Weddings was produced long before same-sex marriage was legalized in the U.S., and thus contestants prepared for commitment ceremonies that could not be legally termed "marriage" at the time.
He recalls how, despite what he terms as initial pushback from the show's star, Boy Meets Boy was a successful experiment in creating empathy while having fun.
"The straight guys really had this huge epiphany of, 'Oh my God, I don't think I ever really understood how much I took for granted that I could be who I am, and here I was in a situation where I couldn't be who I was,'" says Ross. "I don't think there was one that didn't think it was a great learning and growing experience."
Ross says he would make the show again today, given the chance. "I'm sure that we would make some adjustments for 2019-2020, but I still think it would be an interesting experiment, and maybe even more interesting now that the culture has changed so much.
"I really do believe that programs like Boy Meets Boy and the original Queer Eye, Will & Grace and a lot of other shows — some employing a lot of stereotypes, some trying to bust stereotypes, some challenging social conventions, some bugging people — helped to generate the current social conversation and get us to where we are today, so that a show like Are You the One? can actually be on MTV and be a hit.
"It's kind of cool, actually."
This story first appeared in the September/October 2019 issue of Realscreen Magazine, which is out now. Not a subscriber? Click here for more information.