ITV America's true crime- and investigation-focused production house, Good Caper Content, is firing on all cylinders since its launch just over a year ago.
The company's latest production, Taken at Birth, premieres tonight (Oct. 9) on Discovery-owned channel TLC, further cementing its brand of programming.
"True crime is definitely a big part of our ethos here at Good Caper, it's our North Star," Kathryn Vaughan (pictured), the prodco's president, tells Realscreen. "That can mean a whole host of subject matter. It doesn't just have to mean what you think of when you think of true crime traditionally."
Taken at Birth, which TLC previously announced, tells the story of the more than 200 babies illegally sold or given away from the back steps of a small-town Georgia clinic run by Thomas J. Hicks in the 1950s and '60s.
The news broke in 1997 that Hicks was alleged to have spearheaded the black-market baby ring. Many of those children, known as the "Hicks Babies," are still desperately searching for their origins.
"We actually had some great producing partners of ours bring this story back up to our attention a couple of years back," Vaughan says. "As soon as we had this opportunity to explore and potentially make some headway in giving some of these Hicks Babies answers, it was really a no brainer."
Jane Blasio (pictured below, center), the youngest of the known babies, leads the investigation with TLC's Long Lost Family co-hosts Lisa Joyner (right) and Chris Jacobs (left).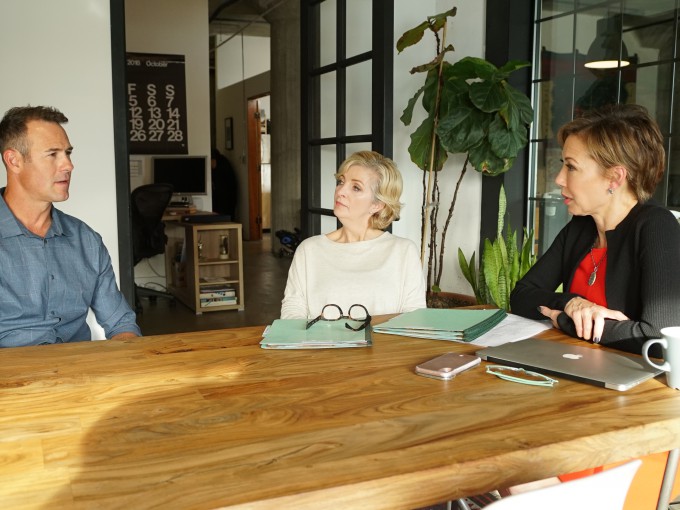 The trio team up to investigate lingering questions, reunite families and help the Hicks Babies find closure.
"We're so lucky to have such incredible producing partners with TLC. They loved the show right from the jump when we brought it to them," Vaughan says. "Lisa and Chris, who obviously have such a broad range of experience in these incredibly emotional topics, are wonderful with these family members."
Blasio, Joyner and Jacobs undertake conventional DNA searchers, door-to-door investigations and a mausoleum search. Though, the hosts and the Good Caper team were met with a number of obstacles, namely locating missing family members without any known medical records.
Vaughan adds Good Caper had to be cognizant of the impact the investigation could have on the Hicks Babies, adding another layer of responsibility for producers.
"They're going through this really incredible journey and incredibly emotional journey by themselves, with their families, however it looks for them, and we're focusing on that and documenting that for a program, but we're also living it with them," she says. "Making TV is really hard, but that makes it even more challenging when you're always making sure that you're doing right by the folks that you're working with."
Good Caper, with a number of titles now under its belt, is pursuing and producing a wide range of investigative programs, documentaries, limited series and full series.
"We really started pitching last September in full force and I will say, for one year in the books, we all feel really good about where things are heading," Vaughan says. "We've had a lot of success getting projects started with networks that we had great experiences with and then also meeting new networks and starting to target our development for them. There's really exciting things on the horizon for Good Caper."
Taken at Birth airs Oct. 9 through Oct. 11 from 9 p.m. to 11 p.m. ET/PT.
Vaughan, Bernie Schaeffer and Chaney Moon are executive producers for Good Caper. Executive producers for TLC are Howard Lee, Alon Orstein, Jason Sarlanis, Jennifer Gordon, Gabriela Tavakoli and John Hein.
"We had so much success in season one in bringing people together, which I'm so proud for people to see, but when we think about what could happen after it airs — the possibilities just make us really excited," Vaughan says. "We hope that a lot of eyeballs tune in and watch the show and that there are even more reunions to come."
Watch an exclusive clip of Taken at Birth: