There will be change at the top at UK-based prodco Barcroft Studios, as founder and CEO Sam Barcroft (pictured, above) and COO Caspar Norman have announced they are exiting from the company in December.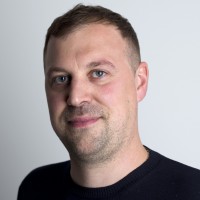 Barcroft Studios, owned by London-headquartered specialist media firm Future, is handing day-to-day oversight of the factual production company to chief creative officer Alex Morris (pictured, right), who will also lead the newly formed Future Studios division for the parent company.
John Farrar, creative director for Barcroft Studios, will support Morris in his expanded role by supplying creative input to Future Studios, which will create and monetize video content across Future's stable of publishing brands, as well as continuing to run Barcroft's TV division.
Future acquired Barcroft Studios in November of 2019 in a deal worth US$30.3 million (£23.5 million) in cash and shares. Under terms of the deal, Barcroft Studios was tasked with developing and producing original series and video content for Future's portfolio of 180-plus media brands, including TechRadar, PC Gamer, MusicRadar, Space.com, Android Central, Real Homes and Total Film.
Recent Barcroft Studios projects include Netflix's Amazing Interiors, BBC2′s The Day the Dinosaurs Died and Facebook Watch's Most Incredible Homes.
Sam Barcroft established the prodco in 2003, with a business model that had content partnerships with publishers as part of its foundation from the onset. The company also was an early adopter when it came to establishing its own content channels via platforms such as YouTube, where its Barcroft TV — now branded as Truly — currently boasts 8.26 million subscribers.
With the establishment of Future Studios, while there will be some crossover, Barcroft will remain focused on external productions for network and streaming clients, as well as content for Truly.
"Over the last 17 years I've assembled the UK's best and brightest original video team," said Barcroft in a statement. "It's been the most incredible adventure. It's time for me to stand aside and cheer them on as they begin an exciting new chapter. A huge thank you to all those who were kind and supportive along the way."
(With files from Daniele Alcinii)