In partnership with Realscreen, industry veterans T Ferguson and Patrick Jager are presenting the latest episode of video series The Distillery.
In the fourth episode of the series, hosts Jager and Ferguson are joined by actress Christina Ochoa; Dean of the College of Arts & Media at the University of Colorado Denver, Laurence Kaptain; and entrepreneur Rich Sloan. They discuss how we can think differently through science, #art, education and technology.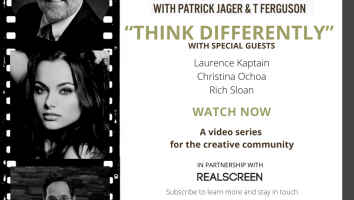 To see the most recent episode, visit the official site for The Distillery here.
More on the panelists:
Laurence Kaptain is the Dean of the College of Arts and Media at the University of Colorado Denver and has over 14 years of higher education leadership experience at leading public and private universities. In 2014 he was named a Fellow in the Royal Society of the Arts.
Christina Ochoa is an actress, science communicator, ocean advocate, and the Founder of QE Collective. She also serves on the board of Earth's Oceans Foundation and Oceana and can be seen in the upcoming 5th season of Animal Kingdom on TNT.
Rich Sloan is a media entrepreneur and co-Founder of the companies StartupNation, FanLabel and the app DanceFight. As a startup-focused CEO and seed stage venture capitalist, Rich is been involved in numerous companies valued at over $180 million+ upon exit.