PBS's acclaimed signature history strand 'American Experience' returns this January with a new season of documentaries.
The strand's 33rd season opens Jan. 11 with The Codebreaker (produced by Chana Gazit), a portrait of the pioneering cryptanalyst Elizebeth Smith Friedman, who took down gangsters and Nazis, based on the book The Woman Who Smashed Codes: A True Story of Love, Spies, and the Unlikely Heroine Who Outwitted America's Enemies.
On Feb. 15, Voice of Freedom (pictured) profiles the Black singer Marian Anderson and her history-making 1939 concert at the Lincoln Memorial. The film, produced by Rob Rapley, explores questions about talent, race, fame and democracy.
The Blinding of Isaac Woodard (March 30; produced by Jamila Ephron) examines how the blinding of a Black soldier by a Southern police chief in 1946 became a catalyst for the American civil rights movement; while American Oz (produced by Randall MacLowry and Tracy Heather Strain; April 12) recounts the odyssey of L. Frank Baum, author of The Wonderful Wizard of Oz, from Chicago to the Great Plains during the American frontier's final days.
Billy Graham (May 17; produced by Sarah Colt) offer insight into the internationally-known evangelist's life and influence on American politics and culture, interweaving the voices of historians, scholars, witnesses, followers, friends, family and Graham himself.
In commemoration of the 100th anniversary of the 1921 Tulsa massacre, 'American Experience' will also present an encore broadcast of Goin' Back to T-Town on Feb. 8.
The 1993 film — produced by Sam Pollard and Joyce Vaughn — documents the history of Greenwood, the Black neighborhood at the center of the massacre, through the remembrances of residents who rebuilt Greenwood into a prosperous and thriving community.
Each film premieres at 9 p.m. ET/PT.
In addition to its broadcast season, 'American Experience' is launching a series of monthly online events in 2021 called Conversations with American Experience.
The events will combine screenings with discussions with historians, authors and journalists to look at a different film each month through the lens of the present.
'American Experience' – produced for PBS by WGBH Boston — is expected to announce additional fall titles at a later date.
The strand's executive producer, Cameo George, joined WGBH in July from ABC News, where she was head of development for long-form projects, responsible for creating a pipeline of docuseries and feature documentary films across Walt Disney Television platforms including ABC News, Hulu, National Geographic, and Disney+.
Realscreen caught up with the Emmy Award-winning producer, writer, and journalist (pictured below) to talk about the latest season of 'American Experience', producing through the pandemic and working with archive.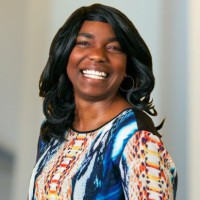 How does this latest season of 'American Experience' build on previous seasons?
Cameo George: American Experience is PBS's longest running history series — 30 years and counting! We are proud of that legacy and plan to continue providing in-depth, exhaustively researched films that shed light on the most significant people and events in this country's history. I'm interested in expanding our focus on lesser-known characters as well. Several of the films in our new season portray individuals who did not set out to become heroes or activists, but did so anyway, becoming catalysts for change in America. Their stories remind us that individual lives can be transformative. It's an empowering message in uncertain times.
How did you navigate COVID-19 while preparing to launch this newest season of 'American Experience'?
CG: It has been challenging for sure, but our producing teams are incredibly industrious and committed. Some producers were forced to stay put but they found ways to work with local DPs who were able to set up cameras and laptops that allowed producers to conduct interviews over Zoom. Others self-isolated for a number of days and then drove to shoots so they could conduct them in-person but with crews that were limited to one or two people. Our team in Boston monitored health department data and also jumped in to source and then distribute PPE to our teams in the field as well. Every part of the production has been affected but we've found creative workarounds and I don't think viewers are going to be able to detect any difference on the screen.
How has the past year reshaped the history genre, if it has, and how do you see the genre evolving as we look ahead to 2021?
CG: I don't think the events of this year have reshaped the history genre, but we've certainly seen greater numbers of people coming to us looking for help in understanding where we are as a country in these tumultuous times. Going forward, we want to lean into that role even more. On our streaming platforms, our #1 title this year was Influenza 1918 – a film originally produced in 1998! Viewers are hungry for content that helps them make sense of the world. We also had an opportunity to re-up the rights for a trio of important films from our Civil Rights collection: The Murder of Emmett Till, Freedom Riders and Freedom Summer, all by veteran filmmaker Stanley Nelson. We want to be a part of the important and necessary conversations that are happening today, and I think more and more people are coming around to the idea that history programming like ours is mission critical.
This season will include an encore broadcast of Goin' Back to T-Town in commemoration of the 100th anniversary of the 1921 Tulsa massacre, as well as other films that delve into the history of Black communities and people of color in America. What are some of the challenges of producing historical films about those communities where, for instance, archive material can be more difficult to find? How do you navigate that?
CG: It's tough. One of our films this season, The Blinding of Isaac Woodard, tells the story of a Black WWII soldier who was viciously beaten by a white sheriff on what should have been a joyful day, the day he was returning home from war. What happens to Woodard reverberates all the way up to the White House and leads to several huge milestones in the fight for civil rights. It's a shocking and emotional story that needs to be told, but there's no footage of the 1946 beating. So the producer spent a lot of time researching graphics firms and animators who could create scenes for that film that would artfully add and not distract from the powerful storyline. So that's one strategy. But you may also be surprised at how many rich and wonderful archival collections there are at historically Black colleges and universities. Like so many things pertaining to people of color and marginalized communities, oftentimes the information is right under our noses, we just have to take the time to seek it out.
Photo courtesy PBS/Science History Images/Alamy Stock Photo