In partnership with Realscreen, industry veterans T Ferguson and Patrick Jager are presenting the fifth episode of their video series The Distillery.
In the latest episode, Jager and Ferguson dive into the art of the pivot. Content creator Noah Pollack, event and communications executive Wendy Erikson, and AI expert Donny Neufuss discuss how we as a creative business society are all currently in a type of pivot, and how they each have shifted gears throughout their own careers.
To see the most recent episode of the series, visit the official site here.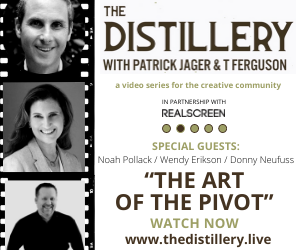 More on the panelists:
Wendy Erikson is an event & marketing-driven business development leader. She leverages a business development and EdTech background to increase revenue through events, program development and brand activations.
Donny Neufuss is the executive vice president of enterprise at Brightline Interactive. He has made a career out of everything he loves, having worked in music, film, television, live events and esports.
Noah Pollack is the founder of MAP Media and has 15+ years of development, production and programming expertise. His career is marked by 50+ series produced in 25 different countries on five separate continents including some of the highest-rated unscripted shows on three different cable channels.