Corie Henson is having a hard time finding the words to describe what she was like as a teenager. Back then, she was dealing with a lot of adversity including being a diehard Cubs fan, attending four different high schools and — hardest of all — having a front row seat to watch her mom bravely battle cancer for seven years. She finally finds the words. "I was a pain in the ass," she says.
Corie grew up as an only child in the melting pot of Chicago, sharing an 800 sq. ft. apartment with her mom. Her parents were high school sweethearts who split before she turned two years old. Her dad was practicing law and living in LA, which created two very distinct and opposite worlds for Henson.
"I worshiped my father," she says. "We called him Disneyland Dad because I would go out there for two weeks at a time on school breaks and over the summer and it was fun. Looking back, it's obvious my mom had the much tougher job. My parents stayed close even after the divorce. They tried to make things seem normal."
As a young kid Corie mostly followed the rules, even though she was known to lead the occasional first grade schoolyard protest about why girls were better than boys. Then, one day, the rules began to seem pretty pointless.
"When they first found the lump in my mom's breast, they decided to just monitor it," she recalls. "It was the '80s and maybe there wasn't as much awareness at the time, but when they finally started to do something about it, it became lung cancer, then brain cancer. My mom would have an operation and be in remission for a year and then get sick again. There is no good version of that for a kid.
"I spent a lot of time at my cousins' house, but the instability is impactful," she adds. "I acted out and was asked to leave more than one high school, but I was fine with it. I'm sure I ate lunch in the bathroom a few times, but I would always make new friends."
One constant in Corie's life was an obsession with Chicago sports. Yes, Corie's family were fanatics; think Robert DeNiro and Bradley Cooper in Silver Linings Playbook. "I remember falling asleep at Blackhawks hockey games and freezing my ass off going to Bears games," she says. "Religion in my house was the Cubs. My dad has a Cubs tattoo. I went to spring training every year as a toddler and my dad would hand me over the chain link fence to any player who would take a picture with me. My grandmother had heart issues and she would have to turn the Cubs game off when they were losing because she would get chest pains."
Corie happily embraced the family obsession, memorizing stats, players' names and dreaming of working out of the Bristol, Connecticut offices at ESPN. Sports kept her close to her father, and was the balm that helped numb the pain when her mother passed away while she was in college.
"I went to the University of Arizona and did something way out of character and joined a sorority," she says. "I found a small group of girlfriends who rallied around me and put up with my shit. They helped me deal with losing my mom. College was the first place I went and stayed all four years. I started something and finished it and I loved every minute of it.
"After college, I got an assistant job at the ABC Phoenix affiliate in the promo department," she continues. "I would stay late after shoots and write promo copy in the newsroom. A few years later I took a job producing the morning show of the NBC affiliate and they eventually bumped me up to the Today Show lead in. I was 23 years old and producing a news show in a top 20 market. I thought I wanted to be a sports reporter but my news director encouraged me to stick with producing because she thought I was good at it. I had other mentors — I remember learning so much from the director Steve Binder who I assisted for the Super Bowl half-time show. That gig was a dream."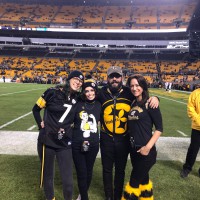 For the third time in her life, Corie had a group of people rallying around her, giving her the strength to climb the ladder of a life that forced her to grow up too fast.
"I was making 25 grand a year at that job and I thought I was loaded. I felt very classy because I had this champagne Honda Accord with faux wood," she recalls.
Corie eventually rode her classy car to LA where she began freelancing in local news at KABC and KCAL. She enjoyed the freelance life, which led her to E! television, which led her to first husband, who indirectly led her to Andrea Wong and John Saade at ABC. At 26 years old, Corie was producing red carpet Oscar shows with Joan and Melissa Rivers.
"I'm grateful for my production experience because I know the impact of what I am asking for when I talk to producers. I know they will do whatever it takes to get the job done, so I always consider that," Henson says.
The list of hits under Corie's belt as a producer and network executive are impressive. At Electus, she oversaw Running Wild with Bear Grylls for NBC. At ABC, she oversaw Dancing with the Stars and Extreme Makeover: Home Edition as well as developing and launching Shark Tank.
Corie would go on to run the alternative department at Fox for several years overseeing hits such as The Masked Singer, the MasterChef franchise and all live specials. During her tenure, Fox was airing the World Series and the Cubs had made it for the first time since 1908. This was truly a once in a lifetime opportunity for Henson to meld together the things she loved most.
"By now, my dad was married and living in Thailand," she recalls. "His obsession with the Cubs hadn't abated. In Thailand, he built a 14-foot tall, steel reinforced baseball with the Cubs logo on it, so you could see it from a plane flying overhead. I flew him in, and he stayed with me for two weeks at my house in LA. Things had come full circle, now I was taking care of him. I was fortunate enough to get World Series tickets, and we went to all three Cubs games at Wrigley Field together [see main image]. It was one of the most incredible moments of our lives. We watched them win game seven in LA, in tears together.
"After Fox, I was looking at a few options for my next move and ultimately it was the people at WarnerMedia that were the deciding factor," she continues, regarding her jump to heading up unscripted at TNT, TBS and truTV as EVP. "People like Brett Weitz [GM of TNT, TBS & truTV] and Jen O'Connell [EVP, non-fiction and live-action family, HBO Max]. The unscripted team and so many others here have made it a comfortable experience during a not so comfortable time in our business. This is truly the most dedicated and compassionate group I've ever worked with.
"The networks where I oversee unscripted each have very distinct personalities," she continues. "TBS is the home of comedy and it really mirrors the reach of a broadcast network. I had developed an extreme talent show at Fox and when it became available, I thought this could be a big swing at TBS. It's called The Go Big Show. These are all very specialized, unique, extreme performances, many of which you've probably never seen before. We got lucky that the chemistry between the judges [Snoop Dogg, Jennifer Nettles, Cody Rhodes, Rosario Dawson and host Bert Kreischer] just clicked. We filmed this during COVID, and I think that experience of being on lockdown and filming in the bubble drew everyone working on the show closer together."
The series premiered January 7th, followed by new episodes of Wipeout and the launch of the American version of the UK format, The Cube, hosted by Dwyane Wade. "Our goal is to build out Thursday nights and then create another night of original unscripted programming."
As for TNT, which Henson calls "the home for some of the largest moments in sports and drama," she points to the docusoap Shaq Life with Shaquille O'Neal, and a series in development with Raw TV, "the insanely talented producers of Don't F**ck with Cats", as fitting in "perfectly with our mandate."
And regarding the third network in her purview, "truTV is a very special place, in that the shows are male skewing, audacious, outrageous, irreverent and very unafraid. We're premiering a fun new cooking show called Fast Foodies and a prank style magic show from Diga, following four friends who mess with each other while doing street magic, called Big Trick Energy.
"I mean, how lucky am I to get to do this kind of range of programming," Henson enthuses.
At this point in the conversation, Corie's assistant is desperately trying to get me to wrap things up as the interview has gone way over its allotted time. As Corie finishes reflecting on her life thus far, she jokes that no one expected her to end up happily married in the suburbs with two great kids, not even her. Her husband is also a reality producer, but they try not to talk about work at home.
"We balance each other really well. He is patient and generous, and he genuinely inspires me," Henson says.
Corie's helped raise, and has grown up herself, alongside his two daughters — one, a sophomore in college; the other, on her way to law school. She's grateful for her expanded family, and her evolving relationship with her father.
"You know, it's been a long process with my dad," she admits. "We've grown much stronger, much closer in the past five years. It took me saying to him you weren't always the best dad and him finally coming around to understand it all. He usually comes to stay with me every year for a few weeks at a time and of course, during the pandemic that couldn't happen. It made me realize that if something happened to him, I couldn't get to him. It was a crystallizing moment. Every call with him means a little more. Every good memory feels a little warmer."
After talking for hours, what's clear to me is that Corie's story is greater than the sum of its parts. She has incredible grit and an amazing ability to connect with others and bring out the best in them. She insists on living in the moment, even the moments that sting. It's as if all her experiences are part of a larger, ever-evolving tapestry that she simultaneously sews and wears, keeping the good with the bad; knowing the two can sometimes be experienced concurrently, and interchangeable.
Joe Livecchi is founder and CEO of the prodco Noble Savages. Through these monthly profiles, you'll learn more about top executives through an unprecedented glimpse into their personal lives — as Livecchi says, "who they are and what made them that way." For more profiles, keep an eye on realscreen.com and also check the Noble Savages site.