Usually at this time of year, close to a couple thousand delegates from around the world convene in New Orleans to take part in the Realscreen Summit, and its celebration of excellence in unscripted and non-fiction screen content, the Realscreen Awards.
But these are unusual times. And while the COVID-19 pandemic threw a massive wrench into any proceedings that involve travel, the Realscreen Awards received a record number of submissions from around the world. So the show had to go on… but how?
Enter Scottsdale, Arizona-based production house Sneaky Big Studios. With the company's capabilities ranging from virtual reality and motion graphics to live broadcasts and all points between, the Sneaky Big team, led by CEO Marianne Guenther, was enlisted to help bring the show to life.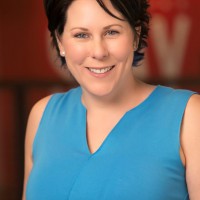 "Realscreen [Summit] attendees are used to having a grand ballroom, live award show experience, and we wanted to take that feel and elevate the look of the stage presentation in a way you just couldn't do in a New Orleans hotel," says Guenther. "The beauty of being virtual is you can dream big, and we are fortunate to have a very talented artistic team who can design magnificent virtual sets, while maintaining a realistic and functional feel.
"We wanted the viewer to feel like they were watching a high-end awards show, so the set had to have plenty of functionality to showcase all the nominees and honorees and allow the host to play in the space," she adds. "To physically build a set like this would be cost-prohibitive for most productions."
Sneaky Big's creative director began the "shiny floor" set build, replete with multiple screens and extravagant lighting, in Unreal Engine, a technology typically used in video games, in order to "to achieve realism throughout the set and stay hyper-focused on the smallest creative details." From there, the team moved the project into Brainstorm's Infinity Set virtual set, part of Sneaky Big's arsenal of five Brainstorm engines and tracking technology cameras, and host Michael Yo headed to the Scottsdale studio for the shoot.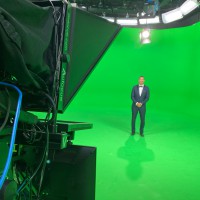 "Traditionally, green screen productions are shot on green with the VR backgrounds added later in post," explains Guenther. "The Brainstorm technology and tracking cameras allowed for real-time compositing so the client could see exactly what the finished product would look like during filming. It was also a time saver in post-production where we could deliver fully composited content once filming was complete."
As with any VR shoot, there was a learning curve for everyone involved, and the project required "fastidious pre-production."
"Green screen can be very powerful when done correctly," says Guenther. "When it's not you end up with something like half of a meteorologist's body disappearing into a map."
As producers and networks contend with the limitations imposed by the pandemic, virtual production is becoming a more popular option, especially as viewers are perhaps reaching a saturation point with "Zoom-like" content.
"In addition to creating virtual sets, we've been able to bring people together from all over the country into a single production," adds Guenther. "While this initially was meant to keep talent and the crew COVID-safe, more and more companies are finding there's a tremendous savings when you are not building physical sets, and storing them. It's safe to assume every industry is rethinking how they do business moving forward from the pandemic, and, in this case, if there is a way to do a great production at a fraction of the cost, we think that will be a route many will choose as the new normal."
To see the end result, check out the awards show today — January 26 — at 3:30 p.m. ET, and the pre-show at 3:15 p.m. ET.