Once again, Realscreen is examining the ever-changing streaming landscape with this multi-part series, which profiles various players in the SVOD and AVOD space, from the household names to the emerging niche outlets, and with info ranging from key personnel to recent and upcoming commissions, to rights and distribution info.
DOCUMENTARY+
Who's there?: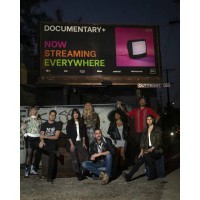 Bryn Mooser, Cofounder – Documentary+, CEO – XTR
Kathryn Everett, Cofounder – Documentary+, Head of Film – XTR
Justin Lacob, Cofounder – Documentary+, Head of Development – XTR
Charlie Sextro, Editor-in-Chief, Documentary+
Rob Carlson, CTO, Documentary+
Overview:
Launched in late January of this year, Documentary+ — a joint venture between non-fiction studio XTR and the late entrepreneur Tony Hsieh — bills itself as the "preeminent home for feature-length and short documentary films."
Plans for the AVOD service were first announced in the summer of 2020, in the midst of the first year of the COVID-19 pandemic. "The pandemic created a great digital acceleration, with virtual cinemas and online platforms more important than ever," the company tells Realscreen. "Surveying the streaming landscape for documentaries, XTR prioritized Documentary+ on the notion that documentaries would continue to rise in popularity during the pandemic based on two major factors: production on a documentary is easier to accomplish with small, remote teams and now more than ever, audiences are craving stories of truth."
Documentary+ is a free, ad-supported platform available on all streaming platforms — no subscription needed — including Apple TV, Amazon and Roku, mobile devices and at www.docplus.com.
The service's business model is acquisition-focused at present. It launched with what it calls a "highly curated" catalog of films, including such acclaimed docs as The Imposter, Born into Brothels, Cartel Land, My Best Fiend, and Life, Animated. Other films features such pop culture icons as Michael Jordan (One Man and His Shoes), Christian Dior (Dior and I), Evel Knievel (Being Evel), Janis Joplin (Festival Express), and Pearl Jam (Hype!) alongside political and historical figures including Cory Booker (Street Fight), Elian Gonzalez (Elian), and Neil Armstrong (Armstrong).
Documentary+ recently brought on Sundance programmer Charlie Sextro as its editor-in-chief, which the company says is part and parcel of its aim to become "the best documentary streaming platform in the world." Given the range of documentary-hungry competition out there — from established, deep-pocketed global streamers such as Netflix and Amazon to newer, aggressive entrants into the space such as HBO Max and Discovery+ — it's an ambitious goal, to be sure. But the company says it is "actively looking to make acquisitions and expand the library — giving documentarians another option for premium distribution as competition continues to increase. With Charlie on board, the programming is sure to be engaging, unexpected, and fun."
What are they looking for?:
Documentary+ is actively seeking to acquire documentaries of all lengths and formats, from shorts to feature length, and new releases to cult classics. The company emphasizes that its library "ranges in topic, format, and creator: from Academy Award-winners to festival darlings, from sports to music to icons to cult classics, and shorts to features to series," and therefore, "the Documentary+ filter is not strict by design. The platform welcomes high quality nonfiction of all kinds, making the library's curation equally thought-provoking and entertaining."
Rights info:
The platform is a global service and as such, rights are determined on a film by film basis dependent on territory availability.
(With files from Jillian Morgan)