Jamila Hunter is the accidental television executive. She's grateful for her station in life, but as a child who grew up on a steady diet of Toni Morrison, theatre, and philosophy, there is a Sliding Doors aspect to her life that has her working within an education she has yet to graduate from. "What my parents taught me, it was not about chasing external validation or success," she says. "I blame them for instilling in me a strong moral compass, I probably would have been more successful without it. I don't do well with stuff I don't believe in."
The development report logline for Hunter's life could read like a synopsis for one of the Gen Z dramas she oversees as the head of production and development at Freeform. "UNTITLED JAMILA HUNTER PROJECT: A shy teen prodigy growing up in the shadow of Hollywood becomes a reluctant tastemaker on a never-ending journey to discovering her true north."
By nature, Jamila is reserved; her siblings were the complete opposite. Her brother was a child actor on the TV show Webster, her sister dated Malcolm Jamal Warner at the height of The Cosby Show. "I'm close with my siblings, but we're very different personalities," she offers. "Growing up, they were out being shiny, and I was like, 'I guess I will go do my homework.'
"My dad [pictured, above] is in education, and I grew up with him quoting equal parts Joseph Campbell and the great philosophers," she adds. "I like structure; I like goals, I like learning. I have a book about the history of African-Americans in Orange County, California and my dad wrote the foreword. There is a chapter on my mom and her theatre company in it. As an adult, I realize my parents were cognizant about providing us with lots of images of people who looked like us, and stories about us. I'm appreciative of that."
For Jamila, the path to learning about the world and herself has been an adventure not unlike Joseph Campbell's Hero's Journey. Her "ordinary world" began in Orange County, California where her parents made a lot of sacrifices to send her to good schools. And in her life, there have been many "calls to adventure" and many "refusals of the call."
The first major one came in the form of an invitation to a free Ivy League education. "I got a scholarship to Brown, I got into Stanford, then I went to Spelman College [in Atlanta] on spring break with a friend, and I was like, 'Oh, this is for me.' It was an environment where I did not have to explain who I was to people. I was lucky enough to get to live in the honors dorm with people like Stacey Abrams and people are always like, 'Oh my God, was she always so amazing?' And I say this respectfully — Spelman was amazing. I was at a school of all Staceys, most of us were Staceys. We were the top students at our schools who said, 'I do not want to go to an Ivy League, I want a school that was made for me.'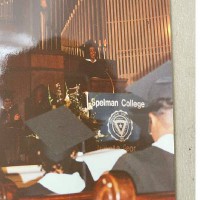 "Most of my close friends from there are dope," she continues. "They're building programs at universities. That was a formative time for me when I saw people who looked like me being excellent and not feeling like they had to assimilate. If I had gone to an Ivy League school, I don't know who I would be right now. My mom said that I came back an actual Black woman after Spelman. I grew into my voice, in an environment of women who weren't exactly like me, but we all wanted to contribute and give back."
Continuing on the Campbell analogy, there were many crucial mentors who played their dutiful role in guiding Jamila through her many professional tests and her "crossing of the threshold." Examples include the college counselor who showed up on her doorstep to talk her into going to Brown, or the television executive, Jeff Gaspin, who witnessed Jamila's internal struggle during her time at NBC between choosing the work or letting the work choose her. Jamila said, "I remember us buying The Apprentice. It was high-profile and commercial, and likely to be a hit. Everyone wanted to work on that show, and I wanted no part of it. For different reasons, some of the stuff we were developing at the time is not what I got into television to do. I told Jeff I should go work at Bravo which at the time was this tiny arts and culture channel known for James Lipton's Inside The Actor's Studio. We hadn't even launched Queer Eye at that point. I thought, what's wrong with me, am I afraid of success?"
In the early 2000s, as unscripted television hit its fever pitch, Jamila came upon her "approach to the inmost cave" — the seventh step in the Hero's Journey. It was time for quiet. "I needed a reset and went on a 10-day silent Vipassana meditation retreat. I have run a marathon and a triathlon, but just sitting and being still for 10 days is one of the hardest things I have ever done. There is no talking, no phones, no writing, no eye contact. Even if you are not talking, there is a constant monologue in your head. It's like a detox.
"At the time, I was wrestling with what it takes to be successful in our industry," she explains. "The things that felt right to me were wearing on me for a lot of years. The opportunity to go work at Oprah's network came not long after that. Building a network with purpose and intention is what made sense to me."
You can say no to a lot of different "calls to adventure", but it's hard to say no when Oprah calls. "I remember phoning a friend and being like, 'Uh, you can't tell anyone but I'm having lunch with Oprah tomorrow at her house.' I thought, I am done, I am never looking for another job again."
Hunter went on to become the head of programming for OWN (Oprah Winfrey Network), a new cable network at the time within the Discovery portfolio of brands. Once again, there would be great tests for Jamila to face. Referring to the launch of OWN, Jamila says: "Any start-up is hard and that one was no different. All of these companies are trying to figure out who they are and what their business model is, and when the vision is disparate, it's not always a fun place to be."
An experience like that at OWN is where, in Campbell terminology, "everything the hero holds dear is put on the line." It is when the hero must face a great challenge, draw upon all their skills, and experience a resurrection to fulfill their destiny.
Often what comes out of it is a reward of greater knowledge or insight. Everything Jamila had experienced, from her childhood, to her time at Spelman, and the professional mountains she climbed had prepared her for what was to come next. "The ABC I went to work at had a wealth of diversity and I knew some other execs who were able to get stuff done there," she says about her next move, joining the comedy team, first as VP and then upped to SVP, at ABC Entertainment. "For almost 10 years we got to make shows I genuinely like, that changed the conversation about culture, race, socio-economic dynamics, shows that generated real conversation about things. That's what I always wanted to do in TV. Fresh Off the Boat, Blackish — I don't take credit for those shows, but I got to work on them. These were competitive pitches, we had to spend a lot of money for them and our bosses backed us. The whole company supported them. It was an environment of a lot of people who were diverse who had diverse opinions."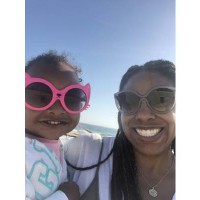 In Joseph Campbell's Hero's Journey, all roads lead to home, and Jamila is currently on the road back. She has substituted Toluca Lake for Orange County, and now she is the parent of a two-year-old, reconciling how to give her daughter a sense of identity, culture, and deep thinking in the mostly white suburban neighborhood she has settled in. Now, Jamila has the challenge of programming for a discerning Gen Z audience as the executive vice president of programming and development at Freeform.
"I genuinely love the demographic we are targeting at Freeform," she enthuses. "When I came here, I knew I wanted to make shows that are entertaining, substantive, and socially relevant. The young people we work with on our teams are so smart and inventive and we need that ingenuity for our society. We have a show called Good Trouble right now inspired by the famous John Lewis speech. It's as if Melrose Place was diverse and those characters had jobs with meaning. They are all young and sexy and living in a shared, co-living space talking about real stuff. These are young people living with purpose." She then adds in an uncharacteristic moment of hype: "And they are hot so you should watch it."
The seeds Jamila helped plant at ABC are also being sown at Freeform as well, with the series Grownish, the twenty-something spin-off to the hit show Blackish.
In many ways, Jamila's journey is just getting started. She has a family of her own now and new challenges to take on in a shifting media landscape. There's also the currently untapped side of her Sliding Doors life in education, occasionally calling out to her like a siren, with the shifting tides of television always incalculable.
The final "reward" that awaits the hero in Joseph Campbell's mythic structure can be either a literal prize or a metaphorical one. My guess is that when Jamila is presented with it, she will take some time to consider how it might affect her life, and if there is a need for it at all.