On May 31 the United States marked one of the darkest moments in its history: the 100th anniversary of the Tulsa Massacre. From May 31 to June 1, 1921, a white mob descended on the Black neighborhood of Greenwood – so prosperous it was known as Black Wall Street – killing its inhabitants and burning the homes and businesses to the ground. Eyewitnesses reported seeing airplanes dropping bombs on the area. While the definitive numbers of the dead remain lost to history, estimates put the fallen at between 100-300 victims.
According to reports, the race riot began when Dick Rowland, a 19-year-old African American man was arrested after being falsely accused of assaulting Sarah Page, a 17-year-old white woman inside Tulsa's Drexel Building.  After a white lynch mob was confronted by African American World War I veterans, these white "vigilantes", some 'deputized' by local authorities, went on their rampage of terror. More than 35 city blocks were razed. Nearly 10,000 of Greenwood's Black residents were displaced. Bodies of the dead were rumored to be buried in mass unmarked graves. Following the massacre, Rowland remained in jail until Sarah Page wrote a letter refusing to press charges — he was then released. Both vanished from Greenwood after that.
What happened in Tulsa has been splashed across international headlines in the past week; three survivors aged 100, 106, and 107, appeared before a House Judiciary subcommittee considering reparations for survivors and descendants of the massacre. President Joe Biden visited Tulsa and proclaimed May 31 "a day of remembrance," reassuring survivors and descendants that their story "will be known in full view."
Five feature documentaries from prominent filmmakers, produced to commemorate the 100th anniversary of the Tulsa tragedy, aim to ensure that the story is indeed known.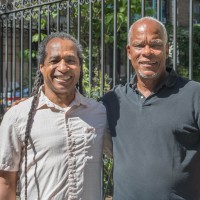 Tulsa Burning: The 1921 Race Massacre (archive image pictured above) bowed May 31 on A+E's History Channel. The doc hails from award-winning filmmakers Stanley Nelson and Marco Williams (left), and is executive produced by NBA superstar and philanthropist Russell Westbrook. Speaking to Nelson and Williams, it was evident how passionate and connected they were to the story, but also to their vision for their documentary.
"Our film covers two different time periods, 100 years apart. We knew that going in, and wanted to cover the massacre in 1921, but also cover the search for [human] remains in 2020 and 2021," Nelson says about their approach to the film. "So that was really exciting, because we felt from the beginning that they [the era of the massacre and the present day] were connected, so that was really challenging and one of the things that you look for as a filmmaker."
Nelson, Williams and the filmmakers behind the other projects also had access to still pictures and film footage of Greenwood before the massacre – the silent black and white film depicts a thriving town filled with jubilant and prosperous citizens. "That's so rare to find, film for African America pre-1921," Nelson adds.
On the other side of the spectrum were the stills and footage of the actual massacre, including the white rioters gearing up for the attack and then the aftermath. It should be noted, as mentioned in many of the films, that after the destruction of Greenwood, photos of dead Black citizens and of the razed neighborhood were shared among whites, and even given as postcards.
CNN's Dreamland: The Burning of Black Wall Street which also debuted on May 31 – and was the #1 show on cable news for the night it aired – will have an encore presentation on June 5. Directed by Salima Koroma and executive produced by LeBron James, the film blends archival media, bold graphic animation, narrated letters and diary entries, as well as contemporary interviews.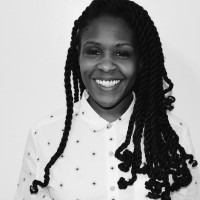 "I wanted to tell a true story about Black Americans who created a utopia here in America in the roaring 1920s," Koroma (left) says of her desire to direct the project. "It's such a devastating tale like those Greek tragedies— Greenwood was a promised land destroyed by its envious neighbors.
"There's so much to explore there," she adds. "But there's also the beauty of what they created there. They were doctors, lawyers, business owners, homemakers, etc, and they held the keys to their own destiny. That's beautiful."
Award-winning filmmaker Dawn Porter directed Rise Again: Tulsa and the Red Summer for National Geographic Documentary Films. In Porter's film, Washington Post journalist and Tulsa native DeNeen Brown makes her first of two appearances in a Tulsa doc (she also produces and appears in the PBS film Tulsa: The Fire and the Forgotten), as the Good Trouble director follows her on the search for a mass grave in her native state. The film airs on National Geographic on June 18 and will be streamed on Hulu on June 19, to commemorate Juneteenth, when the last enslaved Black people in Texas received news of their emancipation.
"I'm interested in following the evidence where it leads while giving a voice to those directly affected by the tragic events in Tulsa and throughout the Red Summer. This is the time to tell this story, which is not only about Black victims but also about Black resistance," Porter said in a statement issued when the film was announced. "There is so much our society is currently reckoning with, but seeking the truth about the damage wrought by unchecked mob violence against the Black community is a starting point. Sadly, the racism motivating the Red Summer has not been eradicated. It is clear, we must acknowledge these wrongs if healing is to begin."
And in OWN's The Legacy of Black Wall Street, directed by Deborah Riley Draper, history is revealed through the lives of the Black pioneers who went West to build their American dream, weaving their stories with the modern-era Black pioneers who continue the path to healing and rebuilding the rise of the Black community who presently occupy Greenwood. The two-part special aired June 1 and 2, on discovery+ and OWN.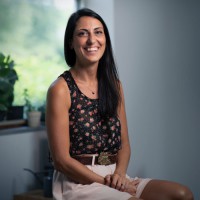 For Trailblazer Studios, the prodco behind both Rise Again (produced with Porter's Trilogy Films) and Legacy of Black Wall Street, there was never an issue of if the company should produce two films on the same subject to be released at the same time. "Nat Geo's project is an unapologetic look at America's reign of racial terror aka Red Summer and Tulsa, and OWN's is an intimate look at the individual pioneers as told through the oral history that was passed down generation after generation," explains Ashleigh Di Tonto (left), senior vice president of development at Trailblazer Studios, executive producer of both films. "They are completely different stories and POVs, which happened naturally because our directors had very different POVs."
For director Riley Draper, whose family has lived and owned land in a community founded by formerly enslaved African Americans for four generations, making this film was personal. "This is a tipping point in our country," she says. "This story is so American, and all of America needs to know it and think deeply about it. My choices as a director stem from my interest in exploring my historical and cultural inheritance and sharing it in various art forms."
"I love the words written by the leaders of this community— their articles, letters, and quotes in the Tulsa Star or The Black Dispatch," she says of her approach to the subject. "I wanted to hear those words written in some cases over 100 years ago read and thought about by people inhabiting a very similar America 100 years later."
PBS aired its own commemorative documentary, Tulsa: The Fire and the Forgotten, also on May 31. It was directed by Jonathan Silvers, and reported by DeNeen Brown, who also serves as a producer.
In this film Brown investigates the racial genocide perpetrated during the event and sits down with descendants of Greenwood residents, business owners and today's community activists for an honest conversation on the community's demands for reparations and the efforts to revive the Black district of Greenwood through education, technology, business development and more. "Stories have power and if they're told, they can change the future and they can provide some healing. So, my goal here would be to finally find answers for some of the descendants of the victims, and if they do find bodies, put those souls to rest," Brown said in a statement regarding the film.
All of the Tulsa films share common elements, be it interview subjects or local experts and historians, archival footage and images, the search for human remains, and of course the narrative itself. But when asked, none of the filmmakers felt this was an issue. What was important was uncovering a story that has been buried for a century.
"When I was pitching this film, everyone wanted to know if I had anything 'exclusive.' I didn't," says Koroma. "But the more I heard about the very real trauma and loss and exploitation Black residents felt there, the more 'exclusive archival' felt arbitrary."
"I was aware of the other films being made, and this story needs to be told. People need to know about it," says Williams. "Different channels have different audiences, so it's going to be heard."
Executive producer Di Tonto also acknowledges that the multiple documentaries will overlap, but that doesn't matter to her or her directors, and it shouldn't to audiences either. "I knew every one of these films would look and feel different and hopefully have new information for us all to learn as there is so much to cover," she says. "There were 11,000 people in Greenwood. A handful of docs over the last 100 years is hardly enough to cover the story no matter the common ending."
As for what the filmmakers want those audiences to take away from the films – no matter which one they see – it's a united front.
"Film is a medium that communicates emotion, far better than information. And if people are moved, they will absorb the content and the information, and they will then be hungry or thirsty for more," says Williams. "There can be no justice for Greenwood without respect, repair and restitution. So that's what I hope the film triggers."
Koroma expresses a similar sentiment, "That for us to move forward we have to take a serious reflection on our past and make repairs."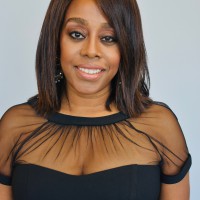 "I want viewers to see a beautiful, thriving community of courageous and pioneering African Americans and understand their racialized experience in America and take every step that they can to ensure that what happened and continues to happen to Black communities stops," says Riley Draper (left).
In the end, what the films also demonstrate is that the Greenwood story isn't only one of tragedy, but of celebration. "One of the things that I learned is that the film is about not only the destruction of Greenwood, but also the building of Greenwood," says Nelson. "That African Americans set out in decades after the Civil War in covered wagons and on horseback, and that's not what we usually think about when we think about African Americans. So it's really important that we understand that the film is not just about the destruction, it's about the creation and the fact that they struck out with nothing but a dream. And that dream came true — what they formed was incredible."
Main photo: Damage from the Tulsa Race Riot on June 1, 1921, in Tulsa, OK, c. June 1921, courtesy A+E Networks