On a June afternoon in 2018, the Wild Boards youth soccer team and their assistant coach were exploring the Tham Luang cave in Thailand's Chiang Rai province, when rainfall flooded the system and forced the team some four kilometers from the entrance to a shelf above water, where they would be trapped for 17 days.
The subsequent rescue mission drew international attention as Thai Navy Seals joined forces with a team of cave specialists, including British divers Rick Stanton and John Volanthen. Come July 10, after a perilous mission that involved 10,000 people altogether, the 12 boys and their coach were freed.
Months later, in March 2019, National Geographic Documentary Films announced plans to produce a film about the rescue, with rights to the British cave divers secured and Kevin Macdonald (One Day in September) attached to direct.
E. Chai Vasarhelyi and Jimmy Chin, meanwhile, had been tracking the story from the beginning. When Macdonald had to exit the project to finish his legal drama The Mauritanian, the filmmakers behind Nat Geo's Oscar-winning Free Solo approached the network about taking his place.
"We knew it became available and we just asked them, we begged them. It was just something we really wanted to do," Vasarhelyi tells Realscreen. "After Free Solo, Jimmy and I really have a keen understanding that all the work that we do has to move the dial a little bit. Otherwise, why would we dive into these worlds for so long?"
The resulting 114-minute film, The Rescue, premiered at the 48th edition of Telluride Film Festival earlier this month and screened Sunday (Sept. 13) at the Toronto International Film Festival. It paints a portrait of the key figures involved in the mission, and delves into the backstories of the international divers who had to invent new techniques and navigate political dynamics to save the Wild Boars.
"We were really drawn to the story, it had all the ingredients for an incredible film. It's also, beyond that, very meaningful to us being parents," Chin says. "The very high stakes, an impossible achievement mission, unlikely heroes… it's about people coming together — different countries, cultures — and overcoming those differences."
Realscreen spoke with Vasarhelyi (pictured below, left) and Chin (right) about the making of The Rescue and their partnership with Nat Geo.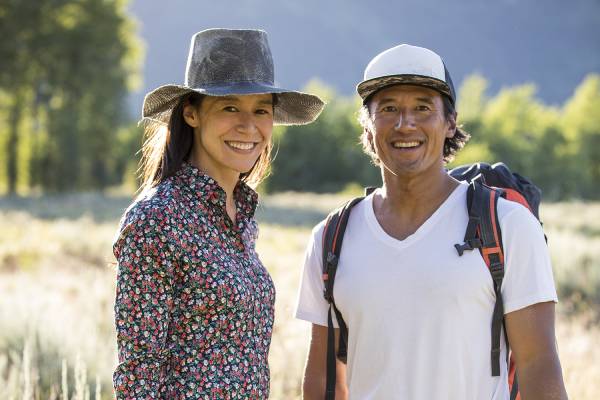 Thanet Natisri and Santipong Changpuak are executive producers. Vasarhelyi and Chin produce alongside P.J. van Sandwijk and John Battsek.  The Rescue hails from Ventureland, Storyteller Productions, Little Monster Films and Passion Pictures. Dogwoof is handling international sales; Cinetic Media serves as sales agent for the U.S.
TIFF's 46th edition runs Sept. 9 to 18.
This interview has been edited for brevity and clarity
What was the process like of accessing and compiling all of the footage used in the film?
ECV: It was the first time that we weren't present for the principal action. And it was a pandemic. At first, it was like drinking from fumes. There were a lot of cameras there. It was like a puzzle. CNN has this angle, and then Thai local news that angle… So, it was tricky, and I relied on our primary sources, our first-person interviews.
We felt quite beholden, as we always would be, to honor the facts and get to know the facts really well. But there was no footage — the cave was pitch black if someone did film and the water was super muddy. And, basically, there was also an edict that you couldn't film in the cave. So, we were really reaching for things, but we heard this rumor… that the Thai Navy Seals had filmed and it became a two-year quest to come to an agreement to see their footage. Honestly, we anticipated it to be 90 amazing minutes and it turned out to be 87 hours that [we had] about four months to get through. That's why it's been such a race to the finish line.
Could you talk a little bit about the artwork used in the film to illustrate the story of Jao Mae Nang Non (the "reclining goddess," a princess whose spirit is believed to protect the cave) and that of the rescue?
ECV: I was like… "How is the story going to be remembered in a Thai context? How is what transpired… going to be chronicled in the way the princess legend is chronicled?" We have an executive producer on the film, his name is Thanet Natisri, and he's like, "Let me work on that." He got in touch with the original artist and they loved the idea of trying to create a modern legend for our end title sequence.
How did you approach centering Thai voices and the community in addition to the international team of divers?
ECV: We are acutely aware that there are very few positive Asian non-fiction stories out there, and that we were in a unique position where it was important to us. At the end of the day, that's the truth of the story: there was this amazing international collaboration with its miscommunications, things lost in translation…. That's why we went to such lengths to get the Thai footage, to try to do anything we could. There's an argument to be made that the parents of the kids think that their prayers did work, and I think so too. It's just two different ways of looking at the world, and they're not that far apart from each other… We were very conscious of honoring that.
What were some of the biggest challenges for you as filmmakers on this project?
ECV: The majority of the interviews are via Zoom — we've never done that before. We've never been not present for the principal action of a story. We've never not had footage, period… This is the difference we have between fiction and non-fiction. Fiction, when you have these problems, you write your way out of it. Whereas, in non-fiction, it creates a constraint, which is actually quite interesting. And I'm really proud of how we've woven together these different sources.
The whole world was watching this rescue mission unfold, but what do you think will be some surprising takeaways?
JC: A lot of the details were lost and we had a superficial view of the story. But the actual complication, logistics, the scale — I don't want to give too much away about the film, but getting to know who actually lived and especially the unlikely heroes that emerged from this huge rescue — these guys are electricians and IT consultants, and they have to make some really, really difficult decisions.
ECV: For me, as someone who followed the story, what was astonishing to ultimately understand were the personal stakes people were willing to accept… It's most poignant with Dr. [Richard] Harris where, his wife — not in the movie but otherwise — said, "You're going to be known as the guy who killed the kids." And they really didn't think they would succeed 100%.
The idea that you put all of that stuff on the line, because you have to, because you're the only person who can do it, it's like an absolute morality or a moral imperative. It's quite elusive, but I think it's actually the core of the film itself. I didn't understand that. I think a lot of people didn't understand that the children were anesthetized. I think a lot of people didn't understand the personal stakes.
What makes Nat Geo a good partner for you as filmmakers?
JC: We've had a very positive relationship with them. I've been shooting with them for some time as a photographer. After Free Solo, there's a very long and trusting relationship. It's all about trust. They take good care of us and we pour our heart and soul into these films. So, it's very symbiotic.
ECV: National Geographic is a great place for creatives, they support the work. You do your part, they will do their part. And it's also just like a happy place to be… They're the best partners we could ever hope for. I think their commitment to Free Solo is a real testament because that was an "unfinanceable" movie. It's been a real honor, we feel very lucky.
The Rescue premiered at TIFF on Sept. 12, and next screens Monday (Sept. 13) and Wednesday (Sept. 15).