When A+E Networks first delved into producing podcasts, the early results, as with many companies traditionally working in screen content, were fairly basic.
In 2017, A+E launched Cold Case Files: The Podcast, an audio series to complement the long-running TV hit. The series was a test for the company, taking the skeleton of a TV franchise and bringing it to audio, and proved to be successful in finding an audience, allowing A+E to branch out into more ambitious projects since then.
A+E's experience in breaking into the exploding medium is shared by scores of other broadcasters, production companies and outfits predominantly focused on film and television screen content. For many of these companies, podcasting presents a new medium to tell stories, produce more content, and connect with a wider audience. Importantly, it also can represent a growing revenue stream.
From small beginnings to taking a more focused and expanded approach, A+E currently has nine podcasts in the marketplace. Some are in-house productions, others are collaborations with partners, and while some are tied to its linear series, others are completely original. Jessie Katz, director of audio programming and podcasting at A+E, says this level of experimentation and variety allows them to be prepared for changes in the industry.
"It's an evolving, shifting landscape in podcasting right now. There's headlines every day about who's acquiring who," Katz says.
Podcasting, as an industry, has grown rapidly since the term was first coined in the early '00s, especially in the past several years. In May, the Interactive Advertising Bureau's Podcast Advertising Revenue Study projected podcast advertising will grow as much in the next two years as it did in the last decade. Advertising revenues already climbed to US$842 million in 2020, up from $708 million the previous year.
Meanwhile, major acquisitions and agreements have brought high-profile players into the mix. Streaming audio giant Spotify has purchased companies with strong podcasting portfolios such as The Ringer and Gimlet, while inking content deals with Barack and Michelle Obama, Joe Rogan and Kim Kardashian West. Apple, meanwhile, launched Apple Podcast subscriptions earlier this year which let users unlock new content and receive additional benefits, a company strategy meant to help the tech behemoth compete with Spotify.
With the industry expanding through the past few years, a growing number of production companies is moving into the space — in some cases, with formidable success (see Glass Entertainment Group's entry into the medium in 2019). Raleigh-based Trailblazer Studios announced plans for a slew of podcasts that began in April with American Sport. Jeff Lanter (pictured), the studio's president, says the move into the medium has been largely seamless.
"At its heart, it's storytelling," Lanter says.
"There are definitely some nuances that affect the learning curve, and we were lucky to partner with a producer who had a lot of experience in this world," he adds. "It also was a huge boost that we've always had an in-house music and sound team and they've helped produce multiple podcasts for clients over the years."
Lanter also says the relatively inexpensive nature of podcasting, compared to a TV series, documentary or even sometimes a sizzle, makes it more attractive.
As a dedicated audiobook and podcast company, Audible has taken the lead in assisting partner companies who have little experience in audio storytelling, to develop their ideas. Rachel Ghiazza, executive vice president and head of U.S. content at Audible, says the company often helps partners with scripting, performing, producing and editing.
With more companies breaking into podcasting, there's a wider variety of formats and genres being tested. Audible, for instance, is currently working on Breakthrough, an audio-only singing competition series it's producing with The Chainsmokers, which will be the first of its kind.
When it comes to working with partners, the focus for Audible is on innovation and testing new formats, Ghiazza says. Series such as Breakthrough allow the company to build on what's working in audio with different creators and storylines.
"We really want to create partnerships with companies where we can continue to grow the space," Ghiazza says.
Brand recognition can help some of the more high-profile screen companies find an audience more quickly in podcasting. Katz says A+E has been encouraged by the bigger swings and original reporting it's taken with its podcasts. If the company tries something ambitious with its History Channel podcast that isn't directly tied to on-screen content, the familiar 'H' logo has enough power to draw in listeners, Katz maintains.
That's the power of podcasting, especially for us — to go really deep on smaller stories that maybe you would never give a huge two-hour special to.
"How connected do we need to be with what's on air right now? Or is it enough that it's the History Channel and that means something to people?" Katz says.
"We can tell totally different stories," she continues. "In theory, that's the power of podcasting, especially for us — to go really deep on smaller stories that maybe you would never give a huge two-hour special to. There's a much smaller human interest story in [History This Week] that we can spend 20 minutes getting really detailed about. And we've found that's giving people who love the History Channel something special that they don't find on air."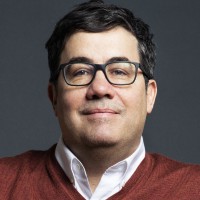 Podcasting's fast-paced growth is what interested Canadian prodco Cream Productions in the medium, with the company having launched its podcast division in April. James Farr (pictured, left), Cream's VP of development, echoes Trailblazer's Lanter in saying that making, selling and distributing the audio-only content has involved a steep learning curve, particularly on the business side. But he sees great potential looking ahead.
"Podcasting has been building momentum for a while," Farr says. "But it's still very much in the Wild West phase as the industry evolves. International borders are not the same barrier they are in film and television, so we feel the opportunity is unlimited."
Both Farr and Johnny Kalangis, Cream's VP of digital, note that podcasts are a strong IP source for adapting stories to television, and can be used to test-drive ideas at a lower price point while building buzz.
"The barrier to entry for audiences and creators is low," Kalangis says. "Most people could create and publish a podcast, and audiences continue to gravitate to highly specialized content that speaks to their interests."
Los Angeles-based Asylum Entertainment Group (AEG) launched Audity in 2019 to create audio-focused content.
Audity's work in podcasting has been varied since its launch, ranging from social justice series such as The System with Kim Kardashian West to horror with Eli Roth's History of Horror. The company also has podcasts in development with talent ranging from strategist Shatonna Nelson, rapper Old Man Saxon and horror webcomic creator Sarah Navin.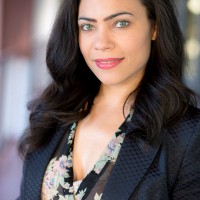 Ryann Lauckner (pictured, left), president and chief strategy officer for AEG also oversees Audity, and says podcast listeners are some of the most engaged content consumers that creative companies can find. The opportunity to connect with ultra-targeted groups and receive positive feedback is refreshing, Lauckner says.
"Many listen to episodes as soon as they drop," Lauckner offers. "They DM, they email, they find ways to support the creators at the core of the content. That interaction and relationship is really rewarding, especially when they're growing."
Still, Ghiazza notes that moving into the podcasting space can be more difficult than some realize from a creative perspective. It can be difficult to develop storylines that build a picture in listeners' minds, she says, adding that nailing the soundscape where listeners feel they're transported to the scene, without it being disruptive, is crucial.
"Finding the way to connect all of those pieces together, it's an art form," Ghiazza says. "And getting that all correct, it takes some practice and it takes some work to really get that magic when all the pieces come together just right."
This story first appeared in the September/October 2021 issue of Realscreen Magazine, which is out now. Not a subscriber? Click here for more information.