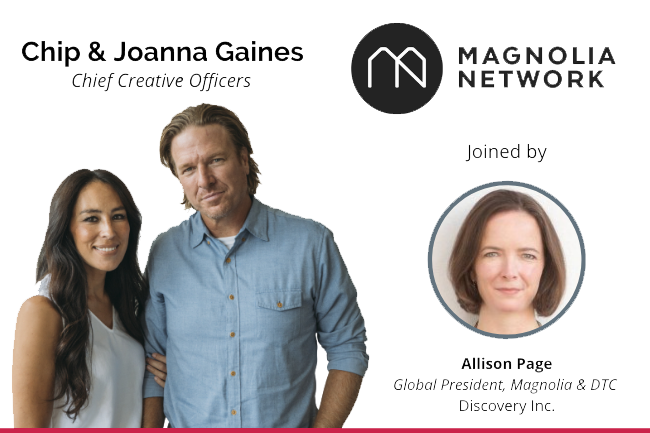 Realscreen is excited to unveil its first keynote conversation for the Realscreen Summit.
For Chip and Joanna Gaines, what started more than a decade ago as a tiny home decor shop has since grown into an expansive home and lifestyle brand that includes Magnolia Market at the Silos, Magnolia Table, Silos Baking Co., Magnolia Press, the quarterly lifestyle magazine Magnolia Journal and five New York Times best sellers, in addition to national brand partnerships with Target and Anthropologie, among other ventures. In 2019, Chip and Joanna were recognized as part of Time magazine's annual 100 Most Influential People list. That same year, Magnolia was named one of Ad Age's "Hottest Brands in America."
Joining Chip and Joanna Gaines in this special keynote conversation at the Summit will be Allison Page, who leads Discovery's joint-venture with Magnolia. In this role, Page is responsible for growing and overseeing all operations for the venture — managing teams based in Knoxville, New York, Seattle, Austin and Waco, Texas.
In this keynote conversation on Tuesday, January 25, 2022, Chip and Joanna Gaines and Allison Page will discuss their careers to date, the evolution of the joint venture between Discovery Inc. and Magnolia, and plans for expanding the range of content featured on the network as it moves into linear.