The International Documentary Film Festival Amsterdam (IDFA) Forum was hosted last week, featuring more than 20 projects pitched at the hybrid copro and co-financing market. Some of the presenting filmmakers and the panelists, hailing from different broadcasters and distributors, attended in person, while others appeared through video.
The below is an overview of some of the projects pitched on the third and final day of the Forum, on Nov. 24.  Day one of Realscreen's festival coverage can be read here, and day two here.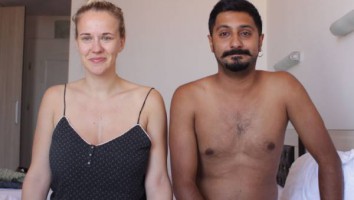 Bride in Search of Happiness
Director: Tea Vidovic Dalipi
Executive producer: Suzana Erbežnik, Vedran Senjanovic
Producer: Oliver Sertić
Production company: Restart, STEFilm, Möbius
Countries: Croatia, Italy, Kosovo
Production status; In production
IDFA logline: Bride in Search of Happiness is an observational documentary about the Croatian-Roma couple Tea and Mirsad, the newly born baby girl Frida and an attempt of a life together, strung between the expectations of the family and environment in culturally disparate societies that do not accept differences.
Dalipi and Sertić were on hand to present this observational documentary, which was shot over seven years. Sertić said they're hoping to close the financial gap and are looking for TV pre-sales and/or coproductions, some financing to help cover post-production, as well as a new English-language title.
The panel responded positively to the documentary's story, and the fact that the intimate observations are coming from the direction of one of the the film's subjects, in Dalipi.
"What I really like is that you put the universal issue of political clashes, cultural clashes, migration, you put it through the microscopic lens of a marriage, of a family situation, of a situation full of tragicomical aspects," said Matthias Leybrand from Bayerischer Rundfunk.
"That's a nice way to tell those universal, big issues of cultural, political change now."
The panel provided some advice to Dalipi, to find a counterpoint in editing the film because of how close she is to the story as both director and protagonist.
Andreas Fay of VGTV praised the pitch, and said the project is a beautiful love story that breaks down cultural barriers and touches on timely issues like patriarchy, racism and tradition vs. modernity.
"It's a very interesting culture clash, and it shows us communication is the only way forward to progress through these barriers, both in relationships and in the world in general," Fay said.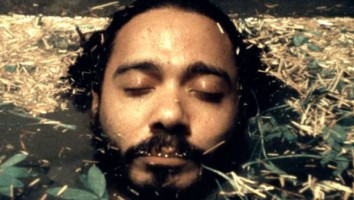 Abo Zabaal Prison 1989
Director: Bassam Mortada
Producer: Kesmat Elsayed
Production companies: See Media Production, Joyti Films
Countries: Egypt, Germany
Production status: In production
IDFA logline: Bassam, a filmmaker, reaches out to his estranged father. He reconstructs traumatic memories of events in 1989, which were devastating for his father and had a huge impact on him and his mother. Can an artistic recreation of the past help them confront their traumas?
Mortada was present to pitch his project, which is currently in the editing stage. He said he's looking forward to meeting more coproducers, and needs a final funding push for post-production.
Rasmus Steen of IMS said he was touched by the documentary.
"We have to remember that Egypt, even today, is really challenged. The political development is, unfortunately, not going in the right direction. Being a filmmaker or a media practitioner is really something, and also something that we from the outside world should support and back up," Steen said.
The panel praised the pitch for combining the personal with the political, and for the connection and dialogue between Mortada and his father.
Madelaine Russo from Hot Docs praised the project for incorporating creative aspects including recreations to create an immersive experience, but said she'd like to get a firmer grasp from Mortada about what the outcomes of his various filmmaking techniques and this immersion will be.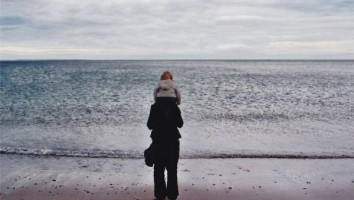 Motherboard
Director and producer: Victoria Mapplebeck
Executive producer: Debbie Manners
Production company: First Person Films
Country: United Kingdom
Production status: In production
IDFA logline: BAFTA-awarded director Victoria Mapplebeck has been filming life as a single mother for 17 years. Raising her son Jim, now a teenager, she shot on all devices; they've faced more than their share of challenges over the years, not least an absent father, breast cancer and a global pandemic.
Mapplebeck was present to pitch her film and raise its remaining financing. Yoko Imai of NHK called the pitch intriguing, with both very intimate and dramatic moments chronicled in Mapplebeck's 17 years of filming. She said she thinks the story would be relevant to viewers globally.
"There are lots of forms of families and everybody struggles trying to raise a kid going through their own lives. It has a lot of drama essence, but it's really documentary," she said.
The panel offered overall praise to the pitch for being moving and universal. Axel Arno of SVT suggested there could be enough material for a series rather a film.
Some panelists questioned how Mapplebeck's son has reacted to being filmed and included in this project, but the director said he has also collaborated on the filmmaking, shooting some parts of the film, and turning the camera around to ask questions to his mother.
Renaud Allilaire of France Télévisions said he was touched by the story and praised the pitch for showing lone parenthood in a way that is both dramatic and comedic.
"It's very blunt, it's very English," Allilaire said.
"The way you say families come in all shapes and sizes, that's very universal. And I very strongly believe that we have to show that family can find its way in all matters, in all types of stories."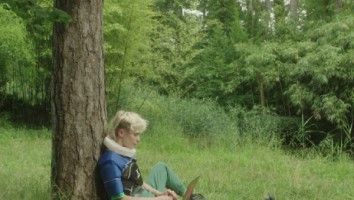 Orlando: My Political Biography
Director: Paul B. Preciado
Producers: Yael Fogiel, Annie Ohayon, Farid Rezkallah
Production company: Les Films du Poisson, 24 Images
Country: France
Status: In production
IDFA Logline: I wanted to tell the story of my trans life. The problem, or good fortune, is that Virginia Woolf wrote my biography before me when publishing "Orlando", a century ago.
An intensely personal examination of filmmaker and critical thinker Preciado's transition through Woolf's novel, the film's hook is a casting call amongst the general public to answer the question, "Who are today's Orlandos?"
Preciado and producers Fogiel and Ohayon represented the film, which they anticipate will be released in March of 2022. The panel was impressed by the footage shown.
"From the beginning, this idea of confronting the book, the text, and the realities of trans people today, this simple confrontation is already a brilliant idea," said Fabrice Puchault of Arte, which is already on board as a financier of the project.
Charlie Phillips of The Guardian agreed. "I really like this. I read Orlando when I was a teenager and it completely blew my mind, and it's really nice having a trans documentary made by a trans filmmaker, that's really important."
Jane Mote of The Whickers concurred.
"Fantastic to have a first-time film director who's got so much ambition and is definitely pushing boundaries, and The Whickers is all about pushing boundaries with first-time directors," she said, though she admitted that initially the project's ambition felt intimidating.
"I have to be honest, when I first saw this and I saw the trailer, I was a bit scared and over-challenged by it," she explained. "I wasn't sure if it would fit, and obviously that's the whole point of what you're doing, so I'm really intrigued."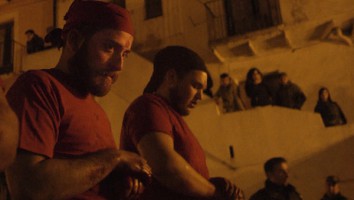 Per Tua Colpa (For All My Sins)
Director: Pasquale Remia
Producer: Raha Shirazi
Production company: Doppio Nodo Double Bind
Country: Italy
Status: Start of production
IDFA Logline: During Easter week, a small commune in Southern Italy becomes the site of a ritual, involving blood-drawing self-flagellation. Pietro is nine and all the men in his family are penitents.
Remia and Shirazi were in attendance to represent their project, which looks at ancient religious rituals in rural and agricultural communities in Southern Italy, specifically self-flagellation, and the decline of "peasant culture" in the region.
The stirring imagery and intensity of the subject matter left an impression on the panel, with many execs praising the technique as well as the potential to connect with a wider audience.
Jamel Dallali of the Al Jazeera Documentary Channel praised the "really amazing style of shooting," adding that while the religion itself is different, the cultural similarities make it an intriguing project for him.
"Something like it exists in the Arab world, so that's why maybe this subject could fit with us."
Lightdox's Anna Berthollet also praised the filmmaking craft, adding that the spotlight on the small religious community spoke to an ever-diversifying Europe.
"The story is very interesting to me because although it's very locally anchored, I think it's a story about one of the many, many faces of Europe today and I think the more different stories we have about Europe today, the better we can understand how to live together," she said. "Even though the community looks like it's living in the past, I think the project is also very timely, because for me it speaks to the challenges that rural communities face today."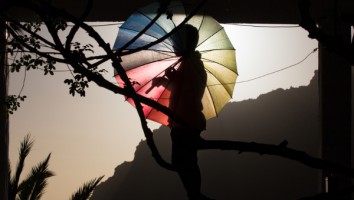 La Vida Es Un Musical
Director: Patty Pajak
Producers: Emil Lynge Johnsen, Stina Gardell
Production company: GotFat Productions, Mantaray Film
Country: Denmark, Sweden
Status: Development
IDFA Logline: While having found the true way to express himself, Alvaro uses his boombox to perform his musicals. When life starts to put him down he will turn up the volume and strengthen himself with the help of the boombox. But how long can you stay in the colourful musical world when you grow up?
The project pitched is a documentary series narrated by the subject as he grows up, from ages 10 to 14. Each episode will focus on a topic and Alvaro's overcoming of the struggles he faces as he deals with bullying, grief and puberty, among other issues.
One element mentioned by a few members of the panel was the issue of language, specifically of the potential need for subtitles in a documentary that could be otherwise ideal for a younger audience.
"It's really tricky with us, we're an arrogant nation," joked Kez Margrie of the BBC. "We also did some research about subtitling in the UK, and as long as the action is happening and it doesn't really matter if you're not reading the subtitling, it works, but with something like this, his philosophy is what you're subtitling. So that would be a bigger conversation for us."
Stefan Kloos of Rise and Shine believed that the topic was one worth engaging with.
"The subtitle issue is definitely always a problematic part. On the other hand, how can we get to know the world if we're not trying to support that there are other languages than our own, so I'd be happy, with any broadcaster or platform to enter conversations [on] how can this be done in an individual way," he said. He also lauded the project and offered the filmmakers advice on being flexible in their approach to length and format.
"I see this as a film, as a project, as a series that can speak to a younger audience and of course to an older audience and to a generation of adults," he said. "I would also recommend thinking [about] further formats right away, like a 30-minute format for example."
For Paulina Tervo of the educational platform Lyfta, the project seemed like a solid fit.
"We don't believe that we should make specific films for children; we believe that children are intelligent human beings that are media connoisseurs and good content is also good content for children," she said. "I think the story of Alvaro is really multidimensional and that makes it a great learning experience as well… There are themes [such as] self-expression, resilience, courage — all these important themes that we believe are really valuable."
(With files from Justin Anderson)