Independent film distributors Zeitgeist Films and Kino Lorber have acquired rights to The Unmaking of a College, a documentary on a U.S. higher education crisis.
The film, directed by Amy Goldstein and produced by Anouchka van Riel for Span Productions, covers the 2019 crisis at Hampshire College where students led a 75-day sit-in, the longest in U.S. college history. The sit-in was held at the college's new president's office after the school began looking for a strategic partner to ensure its long-term sustainability, in turn laying off staff and raising concerns over whether a new class of students would be admitted in the fall. The sit-in called for greater transparency in the college's decision-making process, and for student, staff and faculty voices to be included in that process.
Goldstein, an alumnus of the school, interviewed students, professors, whistleblowers and other alumni, including filmmaker Ken Burns, for the film.
"We were deeply impressed by the spirit and determination of these college students, and how seamlessly the filmmakers have captured this fast-moving situation," said Zeitgeist co-presidents Nancy Gerstman and Emily Russo in a news release.
Zeitgeist will release the film theatrically in early spring 2022. Kino Lorber will release the film on all major digital platforms and home video.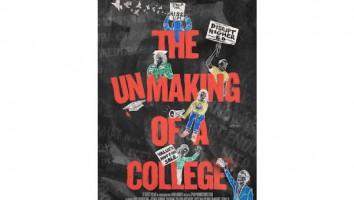 The film's trailer has been released and is available here.