Denver-based High Noon Entertainment does things a little differently.
Throughout the past 25 years, with very little fanfare, the team has produced nearly 6,000 episodes of television across roughly 350 series and specials, including genre-defining hits like Fixer Upper and Cake Boss (pictured). In fact, working from its Colorado home base, it's quietly become one of the most reliable and successful producers in the business.
Dig a little deeper, and you'll hear the team and environment described as family, humane or collaborative. It's a people-first approach that High Noon co-founder and chairman Jim Berger looks to foster both on- and off-screen.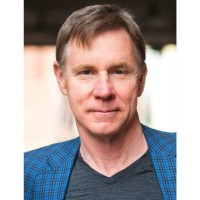 Berger (pictured, left) began his career in Denver as a local TV journalist before taking on senior management positions at outlets like Liberty Media. He credits that background for the acumen that informs the High Noon style.
"I think it came from my 10 years in local news, doing five stories a day and long-form stories and features for weekends. I just developed a curiosity about life and people – what makes them tick and why they are the way they are – what's extraordinary about the ordinary," he says.
It was that experience that fueled the character-first approach that's always been the company's hallmark. Every hit show, he says, begins with an engaging and unique character – then it's up to the team to honestly capture the unique flavor and drama of their world.
The journey began with shows like Emergency Vets (which boasts more than 120 episodes for Animal Planet), a project which Berger says led to a long-term working relationship with then-TLC president Clark Bunting. Hit series followed, like Unwrapped with host Marc Summers (more than 300 episodes for Food Network) as well as Modern Masters and If Walls Could Talk (both building to more than 100 episodes for HGTV). Then came long-standing hit Cake Boss (TLC), featuring Buddy Valastro and his family.
Though they're in different genres and made for different outlets, all of these shows speak to the High Noon mission statement: to inject heart into the reality genre and make TV fun.
"We don't do shows that are mean-spirited," says High Noon President Scott Feeley. "We do shows that are fun. I feel we do shows that are a celebration of the little things in life and those are, ultimately, the most important things."
Feeley say the team isn't satisfied repeating what's been done before. They want to push the lifestyle genre into new spaces. Take the archetypical home renovation show as a prime example.
"The talent were presenters, and it was really about the process of building homes," says Feeley. "With Fixer Upper, we really made it about Chip and Joanna Gaines. We made it about their family business. We made Waco a character. It doesn't sound revolutionary right now, but back then, the genre wasn't really doing that, and there was a big question about whether it would work and whether the audience really wanted that. It turns out they did.
"We feel like we set the bar with shows like Fixer Upper and Good Bones, and now shows like Farmhouse Fixer – and we just had a new show land called Houses of History. We're always thinking about the genre in new ways, figuring out how to tell stories a little bit differently."
In a typical year, High Noon aims to offer between 12 and 16 series, and launch eight to 10 pilots. The company currently has a full slate on the go, including projects for HGTV and other cable-casters, a new lifestyle series for Netflix, and upcoming offerings on streamers like Amazon and Hulu.
Asked why the High Noon approach seems to resonate so well regardless of the outlet, Feeley underlines the team's ability to meaningfully collaborate not only creatively but also logistically, and on the production management side as well. "Our culture has always been service-first," Berger adds. "When we pitch a show, we've got all the bases covered. We execute what we promise."
It may have been that mix of dependability and consistency that originally attracted ITV's interest. In 2013, the Denver prodco was bought by the American offshoot of the British broadcaster, a move that Berger says has been completely positive for the company. ITV America CEO David George agrees.
"For 25 years, High Noon has been the best-in-class lifestyle producer, and even with all of their accomplishments, it feels like they're just starting to hit their stride," George says. "There are new buyers entering the arena, with streamers focused on creating their own breakout series in this space – there's so much opportunity and no producer is better positioned to capitalize on it than High Noon."
Now, after this local newshound has spent the last few decades in the factual industry, Berger says the experience has made him more of a realist.
"Twenty-five years ago, it just pissed me off if I couldn't sell a show. Now, 25 years and 300-plus series later, we've probably been rejected 50 times more than we've been accepted. It's made me more of a realist," Berger says.
"But I wake up every day asking 'what's our next big hit?' And in this business, if you don't wake up every day with that fire in your belly to go create a new show, you're not going to last long as a company."