Not to cast any aspersion on "The Greatest," but it's always welcome to encounter a new boxing documentary that is not about Muhammad Ali.
While the one-time Louisville Lip is an inexhaustible subject, given his supercharged intervention in the chaotic currents of race, religion and politics, the sport that he both exemplified and transcended has thousands of other stories that more than demand telling in an Ali-dominated documentary marketplace. A welcome example was seen last year in Showtime's docuseries The Kings.
Another premiered at the Sundance Film Festival's virtual platform on Thursday night (Jan. 20). The first feature-length documentary by director, producer and actor Eva Longoria Bastón, La Guerra Civil, centers on the 1996 "Ultimate Glory" bout between hard-punching and hard-living Mexican legend Julio César Chávez, and Mexican-American Olympic gold medalist Oscar De La Hoya, who had succeeded "Sugar" Ray Leonard as a crossover boxing superstar.
Although the first-generation American De La Hoya proudly and publicly celebrated his Mexican roots, his broad appeal to white audiences drove a wedge through boxing's fervently enthusiastic Latino fanbase. For a large contingent, the grinding, brawling, iron-chinned Chávez was the "true" Mexican, whereas the "Golden Boy," with his million-dollar smile, showy and dynamic ring style, and enthusiasm for golf, was at best "not Mexican enough." In the lead-up to the fight, this cultural divide resulted in De La Hoya, who had been unceasingly feted throughout his Olympic triumph and meteoric professional career, being publicly booed by his own people — even by many in his own community in East L.A.
"Oscar revisited a lot of pain when we made this documentary," says Longoria Bastón (pictured, with De La Hoya) in an interview with Realscreen in advance of the film's world premiere. "He still remembers those boos, [and as we were talking in our interviews] it was as if they were happening now. So for him it was pretty raw and real."
Longoria Bastón says De La Hoya initiated the project, which is co-produced by the director's label Unbelievable Entertainment and the sports streamer DAZN under the banner of the latter's original-content brand DAZN Originals.
"I've known Oscar for 25 years, and he came to me and said 'It's the 25th anniversary of this fight and we want to do a documentary about it, will you direct it?' At first, I said, 'Oh God no, I don't want to do a boxing doc,'" Longoria Bastón says.
"But I remember that fight, and that my household was divided. My grandpa and my dad were for Julio, and me and my cousins were for Oscar. Looking back now, it was a huge fight in the culture war of, 'What does it mean to be Mexican enough?' And for me, growing up as a Mexican-American, I straddled the hyphen of [that]. I'm 100% Mexican and 100% American at the same time, and navigating that identity was something I understood.
"So I told Oscar, I don't want to do a 'boxing doc,' but I'd like to do [a film about] what this fight meant for our community."
This is not Longoria Bastón's first time working with a major sports entity. In 2016, she executive produced and directed the first episode of the five-part docuseries Versus, a collaboration with ESPN's '30 for 30′ stream. Even so, she confessed that initially she had no idea that DAZN — which has sought to establish itself in the marketplace by investing heavily in boxing, including signing a five-year, 11-fight, $365-million deal with Mexican superstar Saul "Canelo" Álvarez in 2018 — was such a force in the boxing world. Neither, in fact, was she aware that it existed at all, despite her friend De La Hoya's connection to the streamer through his Golden Boy Promotions firm, which had negotiated its former client Álvarez's eye-popping deal.
"Oscar called me and said, 'You're gonna direct [this doc], and DAZN's gonna finance it.' And I said, 'What's DAZN?'" Longoria Bastón laughingly recalls.
For the streamer, La Guerra Civil's Sundance selection lends a helpful aura of prestige as it looks to enlarge its footprint in the original-content realm. One day prior to the film's premiere, the company announced it was launching a new content-development wing, DAZN Studios, to create more development deals, sell and license DAZN's original sports documentaries, series and films, and to explore other production opportunities.
"This is their first original film [to make it into Sundance], so they're beside themselves," says Longoria Bastón, who added that her prodco Unbelievable is in early talks with DAZN about a "sports docuseries in Europe."
While La Guerra Civil is built around meaty interviews with De La Hoya and Chávez — along with commentary from legendary boxing trainer Ignacio Beristáin, the very animated 104-year-old Jesus Rivero (who came out of retirement to train De La Hoya for the "Ultimate Glory" bout), sports journalist Claudia Trejos, comedian George Lopez, and actor and TV host Mario Lopez, among others — its backbone is its wealth of archival footage. The footage presented the doc's makers with the sourcing and selection challenges intrinsic to this kind of filmmaking.
"So much of [what we used] was from Oscar's archives, VHS stuff that he had since he was a kid… he documented everything," Longoria Bastón recalls. "So that part was easy. The challenge was Julio César, who's from a different generation. He didn't have a camcorder when he started boxing in Tijuana."
Nevertheless, Chávez's post-fame life (and virtually all of De La Hoya's life from his teenage years on) presented the director with mountains of footage to sift through, and any number of storytelling paths to take.
"Any time you direct a documentary you need to have a thesis, you need to have a question you're asking and answering. Because if you don't stay focused, archival footage and interviews will take you down 10 different lanes," said Longoria Bastón.
"I had to work with my editor on that a lot. Because he'd tell me, 'Wow, we have this great footage, it's never been seen before,' and I'd have to say, 'It doesn't serve our thesis, the theme that I'm exploring.' So because I was [looking at this fight] through a cultural lens, not a sports lens, I think it sets [the film] apart from your traditional sports docs."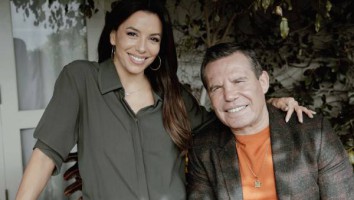 When speaking with Chávez (pictured above, with Longoria Bastón) and De La Hoya, the director was struck by the differences in the way they reflected on their lives and careers. "Every time I talked about a fight with Julio, he really remembered how he felt [at the time] — he remembered things outside of the boxing ring. Like, when I asked him what he remembered about the 'Macho' Camacho fight, and he said, 'Oh, that was the first time I tried cocaine.' And for another he'd say, 'Oh, that's when my wife almost left me.' Whereas what Oscar remembered about his fights was technique and strategy — like, 'Oh, in that fight I was going to come forward, I was going to push him back.'"
Those differing workings of memory cast into relief the differences in the men's lives, and the trajectories of their respective careers. For Chávez, growing up poor in Sonora, Mexico, boxing was at first simply a way to put food on the table. In the documentary, he recounts that prior to winning the WBC super featherweight title in 1984, the most he had ever made for any of his 43 undefeated fights was $2,500. It wasn't until after winning that first belt — followed by five more across three weight divisions, and an unbeaten streak that stretched to 89 fights before his first professional loss — that fame, fortune and the worship of his countrymen came to him.
By contrast, the decade-younger De La Hoya's entry into the sport was not unlike Tiger Woods' apprenticeship in golf. After displaying an affinity for the ring at just six years old, the young Oscar was pushed relentlessly in his pugilistic schooling by his father, with an eye already on the U.S. Olympic team and, following that, the financial rewards to be reaped from going pro. The photogenic De La Hoya earned $150,000 for his very first professional fight in 1992 (five times what Chávez made for winning his first world title), and pulled in millions from endorsement deals and other out-of-the-ring activities.
"This documentary really explores how different these two guys were at the beginning: the old guy versus the young guy, the champion versus the up-and-comer, the American versus the Mexican," Longoria Bastón says. "And the fight was purposely promoted that way, [to] create conflict, the way promoters always do. But by the end of the documentary, you see how similar they were, and how similar they are.
"And for the Mexican community, that's the message I hope they take away from this. Our community isn't monolithic, but we have a lot more similarities than differences. And we have bigger fights to fight: we have to have access to education, we have to have access to voting, we're disproportionately [negatively] impacted by the economy, and if we don't figure out our similarities we're not going to win those fights. So I wanted that to be a big message as well: I get it, we're different, you're Puerto Rican, you're Cuban-American, you're Mexican-American, whatever, [but] we've got a lot in common. So let's aggregate and use that power to create change for our community."
A second screening of La Guerra Civil is scheduled for Saturday, Jan. 22.