TikTok, Boom, the latest documentary from Shalini Kantayya, marks a return to the Sundance Film Festival following the premiere of her previous film, the tech documentary Coded Bias, about the human biases that end up reflected in algorithmic learning, in 2020. While the subject matter might be slightly different this time around, TikTok, Boom brings a similarly critical eye to another aspect of the tech world: the trendy social media app TikTok.
Kantayya's new documentary goes beyond the surface-level hand-wringing often seen in analysis about social media to look not just at the app itself, but also at the young people who live on it. The film also examines issues such as race, gender and security as they relate to the app and its users.
Recounting TikTok's journey from its start as the brainchild of a Chinese internet entrepreneur through its explosion as the latest buzzed-about app that seemingly everyone under the age of 20 swears by (or at least were doing so at the time of this writing), TikTok, Boom takes a deep dive into its subject while interrogating its broader meaning, and examining how something so seemingly superficial can have an impact on our everyday lives.
Realscreen caught up with Kantayya (pictured below) ahead of the Sundance premiere of TikTok, Boom to discuss the film.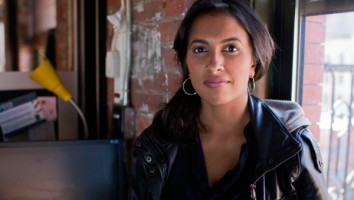 This interview has been edited for brevity and clarity.
A lot has been made about TikTok recently, and it's often portrayed as a frivolous thing for young people. What made you want to approach the subject in a more serious, thoughtful way?
TikTok, Boom follows Gen Z influencers to explore how a social media app best known for teenagers dancing becomes the center of geopolitical conflict.
As TikTok takes to the throne of the world's most downloaded app of all time, we tell the personal stories from inside this cultural phenomenon — the global superstar that beatboxed his way to the Hollywood A-list, the Black creators shadow-banned in the wake of George Floyd's death, the whistleblower of content moderation, and a girl whose post almost upended a presidency.
The story of TikTok is a story about the future of society, of today's zeitgeist, of an algorithm like no other and how a 60-second video from your bedroom might just have the power to change the world.
The issue of white creators "stealing" dances and other content from POC creators has received some mainstream attention. How important was it to cover the issue of race in the film? 
The story of TikTok is nuanced and complex, and it's my hope that the documentary reflects that complexity and nuance.
Were the more serious issues (race, security) something that your subjects were reluctant to discuss?
Many who are featured in the film are social influencers, and have experience being candid on-camera.
Is there something about TikTok specifically that makes it different from previous social media apps?
TikTok has surpassed Facebook, Instagram, and Twitter in global downloads. And its recommendation algorithm is incredibly powerful at creating a profile of your tastes.
This isn't your first documentary about technology. What are the challenges in presenting tech-related subjects to broader audiences?
I am obsessed with technology and the way it impacts our humanity. There is now an entire generation of human beings that have grown up online, and while there is still much unknown about the repercussions of this daunting new space, I felt it important to let TikTok, Boom be an ode to that new frontier — a portrait of Generation Z, told by them and for them, in the pivotal moments between our understanding of it and their future. TikTok, Boom shines a light on the challenges and triumphs of the first generation of humans coming of age online, and how they navigate voice and power on a global platform.