It was a flurry of tweets one night that first grabbed director Jackie Torrens' attention and introduced her to Bernie Langille's story.
Around midnight one night, Torrens — a Canadian filmmaker, writer and actor who has directed a number of TV documentaries for the CBC, including Edge of East, My Week on Welfare and Small Town Show Biz — saw Langille's tweets asking if anyone could help him find information about his late grandfather, who he had never met, and who had died 50 years earlier under mysterious circumstances. The more Torrens read about his story, the more compelled she was to meet Langille.
"In five decades, whenever the [Langille] family has told different people about the story, they have tended to not be believed, because the story is so unusual and actually quite unbelievable," Torrens says. "So as soon as I saw these tweets, I sent [Bernie] a message and said, 'I'm a storyteller. Would you like to get together and talk more about your grandfather's story?'"
In Bernie Langille Wants to Know What Happened to Bernie Langille, Torrens and Langille explore the story of Langille's grandfather and namesake, who died 15 years before Langille was born and whose story has been passed down from generation to generation in his family. Langille's goal is to uncover the truth about his grandfather's death and bring some semblance of healing to his family.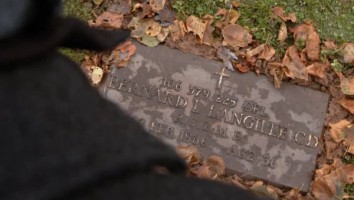 The documentary, premiering at this year's Hot Docs festival, features interviews with various family members, former friends and neighbors, and also re-creates details of the elder Langille's death via a series of miniature sets.
The story was first told by Torrens in an 18-minute short film in 2018 that acted as a proof of concept to generate interest in a feature-length version. After the short's premiere at Hot Docs in 2018, Peep Media — the production label co-founded by Torrens and producer Jessica Brown — was commissioned by the Documentary Channel to make a feature-length version, with Teresa MacInnes serving as executive producer.
Bernie Langille Wants to Know What Happened to Bernie Langille will premiere at Hot Docs on Saturday, April 30 before airing on the Documentary Channel later this year.
Torrens sat down with Realscreen ahead of the film's premiere to discuss the genesis of the project, the process of expanding it from a short into a feature, and the film's unique speculative re-creations of the circumstances surrounding the elder Bernie's death.
This interview has been edited for length and clarity.
How did you first hear about Bernie's story, and what was it about him and his story that attracted you to the idea of making a film about it?
Jackie Torrens: I had actually been searching for a story. I had come up with the idea to tell a documentary story through the use of miniature sets about five years previous to that, because I had done a documentary on miniaturists — artists who create in miniature — for CBC Radio.
At the time, I also happened to be really taken by the work of an artist who creates in miniature called Frances Glessner Lee, who lived around the 1920s. She was a rich woman who wanted to become a criminologist, and, back in the day, they essentially said to her 'You're a lady, why don't you go get a hobby?' At that time, making miniatures was considered a suitable feminine pursuit, so she started making miniature dioramas of true-life crime scenes. They're so well done that she's basically known as the mother of forensic science: she became a criminologist herself, [and] her crime-scene dioramas are still used to train police officers today in the States.
So I had thought at that time, 'I need to find an incredible story in which to tell the re-enactments using miniatures' — I wanted it to be kind of an unreal, subversive story, to kind of play against an environment where you might expect to see miniatures used.
Was the plan always to release this as a short film, and then later as a feature? How was that decision made?
Torrens: As soon as we found this story, it was always the plan to do a feature. But because the idea for the re-enactments is a bit unusual, in the sense of us creating miniature worlds, we realized it was an idea that probably needed a proof of concept, so people could get how exactly we would be enacting this idea.
So we put together a short film that we brought to Hot Docs in 2018, with the express purpose of trying to see if we could find a home for a feature version of the story, and that's exactly what happened. We were lucky enough to have a meeting with Jordana Ross at the Documentary Channel — she loved the short, and we were immediately commissioned to make the feature. So it's one of those very rare occasions where what you've planned actually came to happen, so that was wonderful.
What did you make of the response to the short film upon its release?
Torrens: It just confirmed for us that this idea to do a documentary about a very unusual story that happened to one family, using miniature re-enactments, was indeed a really good idea. To use the miniatures in this story where Bernie Langille never met his grandfather, but he grew up with the story like it's a dark family fable, to be able to re-create 1968 and tell the story through miniatures, lends the whole feature an odd subversiveness and an odd feeling of surreality. And that's appropriate considering that this is kind of a strange inheritance that was handed down to our Bernie, that he's grown up with and has been trying to make sense of.
In what ways did using miniatures help illustrate the story you wanted to tell in this documentary?
Torrens: The story that happened with his grandfather, he grew up hearing about it, but because he wasn't there for it he approached it with a critical distance. And it was only through going on this journey to try and find out what more had happened that he started to communicate with family members in a way he hadn't before, and he started to realize that this was a real event that had happened to a real family, his family, that had real effects — not only on the generation that came before Bernie, but it has actually also had a huge effect on [Bernie] himself.
And through the filming of this documentary, Bernie had his own child, so he was put in this position where he had to make a decision: is he going to pass down this strange inheritance of the story that's been given to him to now the fourth generation of Langilles, or is he going to do something different with the story to kind of mitigate the effects that this had on the family? So the advantage of being able to tell Bernie's story through the use of miniatures is that we could go back and re-create the kind of 1968 that's historically accurate. The [miniaturists] who created our 18 different sets based on the Langille family story were able to create these miniatures with a lot of historical accuracy using photos and home movies that the Langille family were generous enough to give us. So there's a realism and an accuracy there in the miniatures, and there's also a surrealism.
Depending on who Bernie went to visit to hear their version of the story from, we could then adapt and change the miniatures to reflect what perspective we were hearing it from — because, of course, stories are influenced by who is telling the story. So as Bernie was trying to construct the pieces of the family stories, we were also there as a film crew, constructing the story of Bernie constructing the story of his family story. So often in our film, you can see our film crew or you can see our gear — that's to kind of alert the viewer that someone is telling the story of Bernie, who's trying to tell the story of his family. And that's how all stories come about. They're constructed by whoever it is telling them and what they know, and what their motivation might be.