There is no shortage of worthy causes to explore and investigate via documentaries, and with more outlets flocking to the genre, there are more opportunities for "impact" films to make their mark. But when it comes to financing such films or the campaigns around them via wealthy benefactors, what are the potential red flags to watch for? Doc-maker Simon Nasht (pictured) weighs in.
Since the 2006 release of the world's most famous PowerPoint presentation, An Inconvenient Truth, an industry has grown up to fund, distribute and magnify the impact of documentaries that are unashamedly campaigning for causes. The subjects range from social justice and racial and gender equity to the environment, animal welfare, education, law reform and beyond.
Campaigning films have attracted support from celebrities, tycoons, ex-presidents, philanthropists, increasingly important organizations like GoodPitch (which has raised more than $33 million in documentary funding), Doc Society, and the Sundance Institute and national initiatives such as Documentary Australia in my home country. Collectively, these funders have channelled hundreds of millions of dollars towards docs. Surely this is a good thing?
Not so fast.
First up, cards on the table. I have produced several high-profile impact films, partly funded by philanthropy. They would likely never have been made without this support. None of these funders attempted to have editorial influence, but with the scale of the "impact industry" these days it is fair to predict that it's only a matter of time before the check writers express more than just a benevolent interest. Given that most documentaries are produced by small businesses, producers may feel unable to push back when a billionaire calls with a few "suggestions."
That would be a mistake, as our power should not be underestimated. The rich are coming to us for a reason. Cardboard-box billionaire (and Trump supporter) Anthony Pratt credited An Inconvenient Truth with transforming his U.S. business, as customers' increased demand for recycled packaging made his Visy Industries untold millions in profits. Documentaries create a halo effect that advertising can never replicate.
Little wonder, then, that documentaries have attracted funding from billionaires such as the late Microsoft co-founder Paul Allan, PayPal pioneer Peter Thiel, eBay alumni-turned-Participant Media founder Jeffrey Skoll, and many others from the "1%." These days, more films are made by billionaires than about them.
Alarm bells for me were raised recently when Australia's richest man, Andrew Forrest, announced he was launching a $10 million film fund as part of his wider philanthropic foundation. His business model is by way of investment, not grants, raising difficult questions of control and transparency.
"Awareness changes the world," said the mining billionaire in an interview with the Sydney Morning Herald announcing the launch of Minderoo Pictures. But as the song says, money makes it go round. One wonders if his awareness might stretch to films examining the impact of the mining industry on Indigenous peoples or the damage it is said to cause to fragile environments? Time will tell.
No matter how well-meaning such funding approaches may be, a philanthropic model that seeks to profit from a documentary simply muddies the waters. For many reasons, it's a bad idea.
I don't have the luxury of being a purist, as every film remains a struggle to finance and distribute and the money needs to come from somewhere. But there needs to be clear rules of engagement with benefactors.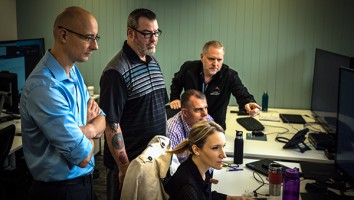 Recently I coproduced (with Tony Wright) and co-directed (with Akhim Dev) a hard-hitting project, The Children in the Pictures (pictured above), dealing with online child sexual abuse. Our film reveals the vast extent of the organized criminal networks operating on the dark web, some with millions of members. Their sole goal is to exploit children and to exchange videos of this unimaginable torture and pain.
It's a technology crime. As such, it's not a subject likely to attract the support of a tech billionaire or the businesses they control, where abuse material is sometimes being stored and shared.
The film was financed with a mixture of broadcast pre-sales, podcast rights, and Australia's generous public film support system. But getting the message out and building the partnerships to influence policy makers and educate parents and the media was always going to be a challenge.
We were well into production of the film when a scandal broke involving Australia's oldest bank, Westpac. The bank had self-reported that its international payments platform had been used by some individuals to pay for live streaming of child abuse in the Philippines. The resulting fallout cost Westpac both its chairman and CEO and resulted in a $1.4 billion fine, the largest penalty in Australian history. It was the greatest crisis Westpac had faced in its 200 years.
To its credit, rather than seeking to minimize the consequences the bank dedicated itself to making child protection a corporate priority and playing a role in eradicating this ghastly crime. It created an internal team to find ways to make as much impact as quickly as possible.
When we approached Westpac, they were still in shock but willing to listen. We came armed with evidence that a documentary is a powerful tool for a campaign that can shift the dial on important issues like this, and argued that one of the biggest problems was a lack of public understanding about the scale and extent of these crimes. Westpac agreed, and to sustain our campaign, it made Australia's largest-ever impact grant, a seven-figure commitment over three years.
The bank was as concerned as us that any contribution to our project might be seen as a cynical attempt to white-wash its reputation. Therefore, from the start we mutually agreed the grant would not be spent on the production of the film, only its release and supporting our impact team.
Westpac has no commercial interest in the film, no influence on where it will be seen and, equally, no input or responsibility for what it says. Initially, Westpac wanted no recognition, even in the film's credits. We convinced its team that we had a duty to inform audiences where our funding came from. The contract deals with these issues, but it's largely a matter of mutual trust built on clear and early communications about each side's expectations.
It will take years for the bank to rebuild its reputation (though its share price quickly recovered), and it could certainly be argued that our film is being used for at least part of that process. Still, as I view it, my concern as a campaigning filmmaker is helping to prevent a child being raped, not shaming an already chastened organization. This is not a tobacco company or a fossil-fuel business that's currying favor while maintaining business as usual. For me, the ethical question is: what I can achieve with their money?
So far, more than 400,000 Australians have seen the film, and we have organized more than 150 screenings for law enforcement, NGOs, survivor organizations, and parents and educators around the world, despite the disruptions of the pandemic. With long-term funding in place, we are now launching our international release with UN and Congressional screenings, as well as partnerships with major NGOs and law enforcement agencies. Each of these partnerships will have its own set of rules, too.
Westpac's grant has allowed us to hugely magnify the impact of the film. So my advice is, yes, consider taking the money if you can find it. But be very certain the benefactor understands they have no editorial role or control over how audiences get to see the film.
The trust we have earned as documentarians has been hard-won, and we will be courted by the rich and powerful because of it. This is not the moment to surrender our independence.
Simon Nasht is a veteran documentary filmmaker, and has founded production companies in the UK, U.S. and Australia. He has produced, directed, written or executive produced more than 50 films and series over the past 30 years.
This article previously appeared in the May/June 2022 issue of Realscreen. Not yet a subscriber? Click here for more info on how to subscribe.