UK digital terrestrial net BBC4 is planning a series of documentaries examining the birth and growth of the documentary format in Britain, as part of its 2011 spring/summer season.
The net will air four programs exploring how Britain has taken a mirror to itself through its documentaries, starting with the earliest pioneers who first filmed Britain.
From Lambent Productions, The Camera That Changed The World tells the story of the filmmakers and engineers who built and wielded the hand-held cameras which made it possible to record real life as it happened; while Britain Through A Lens (pictured above) explores the Documentary Movement which, between 1929 and 1950, proved hugely influential to British film.
From the BBC's in-house production unit, meanwhile, comes Harold Baim On Film, which looks at the titular filmmaker who worked from the 1940s to the 1980s; as well as The Highlands On Film, which tells the story of the Scottish Highlands through the eyes of the documentarians who filmed there.
Elsewhere on the spring/summer slate, the network has secured The Prince of Wales to front a feature-length documentary on the music of Hubert Parry. Entitled The Prince and the Composer (pictured below), the one-off will see Prince Charles offering fresh insight into Parry's life and the range of his work, with the help of members of the musician's family, scholars and performers.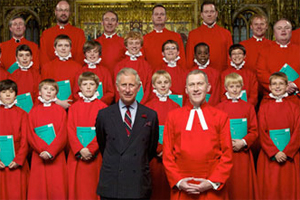 The channel will also follow on from previous science seasons with Botany, a new season tracing the history of plant science. At its center will be an authoritative three-part series, Botany – A Blooming History, presented by Oxford University Botanic Garden director Timothy Walker.
Finally, the net's Luxury season looks at the fascination people have with the comfort, design, service and glamor that is associated with luxury products, and why these items are valued in everyday life.
Documentaries in the season include The Perfect Suit, A History Of Luxury, Perfume, Timeshift – Hotel Deluxe and Teenage Luxury, and cover topics ranging from the perfect male suit to the world of perfume and exotic hotels.
BBC4 controller Richard Klein said: "We're curious about the world around us and will continue to take an in-depth exploration of subjects that you rarely see on television, from botany to Icelandic culture, as well as dramatizing moments that have changed the course of cultural life."