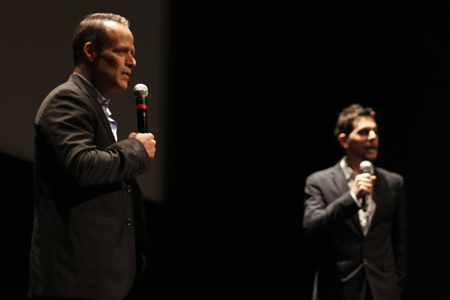 Sebastian Junger (pictured) paid tribute to Tim Hetherington at a special Hot Docs benefit screening of Restrepo on Saturday (May 7), telling attendees during a Q&A that he could not see himself returning to a warzone after the death of his friend "took the wind out of my sails."
The event commemorated the life and work of Hetherington, who died in Libya last month, and saw some 500 attendees cram into Toronto's TIFF Bell Lightbox, among them senior execs from CBC and Skywriter Media, as well as acclaimed director Steve James (Hoop Dreams, The Interrupters) and actor Elias Koteas (The Hot Zone, The Thin Red Line).
The screening of Restrepo was preceded by Diary, a 19-minute experimental short film made by Hetherington, and was followed by a Q&A with Junger, who flew in from New York to honor his friend, colleague and co-director.
"He was incredible," Junger said of Hetherington. "He was bigger than life physically, but intellectually too. He had this incredible mind, and he would see things and think about things in ways that I've never really been exposed to before.
"He was a great filmmaker, and I learned a lot from him. As a friend, a companion and an intellectual sparring partner… he's irreplaceable; for me and for the world in general."
Junger told attendees that a key part of the Restrepo story, not shown in the documentary, was that Hetherington had broken his leg while filming – and subsequently been forced to walk for a whole night with the injury.
"That was one of the things that really made the soldiers just absolutely love Tim," he said. "The central ethos of a soldier is that you don't endanger others because of your own discomfort. He was one of them, in a sense, after that."
He added that many soldiers featured in the documentary had reached out to him following Hetherington's passing. "His death is sort of triggering these memories of deaths in the Korengal Valley," Junger explained. "They're sort of flashing back to it and it's extremely painful to many of them I think."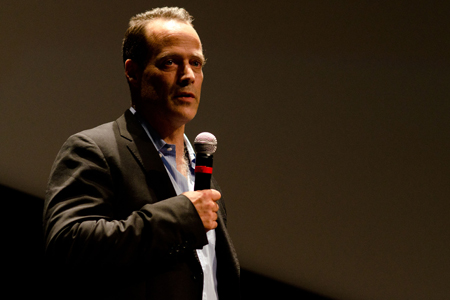 The filmmaker also remarked that he had yet to see Restrepo again since learning of Hetherington's death. "I'm going to at some point, but I have to pick my moment," he said. "When they [the troops] watch it, one of the things they're watching is a reminder of the death of their friends.
"Now what I'll be seeing next time I watch the movie is the death of a brother. I'll be watching this movie with a complete understanding of what war is."
When asked what advice he would give to any young filmmakers looking to get into war reportage, Junger warned: "You need to gradually acclimate to a war environment and figure it out and learn, because even if you don't get yourself killed you can get other people killed – it's a really serious business out there."
That said, he reflected that he himself would probably not be returning to a warzone. "Tim really took the wind out of my sails," Junger said. "I'm 49, I've sort of made my own peace with the idea of getting killed – it's almost happened enough times that you have to figure out how to make peace with it.
"But I've now experienced what it feels like to lose someone, and I now realize that all the people I'm close to would go through what I'm going through right now. I'm willing to gamble my life for something that feels important, but no-one else that loves me or is close to me really made that deal. And I've suddenly understood that you're really responsible to more people than yourself.
"So I'm going to try to find a way to cover stories that are political and important without actually being in places where people are shooting guns at me."
Junger's Q&A was met by a standing ovation from the Toronto crowd (pictured below).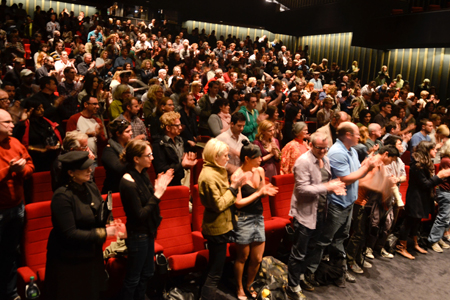 The event was organized by National Geographic, Hot Docs and realscreen, with support from HarperCollins Canada, Playback magazine, Maple Pictures and Nick Quested.
The screening raised more than CAD$10,000 for three charities chosen by Tim Hetherington's family: Human Rights Watch, the Committee to Protect Journalists (CPJ), and the Milton Margai School for the Blind in Sierra Leone.
In addition, HarperCollins Canada – which publishes Hetherington and Junger's books – announced it would donate CAD$1,000 to the CPJ.