(Photos by Rahoul Ghose)
Original Productions' Deadliest Catch and Worldrace Productions' The Amazing Race were the big winners at realscreen's second annual Factual Entertainment Awards in Santa Monica, picking up a total of nine awards between them.
Deadliest Catch, which airs in the U.S. on Discovery Channel, picked up five awards, taking the 2011 Award of Excellence along with trophies for Best Docureality Programming, Most Compelling Character (for the show's whole cast), Best Music and Best Editing. The awards were accepted by the show's exec producer Jeff Conroy (pictured above).
CBS's The Amazing Race, meanwhile, took home gongs for Best Cinematography, Best Game Programming, Best Directing and Most Original Concept.
The latter two awards were tied with other programs – Best Directing also went to HBO's Wartorn 1861-2010, produced by Attaboy Films in association with HBO Documentary Films; while Most Original Concept was also awarded to Discovery's Lion Television-produced series Cash Cab.
In addition to Best Directing, Wartorn 1861-2010 also landed the prize for Best Non-Fiction One-Off or Special; while the prize for Best Non-Fiction with Recreations went to Jane Root's Nutopia, for the History series America: The Story of Us.
Elsewhere, it was a good night for KISS singer/bassist Gene Simmons. In addition to being inducted into the Factual Entertainment Awards Hall Of Fame (pictured below), Simmons' A&E series Gene Simmons Family Jewels picked up the prize for Best Docusoap Programming.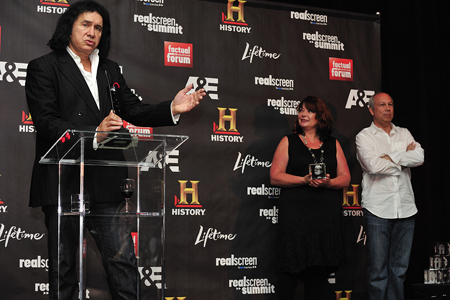 Taking to the stage after being inducted, Simmons teased A&E's president and general manager Bob DeBitetto for wearing jeans and a shirt ("Bob, thanks for dressing up for the event").
However, he also paid a heartfelt tribute to his long-term partner Shannon Tweed, who he described as "the girl of my dreams."
"Where were you all my life?" he asked her. "I need you to make me a better person."
Elsewhere at the ceremony, the Best Non-Fiction without Recreations award went to KEO Films for BBC2 series Welcome to Lagos; while the gong for Best Docuformat Programming went to Twenty Twenty Television for BBC3 series The World's Strictest Parents.
GRB Entertainment's A&E series Intervention picked up the prize for Best Casting/Talent/Subjects.
The award for Best Competition Talent/Studio Based Programming went to CBC's Insight-produced title Battle of the Blades; while the gong for Best Competition/Lifestyle Programming went to High Noon Entertainment for TLC series Cake Boss: Next Great Baker.
In the Best Food Programming category, Authentic Entertainment won out for Food Network series The Best Thing I Ever Ate.
Meanwhile, the winner of Best Design Program went to Insight Productions for The W Network's How to Look Good Naked Canada; while the prize for Best Home Programming went to Departure Films for DIY Network's The Vanilla Ice Project.
The Best Host Award went to Buddy Valastro, star of TLC's Cake Boss: Next Great Baker, while the prize for Best Presenter went to Karl Pilkington, star of Sky1′s An Idiot Abroad.
Finally, MTV executive VP of programming and head of production Chris Linn took to the stage to honor Bunim/Murray co-founder Jonathan Murray, who was also inducted into the Hall of Fame.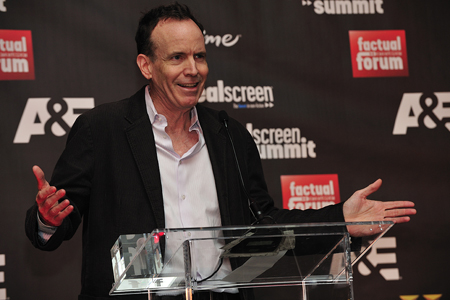 Accepting the award, Murray paid tribute to his late business partner Mary-Ellis Bunim, telling the crowd that "for 17 years we shared an office and for most of that time we shared a desk."
He also joked: "This is, like, the best awards show – first of all you get drinks, and second, it goes really fast."