Directors Nick Broomfield and Morgan Spurlock (pictured) will go head-to-head for the keynote conversation at the Doc Conference day during this year's Toronto International Film Festival (TIFF), doc programmer Thom Powers tells realscreen.
The filmmakers are both launching new docs at TIFF next month (Broomfield will premiere his film Sarah Palin – You Betcha!, while Spurlock launches Comic-Con: Episode IV – A Fan's Hope) and the chat, moderated by Powers, will explore the processes behind their crowd-pleasing works.
"I don't know that they've ever been put in conversation before – I'm not sure that they even know each other," Powers tells realscreen, "but it seemed like a good match, and I think they'll both have a lot to say. Chances are I won't have to do very much as a moderator."
Elsewhere, the one-day conference – which takes place at the TIFF Bell Lightbox from 10 a.m. to 5 p.m. on September 12 – will see the world premiere of The Tsunami and the Cherry Blossom, a 30-minute doc short from Lucy Walker, the Academy Award-nominated filmmaker behind Wasteland.
Filmed in Japan after the tsunami and set against the back-drop of cherry blossom season, Walker interviews people seeking to rebuild their lives. Following the screening, she will discuss its making.
"This is a film that has only been in production less than six months, in the aftermath of the Japanese tsunami," says Powers (pictured below). "Lucy approached me over the summer and said, 'Look, I've got this new film, it's very timely and I want to get it out there.' We thought Doc Conference was the perfect opportunity to showcase something by such a vital talent."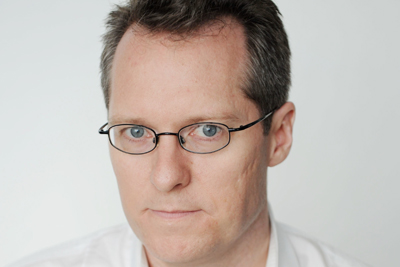 Continuing the theme of shorts, the 'Short Docs; Big Exposure' panel will hear from three companies that are making short documentaries a key part of their business.
Karol Martesko-Fenster of Cinelan will talk about his company's work with leading directors on three-minute films, while Marc Schiller of The Economist Film Project will discuss the magazine's partnership with PBS NewsHour, and Beth Levison of Etsy talks about creating short profiles of artists.
Later in the day, film consultant Peter Broderick will be joined by Diane Weyermann of Participant Media for the 'How Films Can Change The World' session, which looks at recent studies examining the ways films can make a dramatic impact on public awareness and behavioral change, drawing from the experiences of docs such as An Inconvenient Truth, The End of the Line and Waiting For "Superman."
As part of the session, Joe Berlinger – who directed the forthcoming Paradise Lost 3 in collaboration with Bruce Sinofsky – will discuss how his work has raised awareness over a legal case and kept a man on death row from being executed.
Finally, there will be a sneak preview of To Tell the Truth, a forthcoming six-part series from director David Van Taylor and his company Lumiere Productions, examining the history of documentary.
"Two of the episodes have been finished so far, and David is going to give us a sneak preview of clips from those episodes," Powers says. "It will also be an occasion to talk more widely about some of the unique challenges for documentary filmmaking that have existed through history, and continue to be just as relevant today."
Powers said that with this year's Doc Conference, he and his team have aimed to focus more on the creative aspects of documentary filmmaking, rather than the business side of the process.
"In the past we've had some hardcore panels on distribution and hybrid distribution, and I felt like this year was an opportunity to look at some other aspects of it via some of the leading creators, like Lucy, Nick and Morgan," he says. "The session on short filmmaking has a distribution component, but it's also looking at what you can do creatively with the short-form."
The naming of Broomfield and Spurlock for the keynote chat comes after last year's Doc Conference saw directors Werner Herzog and Errol Morris tapped for the flagship conversation. Herzog returns to TIFF this year with his new film, Into The Abyss, which has its world premiere as part of the festival's Real To Reel strand, as previously reported.
Of Broomfield's anticipated Sarah Palin – You Betcha, Powers says, "There are a lot of people who would like to treat Sarah Palin as a joke, but she's definitely not a joke in the grass roots power that she wields in American politics. What is valuable about Nick's film is that he takes very seriously what she represents in America today, and gives us a real understanding of where she came from."
Meanwhile, Spurlock's new effort (pictured below) is billed as being markedly different from his brand-funded previous film, POM Wonderful presents The Greatest Movie Ever Sold, which premiered at Sundance earlier this year before opening both Hot Docs and Sheffield Doc/Fest.
"Morgan isn't in the Comic-Con film, and it isn't built around him – it's built around other characters," Powers explains. "It's kind of unique in that most films that look at fan culture do so either with irony, condescension or outright disdain, whereas Morgan is approaching that culture with a lot of affection for it and understanding of it."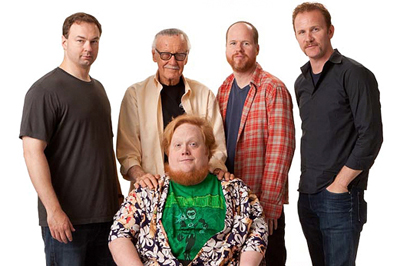 TIFF takes place from September 8-18 and, as previously reported, will feature doc premieres from a host of big-name directors, including Davis Guggenheim, Cameron Crowe, Jonathan Demme, Alex Gibney and Wim Wenders.
One trend Powers remarks on is the number of documentary makers "who are really stepping on the gas" in terms of their output. "Filmmakers who were here last year include Herzog, Alex Gibney and Frederick Wiseman, who is still highly productive in his 80s," he offers.
"And although Morgan Spurlock wasn't here last year, he had a film out at Hot Docs just a few months ago. So those are four filmmakers who have produced films consecutively. And in the case of Gibney, he's pulled off a hat-trick this year with films at Sundance [The Magic Trip], Tribeca [Catching Hell] and Toronto [The Last Gladiators].
"So that's a fascinating thing to see – this trend of filmmakers who are able to have such a quick turnaround between projects."