Last week saw the launch of BBC ob doc Sandhurst, an Icon Films series looking at the infamous UK Royal Military Academy. Here, Icon's creative director and executive producer Harry Marshall (pictured) describes the ethical challenges involved in the shoot.
---
Grainy video footage on a laptop shows a soldier in desert combat uniform with a rifle, patrolling a busy market somewhere in Baghdad. Without warning the soldier goes into a lazy break-dance. He has been shot.
In another clip, a soldier is sitting in an armored vehicle looking bored. A halo of dust forms around the soldier's helmet. His head jerks violently and he drops down through his turret, his arms seeming to clap above his head as he slips down through the narrow hole. He has also been shot dead by the same Iraqi sniper who uses the nomme de guerre Jubba and specializes in filming and posting his kills on the Internet.
The chilling scenes are being watched on the Internet by two cadets in their first term at the Royal Military Academy Sandhurst where Icon Films is shooting a BBC documentary series about the making of a British Officer.
It's late in the evening and Tant and Thompson (they still don't know each other's first names), who share a room in Old College, discuss what they are seeing on their laptop, the risks they'll be facing, and the ethics of killing. It's a raw insight into how the next generation of British Army officers understand their role in both practical and moral terms.
And, with access to all areas and nobody chaperoning the cadets or filmmakers, it's an unique opportunity for an unmediated portrait of this 200-year-old institution.
Films like this are a departure for us but the growth of Icon Films over the last five years has seen us expand into new territories. Sandhurst is our first major observational documentary and as EP on this three-part BBC4 series, a different set of considerations have come to the fore.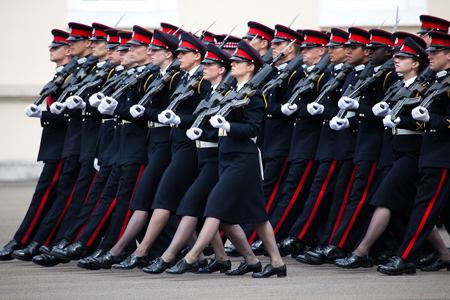 After the technical considerations, it's normally all about narrative and storytelling. But at Sandhurst, the ethics of filmmaking have presented themselves in a powerful way. The protocols for using images such as the ones Tant and Thompson are watching need to be very carefully reconsidered. Normally you would have to get the permission of the copyright holder. Presumably that would be Jubba the Iraqi sniper? And then, what about the family of the two dead servicemen?
Filming predation in the natural world comes with its own set of rules, but when it's humans – not animals – killing each other, the situation is of course entirely different. 'Moment of death' is one of the last taboos on television, alongside the moral question of who decides whether we have the right to use these harrowing images.
Unlike the poignant scenes in Terry Pratchett's Choosing to Die documentary, it was certainly not the soldiers being killed on the streets of Baghdad who were in a position to grant permission, and finding family or next of kin to do so on their behalf proved impossible.
Images of death are part of war documentaries, but should we use images that were generated not by a neutral third party – a war photographer, say – but by the actual executioner, expressly to place on the Internet?
The particular dynamic of these images seemed very different from other war footage with images of death on our screens. I remember a conversation with the photographer Don McCullin who refused to take pictures of prisoners being bayoneted because he felt their deaths were being set up specifically as a photo opportunity.
There was no denying the visceral power of the scenes and it would be tempting to show the whole thing warts and all – after all, this is what Tant and Thompson were watching, as anyone else could do – but how would we defend our position against the charge that we had put a terrorist snuff movie out on the BBC?
In the end, we decide to cut around the actual rifle shot and leave the reactions of Tant and Thompson, and the empty turret, to tell the story.
So often in editing, it's not about what you put in, it's about what you leave out, and I felt the scene lost none of its power as Tant and Thompson discussed the ethics of the war they would soon be a part of.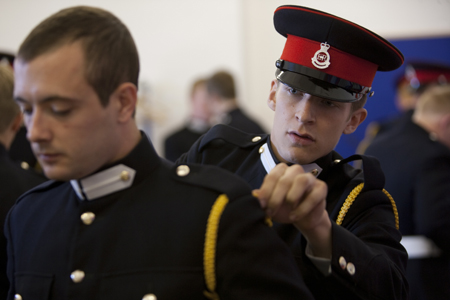 Access to scenes like this only comes only with trust, both between the institutions involved (in this case the BBC and the Ministry of Defence), the director (Nick Poyntz), and the immediate subjects (such as Tant and Thompson). I once made a series at Buckingham Palace where the then royal press officer said: "Letting you lot in here is like allowing a pack of rats into my underpants." It wasn't a great experience for either of us.
Getting access to film at Sandhurst took Icon three years and three different camp commandants before the agreement was signed. Eventually, after various failed efforts, the channel controller of BBC4, Richard Klein (who'd changed his customary jeans and Birkenstocks for a suit and brogues) and I took the train up to Camberley and met General Patrick Marriott, the Sandhurst Camp Commandant and the man in charge.
Letting a film crew into your underpants isn't for the faint-hearted, and it often takes this level of engagement between the principles from both sides to get over the hurdles that committees invariably create as they try and second-guess what their bosses might say.
Klein explained the sort of film he wanted (focusing on the theme of leadership) and why he couldn't grant any editorial approvals and General Marriott – who clearly believes there is nothing Sandhurst needs not be proud of – agreed.
Decisions like this also need to go down to the grassroots as well, and the series director Nick Poyntz (who had made a number of acclaimed observational docs for BBC2) wanted to spend several weeks at Sandhurst before shooting anything in order to become part of the furniture.
Together with AP's Erica Wilson and Katie Cochrane, and technical assistant Ross Hamilton, they had to win over the confidence of the cadets and – as importantly – their immediate officers and instructors. To say they had to prove themselves sounds a little simplistic, but on one occasion Nick felt obliged to go into a gas chamber as part of an exercise with the cadets – and take off his mask with them.
For the next year, the Icon team took rooms on the Royal Military Academy site, not just shooting and editing but also living, eating and sleeping at Sandhurst alongside the cadets. The film that Nick made is a testimony to the trust we achieved, as it intimately documents the extraordinary year-long process that turn civilians into officers.