This summer saw the leading film festivals in Venice and Toronto playing host to the European and North American premieres of Frederick Wiseman's latest vérité effort, Crazy Horse.
The film is the 81-year-old director's 40th documentary in a 44-year career, and sees him capturing the rehearsals and performances for a new show taking place at the titular Parisian establishment, which has billed itself as offering "the best nude dancing show in the world" since 1951.
The film marks the fourth in a loose tetralogy of docs looking at the specific physical uses of the human body, alongside Ballet, La Danse: The Paris Opera Ballet and Boxing Gym.
Looking to the future, Wiseman (pictured above) has shot and is editing an as-yet-untitled documentary about the American university UC Berkeley for PBS, which he says should be ready "in about a year." The film will cap a trilogy of films looking at educational institutions, following 1968′s High School and 1994′s High School II.
Crazy Horse marks your third film looking specifically at French institutions, alongside La Danse and La Comédie-Française ou L'amour Joué. What drew you to move to France?
I haven't exactly moved there, but I like to spend a lot of time there. I was a student in Paris in the 1950s, and I liked living there. I didn't go back for a long time – I started to go back a lot in the late 1980s, and then made La Comédie-Française in 1995, and then, since 2000, I've been there at least half the year every year. And for La Danse, I was there for about 14 months straight.
Is Paris a sort of muse for you?
[Laughs] I don't know that Paris is the muse, but I like it there, for all the obvious reasons.
How did the staff at the establishment react when you approached them with the idea of making a documentary?
Well, like most of the films it was extremely easy to get permission. The dancers and the administration and technical people were extremely receptive to the idea. There were no political problems during the shooting of any significance, as there usually aren't. People cooperated and there was nothing I couldn't shoot.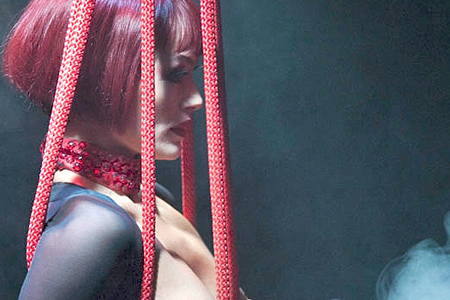 In terms of structuring the film, the first half of Crazy Horse leans very heavily on captured performance, whereas the second half features more behind-the-scenes footage…
I didn't want to do a chronology of someone coming on the first day and then casting and rehearsals, and ending up with the show. First of all, the show has been going on for 60 years and I wanted to, in the early part of the movie, give an idea of what a finished act looked like, so that comparisons could be made about what the final product was when compared to a rehearsal.
The documentary was predominantly funded by French nets Canal+ and Planete, as opposed to PBS – which has backed many of your past projects.
Yes, and another French subsidiary, Fonds de Soutien. It's not the kind of movie that one could expect to play on American television. Think of the Puritanism – not just PBS and American television, but think of the national furor a glimpse of Janet Jackson's breast caused at the Super Bowl several years ago. Now imagine the Crazy Horse… no, I think it will be on cable.
In terms of funding, is it getting more difficult to get TV backing?
Yes, in my experience. There are more people that want to make movies, and there's less money around. A lot of people assume I get money very easily, but it's the most difficult part of the job, and the moment you take for granted that you're going to get the money, that's when you should stop making movies. I don't like doing it, but I have to deal with the reality that it's a slog, and unless I'm willing to do that, I should stop.
This is the first movie that you've shot on HD, correct?
Yes, La Danse was shot on Super 16 but edited digitally, but this was the first one that was a complete electronic production. It's good, but I think film looks better. This is a lot cheaper; you can shoot for an hour on HD for about $40, whereas an hour of film – by the time you buy the film, process it and make a work print – it'd be about $1,100. That's a considerable difference.
I think the quality's quite good. Maybe I'm just being mean-spirited because I've worked on film and edited film for so many years. I like it better. But it's over; I doubt I'll ever make another movie using film.
You've predominantly self-distributed and self-released your docs through your own Zipporah Films…
I have, with the exception of when I've worked in France and needed to get a French coproducer in order to qualify for the French subsidy, but other than that I've always been on my own.
Why is that?
Well, in the beginning, I got screwed so badly by distributors that I figured I had nothing to lose… But it's something that's worked out over the years because I own my movies 100%.
My movies were late getting out on DVD in part because I was busy, and in part because nobody made me a decent offer. The offers I got were insulting, they were so small. So, rather than getting 75¢ for a DVD, or a buck and a half, I get a lot more, because there aren't three middle-men between me and the consumer. I don't have to sell as many to make a decent profit.
In that respect you are adopting an independent business model more often associated with a younger generation or first time filmmakers…
Yes. It has been an amazing learning experience for me about the power of the Internet.
People pay by PayPal, and all I need is to box up the DVDs and mail them out; the cost of doing all that is minimal. And I didn't even have to advertise all that much. Once the word started getting out by bloggers, the orders started coming in.
I'm not [of] the Internet generation, but I'm glad to see it work. And now I'm going to try and get them out on VoD, and probably we'll find a way of doing that ourselves too.
It's ridiculous to pay somebody 30% or 40% for something you can do yourself, particularly if it has some value and the cost of doing it isn't that great.