Tuesday's Oscar nominations saw Wim Wenders (pictured) landing his second Oscar nomination for best documentary feature, with the Academy of Motion Picture Arts and Sciences recognizing the German director's 3D documentary-dance film hybrid Pina.
The film explores and celebrates the arresting work of late German choreographer and ballet director Pina Bausch, and the Academy Award recognition comes more than a decade after Wenders was last nominated in the category, for the iconic 1999 documentary Buena Vista Social Club.
Wenders first discovered Bausch's Wuppertal Tanztheater Company in the mid-1980s and, within the first moments of seeing her dancers perform, felt an immediate emotional connection. "I found myself after five minutes on the edge of my seat, weeping," he tells realscreen. "I did not quite know what was happening."
Bausch's work "showed me more about men and women in 40 minutes than the whole history of cinema had done before," he adds. "All I knew was I wanted to share this with as many people as possible who, like me – before I saw Pina's work – had this prejudice against 'dance.' That was the beginning of the film."
But shooting Bausch's work would prove to be more difficult than Wenders initially imagined. The director says he felt "an invisible wall between her dancers and my cameras" when trying to capture her art, and spent nearly two decades looking for a solution to what was beginning to become an increasingly difficult problem.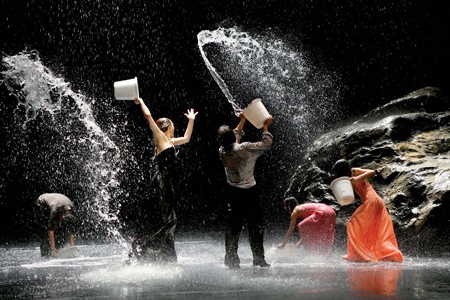 "Ever since our first encounter, Pina and I had been talking about a common film for 20 years," says Wenders. "The fact that it took so long had never been [due to] a lack of enthusiasm or desire to do it – the problem was simply, the more I tried to imagine a dance film the less I knew how to do it.
"The solution one day presented itself in an area I had never looked in before: in technology. My first exposure was a concert film, U23D. I went because I love music and put on these glasses for the first time, not expecting much from the experience other than to have fun.
"And then I just stared at the screen, flabbergasted, because what I saw was the answer to 20 years of trying to find a way to film dance."
With a technological solution in place that met with the director's satisfaction, Wenders looked set to finally make the film he had been planning for so long. However, tragedy struck in June 2009, when Bausch was diagnosed with a brain tumor. She passed away just five days later.
"Pina's death came abruptly and unexpectedly," recalls Wenders. "None of her friends, none of her dancers had been able to say goodbye to her. We were just about to start a last conclusive series of tests in 3D, on her own stage, with her dancers, so she could watch it on a big screen live and see for herself what 3D could do, and what my promises of a new language were worth."
Wenders' immediate reaction was to cancel the project. But in the wake of her death, her dance troupe continued to perform, determined to honor her legacy. "Weeks after I had pulled the plug, they let me know that they started to rehearse the four pieces that Pina herself had put on the agenda of her company," he says.
"They made me understand that Pina's eyes were still on these pieces. And it might be the last time these four pieces might ever be performed. That's when I realized not filming them was a mistake.
"We had to invent a whole different movie, though," he adds. "We couldn't make the one with Pina anymore, but we could make one for Pina. It would be our way of saying goodbye and thank you to her, and it would help all of us to deal with the loss and the pain."
The film Wenders and his team went on to make is a remarkable piece of work – a visual feast of color and movement interspersed with artistically delivered talking head interviews that frequently offer insight and reflection. The film bends the genres of dance, fiction and documentary to create a work quite unlike any other released last year.
And since having its world premiere at Berlinale in February 2011, the critical and commercial success of Pina has also been remarkable, with reviewers calling the film Wenders' best non-fiction work since Buena Vista.
In addition to its Oscar nomination, the film earlier this month picked up a Cinema Eye Honors prize for outstanding achievement in production; has been nominated for a BAFTA Award for Best Film Not in the English Language; is in the running for a Writers Guild of America prize for best documentary screenplay; and was nominated for the European Film Academy's EFA Documentary 2011 – Prix Arte.
For Wenders and the film's producer Gian-Piero Ringel, the acclaim has come as a welcome surprise. "This is one of the majestic things about filmmaking," Wenders says. "You don't know, you can't know, if a film will hit a nerve or not, if it becomes a thing that people can really use in their lives, that can grow and create its own momentum.
"I made Pina for an audience of 'dance illiterates,' if you want. For all those who think they can't be touched by dance. And that is a great documentary tradition, I feel: that you are so convinced of the beauty of something that you want to share this with everybody.
"And whether a handful of people will come or millions will come is not up to us to know beforehand."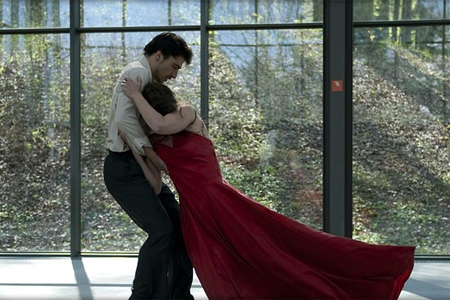 And as a byproduct of the 3D film's success, Wenders says he now has no desire to return to what he now views as old-fashioned filmmaking. He has started work on "a long-term 3D documentary in Europe on architecture," which will explore the way people use buildings and are shaped by cities and structures.
"I have no inclination to go back to 2D, both in non-fiction and in fiction," says Wenders. "Technology advances fast, and we have just seen the very beginning of what 3D is able to do. I'm convinced that 3D is really a whole new film language, and just as big a step for cinema as sound or color were.
"Especially in the realm of the documentary, I am sure 3D will do wonders and lift the entire genre to a new level. Never before could you immerse your audience so radically in the lives of other people, take them into their universe.
"Why would I want to go back, after Pina? We just scratched the surface!"