For the concluding installment of our Frozen Planet preview, realscreen talks exclusively to broadcasting icon Sir David Attenborough (pictured) about the making of the epic BBC/Discovery coproduction – which premieres in the U.S. in March – and about his forthcoming 3D projects with Atlantic Productions.
Part one of this feature is available here.
Last year saw the legendary Sir David Attenborough breaking new ground by teaming with Atlantic Productions to create the BAFTA award-winning Flying Monsters 3D for UK broadcaster Sky.
Now the two have reunited to produce The Bachelor King 3D, featuring king penguins, which premiered on Sky 3D in the UK on New Year's Eve, with plans for a theatrical run later this year.
After the success of Flying Monsters, which also saw theatrical release, both Attenborough and Atlantic CEO Anthony Geffen wanted to push the boundaries of 3D and follow one set of creatures in a controlled way.
"You're shooting in high resolution with very few cameras and no zoom lenses, so you have to be very close to everything you shoot," Attenborough explains. "We needed to have a subject that would not be shy or frightened by the presence of people. Penguins don't care, they just stand there."
"Each 3D camera weighs 56 kg, requires four people to carry it and a crew of 14 to operate it, so we needed to choose subjects that would adapt," adds Geffen.
The film, which was shot over a five-month period on the sub-Antarctic island of South Georgia, documents the progress of a king penguin from adolescence, through courtship and eventually to fatherhood – with a number of trials and tribulations along the way.
The project comes after the BBC in the UK recently drew consolidated viewing figures of some 11 million for the Attenborough-fronted series Frozen Planet (pictured below) – a number that humbles the man who this year marks his 60th year in broadcasting.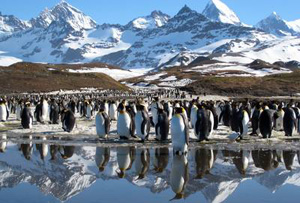 "They were gigantic figures," he marvels. "In this day and age, when the audience is so divided between such a multitude of channels, to have those figures is just extraordinary.
"With regards to the last [episode, which focused on climate change], which had a very serious message – to get that many people watching astonished me."
Despite having covered almost all corners of the Earth, Attenborough declares that he always learns something new and, if given the chance, would like to retrace his steps with the new technology available. "While shooting Frozen Planet, the marvelous thing to my eyes was the use of the Cineflex mount, which allows you to take shots from a helicopter high above the ground," he says.
"You can't use long lenses from a helicopter because they would vibrate too much. But the crew also had the bright idea of putting the mount in a blown-up rubber boat and sailing across rough water.
"If it wasn't for that we would never have got those extraordinary shots of the killer whales knocking the seals off ice floes."
Attenborough is currently on a break from writing narration for his next collaboration with Atlantic Productions, Kingdom of Plants 3D. The three-part series was shot over a period of a year entirely on location at London's Kew Gardens using new technology, and will air later this year.
It included placing pinhead and periscope cameras inside plants in conjunction with time-lapse and night time footage. "I think it's going to be the most sensational 3D series I've told," he says. "Close-ups of flowers and buds opening in 3D are simply magical. You're transfixed and your jaw sags. Until you see it, you can't know how wonderful it is.
"They are so beautiful and spellbinding and I suspect it will be a series that will have a very long shelf life." Geffen and Attenborough seem unable to break their bond and are about to travel to the Galapagos Islands for what will be their fourth collaboration.
The series will tell the story of how the islands were formed by volcanoes and how animals first arrived from South America and adapted in order to survive. The experience of both surface and underwater filming gained from The Bachelor King 3D will appear again in the filming of Galapagos – as will Attenborough, who remained off-screen for The Bachelor King 3D.
"You can take a jolly great camera and put it alongside marine iguanas and giant tortoises and albatross, without them taking much notice, so it's an ideal place to film in 3D," Attenborough explains. If that wasn't enough, he and Atlantic Productions have one further project in the pipeline: a second series of First Life.
The two-part series aired in November 2010 on BBC2 in the UK and as a two-part special on Discovery Channel in the U.S. The new series, with no firm airdate as of yet, will be a move away from 3D for the team.
"The first series concentrated on crustaceans and trilobites and how they emerged on land 300 million years ago," Attenborough explains. "What we are looking at is how fish developed in the sea, then moved onto land and became reptiles and amphibians and then mammals," he says. "It will be based on the fossils of animals that don't exist anymore so it will involve a lot of computer imaging."
At the age of 85, Attenborough also has cause to muse over the likelihood of a new face taking the helm in natural history presenting. "I rather wonder whether there is going to be a successor," he says.
"The role of a presenter was created at a time when television was all live and these days, there is no real need for a presenter. I suspect that it should just wither on the vine."
Discovery Channel will premiere Frozen Planet in the U.S. on March 18 at 8 p.m. EST.