Discovery Communications' 2012 New York City Upfront presentation featured Irish jig dancers, guest appearances from robots and puppies, actor Patrick Dempsey (pictured), and the introduction of 'Supernanny' Jo Frost to the TLC network.
Other celebrities who took to the stage at the Frederick P. Rose Hall in NYC's Jazz at Lincoln Center included James Woods, Susan Lucci, Tori Spelling, Long Island Medium star Theresa Caputo, Leave It to Niecy's Niecy Nash and husband Jay Tucker, and Oprah Winfrey.
The presentation kicked off with TLC's general manager Amy Winter unveiling more than 55 new and returning series, including Breaking Amish, an untitled Irish dancing series and special, and the introduction of Supernanny's Frost to the network, with a new series aimed at fixing families.
Other new titles included Mama's Boys of the Bronx, Preacher Ladies, Southie Pride, Craft Wars and Randy to the Rescue, starring Randy Fenoli from Say Yes to the Dress.
Military Channel touted a new direction for 2012, which included a tripling of investment in content and a broader look for the network that would focus on general history programming. The new mission for the channel includes a focus on "epic stories of epic events," from the Cold War and the Space Race to the Civil Rights Movement.
The network also revealed that broadcast journalist Tom Brokaw would be starring in a series called The Brokaw Files, produced by NBCUniversal's Peacock Productions, with other highlights on the slate including the big event program Commander In Chief.
Talking to realscreen about the move, Henry Schleiff, president and general manager of Military Channel, Investigation Discovery (ID) and Destination America, said: "What we plan to do now is to make a significant foray into the world and field of history programming. We think there's a real opportunity; History Channel, our competitor, hasn't completely abandoned that area but has focused on a lot of other programming – because so much about Military is about history.
"We want producers to watch the network and understand what we're trying to do, bridge and grow the natural programming, and take us from the battlefields into the world of history. I think our tagline is that this is the year that Military Channel makes history."
Ed Hersh, senior VP of content strategy for Military Channel, added: "If you think of Military as the channel featuring great stories of epic turning points in the battlefield and about the legacy of the battlefield, it's not a big stretch to say we're expanding into the Cold War and the Space Race, the White House… all of those touch on military, but they're part of contemporary history."
He added that the addition of Brokaw to the net was exciting because Brokaw bridges war coverage and contemporary history, having reported on Vietnam, Afghanistan and Iraq, as well as major modern day events. "He embodies and personifies this new direction."
"[History] uses history as big event type of programming, but their day-to-day programming is filled with their successful shows: Ax Men, Ice Road Truckers, Pawn Stars and American Pickers," he added, saying that on the day-to-day front, "It's an opportunity for us as a smaller network to fill in some of what we call white space, an area where there is audience need that might not be filled right now."
With ID, Schleiff introduced the network's largest slate of programming to date, with 12 new series and 22 returning titles, such as Deadly Affairs with Susan Lucci (who is pictured below), Evil Twins, Stalked: Someone's Watching, Redrum – which tells the story of a murder backwards – and Who the Bleep Did I Marry spinoff Who the Bleep…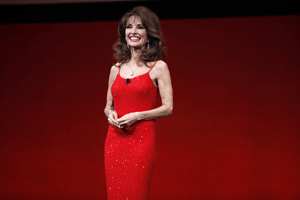 For Science, the network's exec VP and general Debbie Myers announced highlights including This Changes Everything, hosted and executive produced by actor James Woods, and an as-yet-untitled new project from An Idiot Abroad team Ricky Gervais and Karl Pilkington.
Meanwhile over at Animal Planet, the network's president and GM Marjorie Kaplan took to the stage holding puppies to announce a slate that includes the net's first reality competition series Top Hooker, Monster Week and the six-part series Frontier Earth with Dave Salmoni.
For the recently launched Velocity, the network's senior VP Bob Scanlon presented a sample of the 250 premiere hours for the male-skewing network, headlined by Road to LeMans, a four-part series following actor Dempsey who serves as both owner and driver of an auto racing team, as they tackle the legendary car race '24 Hours of LeMans.' Dempsey, who also serves as executive producer, said of the show: "Hopefully it translates the love I have for motor sports."
Elsewhere, OWN's co-presidents Sheri Salata and Erik Logan took to the stage and defended the network's audience numbers, claiming that they had risen 25% in the first quarter of 2012. Among its new series are Married to the Army Alaska, LoveTown USA and Six Little McGhees. As the McGhees took to the stage, OWN CEO Winfrey joined them, carrying one of the couple's sextuplets.
"Thank you for your support and staying with us during the climb of my life," Winfrey told the assembled media buyers. "I am climbing [Mount] Kilimanjaro and it's at the OWN offices."
She said that OWN's recent restructuring was "getting into the sauce of what happens when you build a channel," and added that while she's nowhere near the summit of the metaphorical Kilimanjaro, it is in sight.
For the flagship Discovery Channel, meanwhile, the highlight was the Mark Burnett and James Cameron collaboration Robogeddon, which will introduce audiences to builders who can create droids to do battle. A menacing robot took the stage as a teaser.
Among the other upcoming series and specials for Discovery are blue-chip natural history special North America, which Discovery Communications founder John Hendricks introduced, as well as One Car Too Far, Amelia Earheart, Top Engineer, and the previously announced Gate Keepers and All the President's Men Revisted.
The Upfronts took place just as Planet Green was rebranded as Destination America, a move that David Zaslav, president and CEO of Discovery Communications, described as an effort to build upon the good real estate that Planet Green had. He added that the company tries "to take a lot of thoughtful, strategic swings."