Ahead of the Canadian premiere of Beauty is Embarrassing at Hot Docs tomorrow (April 28), first-time filmmaker Neil Berkeley (pictured) tells realscreen why he needed to document pop-culture artist Wayne White's career, which encompasses everything from Pee Wee's Playhouse to his famous word paintings.
Berkeley, who also owns a design-based production company that develops content and packages for shows including The Real Housewives of Vancouver and Top Chef Desserts, has known White for 12 years, and after a series of interactions – from working together to living nearby – Berkeley asked the artist if he would consider being the subject of his documentary.
"At first he was like, 'no, it's a bad idea, nobody knows who I am.' Three lunches later he started to think of the crowds of people that might crowd around him at film festivals and his ego got to him and he said let's do it," says Berkeley.
He persisted because he felt that White had two key things going for him that would translate perfectly in a documentary: his resume and charisma.
White was an illustrator for The New York Times and The Village Voice before becoming a designer for the hit show Pee Wee's Playhouse. He went on to do set design and characters for a number of other shows before directing music videos for The Smashing Pumpkins (Tonight, Tonight) and Peter Gabriel (Big Time).
In the latest arc of his career, White has gained notoriety in the fine art world with his word paintings – three-dimensional humorous phrases inserted into thrift store landscapes – and mixed-media sculptures. In 2009, he released a book of his work, Wayne White: Maybe Now I'll Get the Respect I So Richly Deserve.
"If you look at what he's done, he's certainly made his mark on popular culture and that alone is enough for a movie… but the guy I knew he was, that's the part that I knew would get people engaged. He's magnetic," says Berkeley.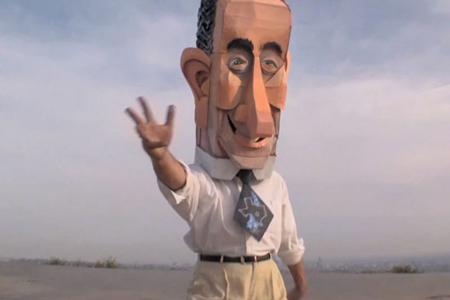 As a first time filmmaker, the challenges that Berkeley bumped up against were time and trust. He filmed in his spare time, by himself for a year and then with producer/editor Chris Bradley for the remaining two-and-a-half years of production and post-production. And while it was difficult to find the time to shoot, Berkeley also found it hard trusting that documentary filmmaking is a process, and to trust in his fellow producers (which also included Milan Erceg and Morgan Neville).
"[Another challenge was] learning to trust my audience. I don't need to explain everything. I can be quirky, the movie can be weird, tangential, all these different things that I wanted to do but was nervous about and as I showed it to people, the audience got it. They went with me down this road," he says.
That road included plenty of animation sprinkled throughout the film either based on White's style, created by Berkeley's company Brkly and Gentleman Scholar, or drawings from White and his wife Mimi Pond, a cartoonist, which were then animated.
"I always knew that Wayne's work felt animated, it felt kinetic, it felt like it was coming alive," says Berkeley.
The doc has screened at SXSW in Texas, the Cleveland International Film Festival – where it won the doc competition – and Full Frame Film Festival ahead of its Hot Docs premiere. After Toronto, Beauty is Embarrassing will head to Independent Film Festival Boston and then DeadCenter Film Festival in Oklahoma City.
And while Berkeley says he doesn't have any other docs lined up just yet, since attending festivals and looking for a distributor are a full time job, he did hint that he's thinking of doing a TV show with White and some of his friends.
Beauty is Embarrassing screens at Hot Docs in Toronto on April 28, April 29 and May 6.