The good and the great of the doc realm arrived in Canada last week for the 19th annual Hot Docs Canadian International Documentary Festival – North America's largest doc fest.
This year's event was the first programmed under the authority of new director of programming Charlotte Cook, who in October last year picked up the reins from former programming head Sean Farnel. It also featured a revamped conference and industry agenda, overseen by Forum and market director Elizabeth Radshaw.
And, with a new venue in play and a bespoke crowdfunding platform established, expectations for this year's fest were set high.
The festival kicked off on April 26 with opening night doc Ai Weiwei: Never Sorry, followed by a Q&A in which director Alison Klayman recounted her experiences working under the radar in China.
Klayman (pictured below) described Weiwei as "the most cooperative uncooperative subject," but said the Chinese artist and provocateur "really understood that this film was my experience of him or my take on him."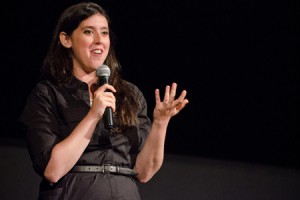 The premiere was followed by an opening night party at Toronto's Royal Ontario Museum, attended by filmmakers and industry execs including Klayman, The Invisible War helmer Kirby Dick, EyeSteelFilm's Daniel Cross and Peter Wintonick, and directors John and Jamie Kastner.
Klayman was one of many directors attending the Canadian premieres of their films. Among the others, Angad Singh Bhalla talked to realscreen about the challenges he faced when he began shooting Herman's House, and opened up about plans for an interactive version of the doc.
"We are doing a fully interactive version of the film with the National Film Board of Canada that's currently in production," he said. "By seeing the interactive version you can understand something deeper about the film. We're hoping to use both to cross-promote and raise awareness about the issues."
Also interviewed was first-time filmmaker Neil Berkeley, who spoke ahead of the Canadian premiere of his SXSW hit Beauty is Embarrassing, which looks at the life of pop-culture artist Wayne White. "I always knew that Wayne's work felt animated, it felt kinetic, it felt like it was coming alive," said Berkeley.
Meanwhile, Entourage star Adrian Grenier (pictured below) flew into Toronto to promote My Name Is Faith, a doc by Tiffany Sudela-Junker, Jason Banker and Jorge Torres-Torres, which he has lent his name to as exec producer.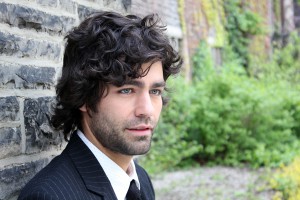 In conversation with realscreen, Grenier discussed his work in the non-fiction realm, explaining: "I've always used film and documentary as a healing process and a questioning process, and a way to reflect my experience."
Away from the craft of filmmaking, several directors also shined a spotlight on the business aspects of the documentary industry. In a "Strategic Distribution 101″ panel discussion, Winnipeg-based filmmakers James Swirsky and Lisanne Pajot talked about the strategy behind their Sundance hit Indie Game: The Movie, which has been optioned by HBO for a fiction remake.
"We knew there was an audience and we wanted to grow that audience beyond video game fans," Pajot told attendees. "Everything we did was about the audience throughout production."
Elsewhere, Finding North director Kristi Jacobsen was one of two indie doc-makers that presented results from an analytics experiment for a panel at the Hot Docs industry conference on Thursday (May 3). Those in attendance were given an insight into how integrating analytics early in the production process might help generate awareness by the time a movie hits cinemas.
Headlining the Hot Docs conference was a head-to-head keynote discussion between filmmakers Davis Guggenheim (An Inconvenient Truth, Waiting for "Superman") and Ted Hope (The Devil and Daniel Johnston, 21 Grams).
The chat (pictured below) saw Guggenheim (left) reflecting on how documentaries have become less neutral, and the challenges he has faced in presenting points of view with his films such as Truth and "Superman".
"In the 1960s and '70s, it was enough just to take cameras into a place you'd never seen before," Guggenheim offered,  "but more and more since Michael Moore, people are getting tired of just straight docs.
"I've got a love-hate relationship with his [Moore's] movies, but he's shown that you can have a point of view… he's a bomb-thrower. He knows that if he does theatrics, people are going to pay attention."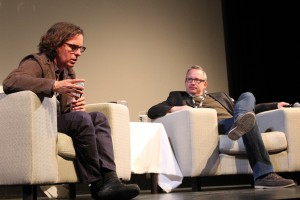 Despite the abundance of positivity inherent in North America's largest documentary festival, there was a display of anger at the festival's midway point (albeit polite, controlled, "Canadian" anger), with a protest taking place in downtown Toronto to draw attention to the recent cuts that have hit the country's documentary-making community in a hard way.
And over the course of the fest, there was also a slightly sad note to proceedings, with last Saturday's (May 5) screening of Will Lovelace and Dylan Southern's superb music doc Shut Up and Play the Hits coming after the death of Oscilloscope Laboratories founder Adam Yauch the day before.
Oscilloscope has distribution rights for the film, and the screening was dedicated to his memory.
On the business side, the festival also saw a number of deals being penned, with the NFB signing up a host of broadcasters for Ariel Nasr's documentary The Boxing Girls of Kabul (pictured below). The doc looks at a group of young Afghan women who are aspiring boxers, and was picked up by networks in Japan, Korea, Israel and France.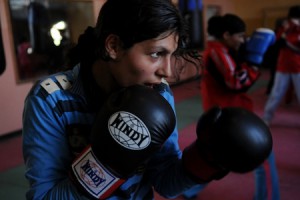 Meanwhile, on the theatrical distribution front, indie distributor Dogwoof closed deals for UK distribution for festival hits Chasing Ice and Call Me Kuchu; while Avi Federgreen's Indiecan Entertainment inked a theatrical guarantee to release Sean Cisterna's upcoming documentary Paranormal Calamity from Mythic Productions.
Hot Docs wound down with its annual awards ceremony at Toronto's Windsor Arms hotel, which saw Call Me Kuchu, a film focusing on the efforts of a Ugandan activist to fight his country's anti-homosexuality bill, named best international feature.
The Special Jury Prize for an international feature went to The Law in These Parts, directed by Ra'anan Alexandrowicz, and the Special Jury Prize for a Canadian feature went to Peace Out from director Charles Wilkinson.
Meanwhile, the best Canadian feature prize went to Nisha Pahuja's Tribeca-awarded The World Before Her.
The film, which explores the conflict between modernity and traditional values as faced by young Indian women, was called a "brave and provocative exploration of the role of women at its two extremes in contemporary Indian society" by jurors, and talking to realscreen earlier in the week, Pahuja said the experience of making the film had been like "pushing a rock up a mountain."
Awards were also given out at the Hot Docs Forum, the festival's annual pitching extravaganza, with Shadow Girl, a documentary about Chilean-Canadian filmmaker Maria Teresa Larrain's descent into blindness, picking up the CDN$40,000 Shaw Media-Hot Docs Forum Pitch Prize.
Meanwhile, the Cuban Hat prize – comprised of donations from Hot Docs Forum attendees – went to Hanna Polak's project Svalka: Yula's Journey. The project wins just over $1,690 (in assorted international currencies) and two free tickets for next year's Forum.
Finally, the festival announced today (May 7) that the Hot Docs People's Choice award – a prize given to the doc which receives the most popular votes from members of the public – would go to Jeff Orlowski's Chasing Ice, a documentary looking at climate change and melting icebergs.
In all, Hot Docs estimated an 11-day total audience of some 165,000 people for the 395 public screenings of its 189 films – a 9.27% increase on 2011′s 151,000 attendees.
Stay tuned to realscreen for a separate and comprehensive three-part report on the Hot Docs Forum, kicking off later this week.