"It is important for me," President Obama told ABC News earlier this month, "to go ahead and affirm that I think same-sex couples should be able to get married."
With the statement making him the first sitting U.S. president to openly endorse gay marriage, Toronto's Inside Out LGBT Film Festival – which kicks off today (May 17) – arrives with the global media spotlight suddenly refocused on what has been a long-running issue for the LGBT community, as across the globe, newspapers and TV channels are suddenly awash with debate about the issue.
"When somebody like that puts the spotlight back on a long-running issue, then yes, absolutely it has an effect," Inside Out's director of programming Andrew Murphy (pictured above) tells realscreen.
"What Inside Out tries to do is offer a platform and a way to exhibit films that bring people together to talk about these issues and keep them in the limelight by having people coming out to films, seeing films together, and talking about what the issues are within our community – how can we respond and what can we do for ourselves to try to make a difference?"
Among the documentaries playing at this year's festival, which runs from May 17-27, are David France's How to Survive a Plague and Macky Alston's Love Free or Die: How the Bishop of New Hampshire is Changing the World. Both premiered at Sundance in January, with the latter picking up the Special Jury Prize for U.S. Documentary.
Also in the line-up is the Canadian premiere of Jeffrey Schwarz's Vito, which looks at the life of The Celluloid Closet author Vito Russo and is set to premiere on HBO this year; Jim Hubbard's United in Anger: A History of ACT UP, which like Plague looks at the early days of AIDS activism; and Kevin Hegge's She Said Boom!: The Story of Fifth Column, which looks at an influential all-female feminist Toronto punk band from the 1980s and '90s.
In terms of picking the line-up, Murphy says it was important to strike a balance between strong LGBT issues and interesting stories. "You're looking at all different aspects, from marketability to what are important stories to be told," he says.
"What's entertaining? What has the audience liked to go to at the festival in previous years? How can we challenge them? You look at what's trending and what the audience can talk about – you want to have a well-rounded program."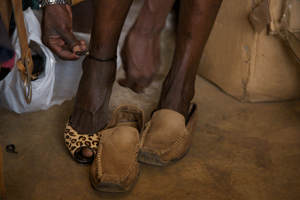 The main highlight of the festival program is Malika Zouhali-Worrall and Katherine Fairfax Wright's Call Me Kuchu (pictured above), which looks at the fight for LGBT rights in Uganda, where the government is considering an anti-homosexuality bill.
Kuchu won the Berlin International Film Festival's Teddy Award for best documentary, as well as the second place prize in the festival's Panorama Section Audience Award, earlier this year; after which is went on to pick up the Hot Docs award for best international feature in Toronto earlier this month.
The film has brought out strong reactions from audiences and will continue its festival run at Sheffield Doc/Fest in June after playing Inside Out.
"We saw it at the Berlin festival and they did such a great job in telling that story," offers Murphy. "The resilience of David Kato [the film's central character] onscreen – you're laughing and then you're crying; it promotes every emotion. It stirs you up, and it makes you want to do something.
"It's hard to believe that we have these countries where they believe that criminalization of homosexuality is okay," Murphy maintains. "It is films like that which bring to the forefront activism and the necessity to participate and be present within your community."
Prior to joining Inside Out in January, Murphy was previously the programming manager with the Atlantic Film Festival in Halifax. In programming for Inside Out, he says he is not directly influenced when picking a film by whether it will predominantly appeal just to an LGBT audience or whether it could have wider appeal – although he does agree that some films, such as Kuchu and Plague, are likely to have a higher crossover appeal with a heterosexual audience.
"Something that has always been important to me is that a film – documentary or otherwise – has to tell a good story," Murphy explains. "For anyone that just loves movies or documentaries, I would hope that coming to a film at Inside Out will not alienate any particular group – we welcome everybody to come to the festival.
"All of our films tell good stories, and documentaries like Call Me Kuchu will have larger crossover, because it touches on such a larger world issue, but the more people that can see these movies the better. People who aren't part of the queer community will hopefully be enlightened or better understand the day-to-day issues."