While best known on screen for his comedic turns in docs such as Super Size Me, Morgan Spurlock (pictured) is also one of non-fiction's savviest businessmen. Here he talks to realscreen about the importance of turning a profit, platform agnosticism, and male grooming.
Think you know Morgan Spurlock?
When he's not bingeing on McDonald's and hunting down Bin Laden, he's sharing a bathtub with a miniature horse; ever the joker of the non-fiction realm.
But behind that handlebar moustache lies an incredibly savvy business mind. And with it comes a work ethic that could well see him crowned The Hardest Working Man in Factual.
Take April of this year, for example. Spurlock unveiled a headline TV partnership with global distributor FremantleMedia Enterprises (FME) at MIPTV in Cannes; began a U.S. theatrical roll-out of his Stan Lee collaboration Comic-Con: Episode IV – A Fan's Hope; launched a UK series, Morgan Spurlock's New Britannia, on Sky Atlantic; and enjoyed a Tribeca premiere for his male grooming-focused comedy doc Mansome.
One might imagine this more than enough to keep him busy, but the following month saw him – via his indie prodco Warrior Poets – partnering with Snoot Entertainment's Keith Calder and veteran commercial producer Shannon Lords to launch a commercials production company.
Dubbed Warpaint, the venture will allow Spurlock to direct spots, and will accommodate doc-makers such as Liz Garbus and Gary Hustwit on its roster, as well as narrative directors such as Darren Aronofsky and Rupert Wyatt. Beyond that, Spurlock will on May 30 kick off Realscreen West in Santa Monica with the event's opening conversation.
Spurlock's widely varied portfolio makes him something of a curio in the doc realm. While often playing for laughs onscreen, behind the scenes he is a keen businessman who often seems ahead of the curve when it comes to embracing business models for equity, distribution and multi-purposing of content.
"You have to have a real understanding of the business side if you want to make a living as a documentary filmmaker," he says, talking to realscreen in Cannes. "You need to know how this whole world functions.
"You need to understand how to raise money, how to sell your movie, and you need to understand the marketplace your film's going to get distributed in, because that marketplace is getting so much more fractured," he adds.
Part of Spurlock's prolificacy comes from taking a platform agnostic approach to his work – whether theatrical, online or on TV, he does not turn his nose up at opportunities.
With his FME deal, the director will aim to secure international TV sales for three of his projects – the aforementioned 10 x 60-minutes New Britannia; the 12 x 60-minutes, Yahoo!-backed web series Failure Club; and the 16 x 30-minutes, Hulu-funded web show A Day in the Life (pictured below).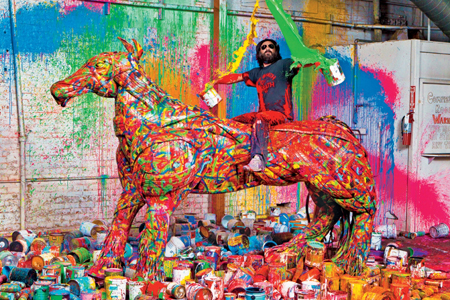 With the Hulu and Yahoo! shows, Spurlock says that part of the reason he has been keen to use the web platforms is that they have offered a much better ownership arrangement when commissioning, putting him in a stronger position as he now looks for international distribution.
"If you do a deal with a network, you're probably going to lose anywhere between 85% and 90% of your show," he says. "If you're a more established person you can have a more established stake, anywhere from 10% to 15% in the U.S., but when you're first selling a show you'll probably end up getting 5% of the net proceeds of that show, which could end up being next to nothing unless you're making something like American Idol.
"But what's happening now with Hulu is that we're a partner in that show – I own half of that show," he adds. "And with Failure Club on Yahoo!, I own half of that show. Even when we did the deal for [Spurlock's earlier series] 30 Days with FX, our partner in that show was Reveille, Ben Silverman's [former] company, and I owned a third of the show, Ben's company owned a third and FX owned a third.
"We were all equal partners with the network, which even then was unheard of," he adds. "But for me, as you looked at where the Internet was going, it was a really great place to have ownership of your IP, and as a creative you want that."
In addition to content ownership, a key focus for Spurlock has been in balancing the books with his work. While most feature documentaries end up losing money, he says every film he has made has returned a profit to its investors – even his largely panned, now somewhat forgotten 2008 sophomore doc Where in the World is Osama Bin Laden?
That said, the filmmaker sees his approach to distribution changing in the future. "The gross U.S. box office for Where in the World was under US$400,000, and Greatest Movie Ever Sold was under $700,000," he explains. "And it was after Greatest Movie where I started saying that we can't release movies like this anymore.
"When Greatest Movie came out, I was on [U.S. talk shows] Conan, Jimmy Kimmel and The Colbert Report all within an eight- or nine-day period. And then the movie opened on just 18 screens, so 95% of the country on just 18 screens, so 95% of the country couldn't even see the film – they didn't even have access to the film. At that point you need VoD, you need digital downloads, you need digital streaming."
Spurlock says he has learned from the mistake and improved upon the process with last year's Comic-Con, which he identifies as having a large potential audience of sci-fi and comic-book fans, by ensuring a day-and-date release across the U.S. on as many platforms as possible.
"This is a very passionate audience that I feel will really want to see this film," he says. "So how do we make them have access to that? We'll release the film on Thursday, to make sure we satisfy all of the Academy qualifying rules, and then Friday – 24 hours later – the movie will open; it'll be on VoD everywhere.
"It'll be on-demand, on iTunes streaming, on Xbox… any digital platform you can watch the movie on in the United States, you'll be able to watch it on.
"You need to capitalize on your window of opportunity, especially if you have no real P&A [prints and advertising] or marketing budget," he adds. "To really compete with the Iron Mans of the world you have to use the press to your advantage."
In addition to a day-and-date U.S. approach, Spurlock also oversaw a deal to make Comic-Con available internationally in some 30 territories via streaming on iTunes.
"The ripple effect of press now means you can't be holding films back – that's what the studios have learned and why they're having these big day-and-date releases of these big movies," he offers.
"Because if they don't, next thing you know there will be a pirated copy out in the middle of Australia where you've been holding it back for four months. We need to start mirroring a lot of the business approaches that the studios have learned."
Spurlock will look to build upon this thinking by rolling out his next film, Mansome (pictured below), on VoD after it receives a limited release via Paladin in mid-May.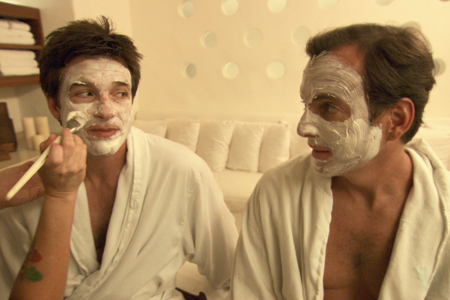 "It's my 'reunited with Ben Silverman' project," he offers with a smile. "It's a fantastically funny film about 'manscaping' and what it means to be a man in today's society, seen through the eyes of people who shave, groom and wax themselves a certain way."
Also in the works is a venture into serious scripted fiction, with a "big political drama that takes place in Texas," further details of which Spurlock is keen to keep close to his chest. Although the series was initially optioned by HBO, "we ended up just getting it back from them, so now we're shopping it elsewhere."
With so many projects on the go, the filmmaker says he will inevitably be appearing less frequently in front of the camera. His role in Mansome is a small one, and he is not onscreen at all in Comic-Con. Nevertheless, his work will always aim to maintain a characteristic blueprint.
"As things continue to grow, what's important to me is that you can still feel the imprimatur of me and what we do at my company, which is create smart, engaging, funny, aspirational and inspirational material," he says. "Things that I think can make an impact."
This feature appears in the current May/June 2012 issue of realscreen magazine. Not a subscriber? Click here for more information.
Morgan Spurlock's Super-Size Your Show session will kick off Realscreen West in Santa Monica tomorrow (May 30).