Realscreen's fourth annual West Coast conference took place over two sunny days in Santa Monica last week. Here, we recap all the news, views and award-winners from the sold out event.
It began with a winter rebranding, as the event formerly known as the Factual Entertainment Forum officially became Realscreen West, and ended last week with some 600 delegates heading home after two packed days of networking, panel discussions, speed pitches and awards.
Realscreen West 2012 kicked off at the Fairmont Miramar Hotel with a keynote conversation centered on the work of Oscar-nominated filmmaker Morgan Spurlock (Super Size Me, A Day in the Life).
Accompanied by Yahoo!'s VP and head of originals and video Erin McPherson and FremantleMedia Enterprises' senior VP of acquisitions and development Jeff Tahler, the session offered an insight into Spurlock's approach to the business of documentary making, and saw the director reveal that he and Yahoo! would be teaming up for a short-form web series based around the his latest feature doc Mansome.
Spurlock said he hoped some of the stars of the Mansome documentary would guest star in the series: "I'll be on once or twice and we're going to try and rope Will [Arnett] and Jason [Bateman] on a couple of times, and there will be a lot of special guests along the way."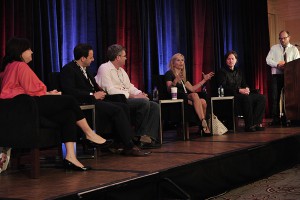 The opener was followed by a panel session (pictured above) discussing the art of 'hooking up' – the oft contentious area of new producers partnering with seasoned veterans to get their first shows off the ground.
Chaired by Studio Lambert USA president Eli Holzman and featuring execs from WME, Oxygen, Gurney Productions, One Three Media and Puddle Monkey Productions, the session saw a number of producers reflecting on the first time they partnered with a bigger, more experienced indie to make a show, with the consensus being that honesty and transparency were key to a successful pairing.
The first day also bought a spate of networking opportunities – at Agent One-on-Ones, leading representatives from WME, CAA, ICM Partners, UTA, Peleton Entertainment and Gersh Agency made themselves available to meet with producers; while the event's Luncheon Roundtables saw execs from truTV, A&E Television Networks, Discovery Channel, Travel Channel, Food Network and ABC Media Productions on hand.
In the afternoon, attorney Nicole Page chaired a session entitled 'Sharing the Wealth', at which representatives from DRG, Kinetic Content, ICM and National Geographic Channels U.S. discussed how content creators can adopt to more meaningfully exploit the rights for their programs.
And in the final session of the day, 'Playing the Field', a panel of execs – chaired by Nat Geo Channels U.S. CEO David Lyle – discussed how to tailor a pitch to appeal to a number of different buyers.
The session saw David McKillop, exec VP of programming for A&E Network and BIO, tell the assembled audience that rather than spend a lot of time on a universally accepted tape, producers should just call him up instead. Producers on the panel, including Original Productions' Thom Beers, 495 Productions' SallyAnn Salsano and A Smith & Co.'s Arthur Smith, also weighed in, advising producers to be upfront with networks if they are pitching projects to multiple suitors.
The first day wrapped with the anticipated annual Factual Entertainment Awards, taking place beneath the Fairmont's iconic 130-year-old Moreton Bay fig tree and hosted by pop superstar Lance Bass.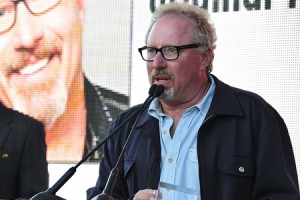 At the ceremony, Original Productions' Deadliest Catch was the big winner, taking home three awards as Original founder Thom Beers (pictured above) was inducted into the event's Hall of Fame. Accepting his induction, Beers paid tribute to the commissioners who had shown faith in his company's projects over the years.
"If it wasn't for the courage and convictions of a lot of network execs I wouldn't be here today," he said. He also had advice for younger producers entering the business, telling them: "Follow your passion – just go for it. It's so much better to ask for forgiveness than for permission. Work from your gut; work from your heart."
Reality star Kim Kardashian also accepted her induction into the Hall of Fame as personality of the year via a special video message – you can watch that here.
At the start of the event's second day, the focus turned to casting. At the 'Characters Count' session, moderated by Justin Hochberg of the Hochberg Ebersol Company, a panel discussed how, in a genre that relies on great characters, one charismatic cast member is often not enough for a reality series.
During the session, TLC's senior director of talent development and casting, Andrew Strauser, said that when Cake Boss star Buddy Valestro came upon his path, he needed more than just the bakery chef to propel a series, broadening the original pitch into one that included Valestro's sisters, cousins and the bake shop itself.
Following the session, the focus shifted to formats, with Zodiak Rights London MD Jane Millichip chairing a panel session examining whether constructed reality and docusoap hits could truly be exported as global formats.
The 'Formattable or Finished' session featured Leftfield Pictures owner Brent Montgomery, Electus International president John Pollak, Armoza Formats CEO Avi Armoza and ITV Studios America president and CEO Paul Buccieri.
The day continued with Distribution One-on-Ones, with execs from Beyond, Passion, DRG, SevenOne International and Cineflix Rights; and a number-crunching session entitled 'Extreme Budget Makeover,' which looked at the all-important process of budgeting a show.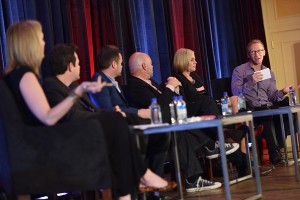 The final session of Realscreen West's two days was the most packed of the event. The 'Amping Up Unscripted' panel (pictured above) filled the Fairmont's Wedgewood Ballroom to capacity, as execs from USA Networks and AMC – newcomers to the reality commissioning game – took to the stage to discuss their unscripted wants and needs.
"By and large, we have a belief we can bring something new to unscripted," said AMC's EVP of original programming and production Joel Stillerman, while Heather Olander, USA's SVP of alternative programming spoke of her trepidation in entering the unscripted realm
"In a sea of massive success, I don't want to be the first to go down," she said.
The event wrapped with a networking cocktail sponsored by A+E Networks. This year's West Coast event was the first to sell out, coming after sister conference the Realscreen Summit – realscreen's annual Washington DC event – also sold out at the start of the year.
Realscreen's third and final conference of the year – the Branded Entertainment Forum – will take place at New York's Sentry Centers on October 23. Tickets are available now.
(With files from Kelly Anderson, photo by Rahoul Ghose)