Ahead of the unveiling of the bulk of the Toronto International Film Festival's non-fiction line-up tomorrow, doc programmer Thom Powers (pictured) talks to realscreen about this year's plans, which including expanding the annual Doc Conference to two days.
After last week unveiling its Galas and Special Presentation titles, the Toronto International Film Festival (TIFF) will tomorrow lift the lid on the bulk of its documentary line-up, unveiling titles that will undoubtedly go on to become some of the year's biggest docs.
But while last year was characterized by the impressive line-up of big name directors that launched films at the festival – including Werner Herzog, Alex Gibney, Al Maysles, Wim Wenders, Frederick Wiseman, Cameron Crowe and Davis Guggenheim – this year's line-up will feature more of an emphasis on new faces.
"Last year's docs line-up was notable for how many veteran directors were coming forward with new films," TIFF's doc programmer Thom Powers tells realscreen, "whereas this year's line-up is going to be notable for discoveries of new directors."
In addition, Powers says the festival is planning on expanding its annual documentary industry conference day, which last year hosted a lively conversation between Morgan Spurlock and Nick Broomfield.
"This year we are taking the Doc Conference and expanding it to two days, across September 10 and 11," says Powers. "Last year we showed the world premiere of The Tsunami & The Cherry Blossom by Lucy Walker, which went on to be nominated for an Oscar, and this year we'll see some other films premiering at the Conference – including at least one feature-length film in there."
So far, TIFF has only officially confirmed four docs for the festival – two of which will be Galas (Liz Garbus's Love, Marilyn and Shola Lynch's Free Angela & All Political Prisoners) and two of which will be Special Presentations (Maiken Baird's Venus & Serena, and collaborative doc Liar's Autobiography – the Untrue Story of Monty Python's Graham Chapman).
"This is the first time there has ever been two docs in the Gala section, and it's noteworthy that they're both directed by women," says Powers, who points out that Special Presentation Venus & Serena is also directed by a woman.
"I don't know really what conclusions I'd draw from that, but it makes me happy to see women directors getting opportunities with these films that operate on such a high-profile level. I think when it comes to docs there's a higher presence of women [directors] than in fiction."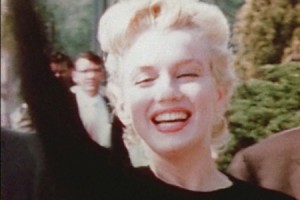 Of Garbus's anticipated and star-filled Marilyn Monroe doc (pictured above), Powers says: "It takes a very innovative approach in how to deal with these recently discovered boxes of books and letters. Liz decided to reach out to some of the most interesting performers working today [to voice the letters], although that's only one aspect of the film.
"But what was a revelation to me about this film is that Marilyn Monroe is such a ubiquitous figure in popular culture, but when you really get into the story, you realize how much you don't know about her. I think she emerges in this film as more of a three dimensional person."
Meanwhile, of Lynch's Angela Davis doc – which was a finalist in the MIPDOC Co-Production Challenge, co-presented by realscreen, in 2010 – Powers says: "Shola has a very sharp eye for telling historical stories in a fresh and vibrant way, and picking out stories that people vaguely know – or maybe don't know at all – and restoring them to prominence."
Following tomorrow's doc line-up announcement, TIFF will unveil a host of Canadian titles on August 8, with its 'Mavericks' selections following thereafter. The festival runs from September 6-16.