The Toronto International Film Festival will next month host the world premiere of Revolution, a doc about global conservation from Rob Stewart (pictured), the Canadian filmmaker behind Sharkwater.
The film, confirmed today as the festival unveiled a slate of titles from Canadian filmmakers, is a sequel of sorts to Sharkwater and has backing from Canadian pay-TV networks Movie Central and The Movie Network, as previously reported.
It follows Stewart on an adventure from photographer to environmental activist, as he struggles to "find the key to empowering the conservation movement so it can affect change on a global scale," according to the festival. Sharkwater was a box office hit in 2007 and picked up numerous awards, including a best documentary prize from the Directors Guild of Canada.
TIFF also confirmed today that this year's festival would play host to Sarah Polley's anticipated debut documentary Stories We Tell, as exclusively revealed by realscreen last month.
The festival bills the title as a "genre-twisting film" in which "Polley discovers that the truth depends on who's telling it." The director (pictured below) acts as "both filmmaker and detective as she investigates the secrets behind a family of storytellers. She playfully interrogates a cast of characters of varying reliability, eliciting refreshingly candid, yet mostly contradictory, answers to the same questions."
The doc will be a North American premiere, airing at TIFF shortly after having its world premiere in Venice.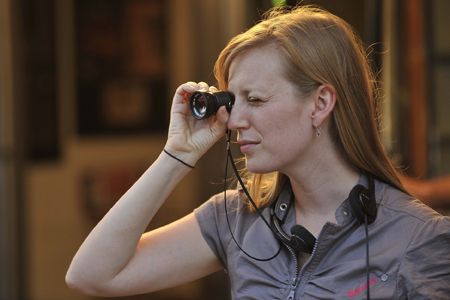 Finally, TIFF has announced that its Pitch This! competition, produced in association with Telefilm Canada, will return for its 13th year. The event gives six teams six minutes each to pitch their dramatic or documentary feature film idea to a jury in front of a live audience featuring more than 200 industry professionals.
Among this year's entrants is Unwanted, a film from Ed Barreveld and Rama Rau which looks at "cultures that, in the pursuit of sons, purposely practice female feticide and pressure women to bear male offspring, and the threat this poses to society and the human species."
TIFF's Pitch This! competition was last year won by a documentary entrant, with Allan Tong and Ngardy Conteh's Leone Stars picking up the CAD$10,000 prize for further development.
Check out a clip from Stories We Tell below: