To honor five decades of Thirteen, parent company WNET is launching Pioneers of Thirteen, a four-part series celebrating the anniversary of the flagship PBS station, which produces long-running series 'Nature,' 'Great Performances,' 'American Masters' and the original reality series, An American Family.
The New York station has begun airing interstitials with famous New Yorkers wishing Thirteen a happy 50th birthday; launched a commemorative website; and kicks off its celebration tonight (May 17) at 8 p.m.
Pioneers of Thirteen started with network execs digging into the WNET archives to make a short special, but finding such a wealth of material that the original length of the program had to be expanded.
"We thought we'd do a half hour show, but it turned out to be so rich we're doing an hour just on the 1960s," says Neal Shapiro, WNET'S CEO and president. "After that we'll do the '70s, '80s, and beyond."
The footage included in the first of the four-part series, which will see a quarterly release of each new part, features artists and musicians such as Andy Warhol, Ansel Adams and B.B. King, and the debut of the seminal TV series Sesame Street.
Historical moments such as the assassination of Martin Luther King Jr. are also included, which had a connection to the station. A Thirteen photographer, Joseph Louw, captured the iconic photograph of King's lieutenants pointing in the direction of where the shot had come, on the balcony of the Lorraine Motel in Memphis (pictured below).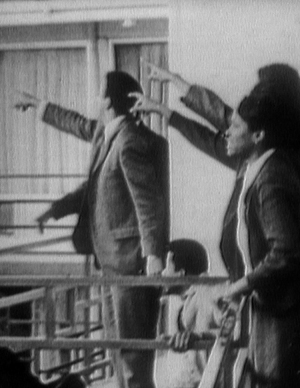 "We had an embarrassment of riches with the programming done over 50 years," says Julie Anderson, exec producer of documentaries and development. "It's just incredible. The decision to divide over decades made perfect sense."
There's a wide range of archive material from the station that began on September 16, 1962. Legendary newscaster Edward R. Murrow said in the inaugural broadcast: "Tonight, you join me on a great adventure… This instrument can teach, it can illuminate, yes, and it can even inspire, but it can do so only to the extent that humans are determined to use it to those ends."
The great adventure in the following decades has seen the pubcaster evolving with technology and styles of programming, but Shapiro believes that not everything has changed.
"In the beginning, a lot of that television tended to be very dry, the resources were very limited and the production styles were primitive," he says.
"Then as now, I think they tried to stay on the cutting edge. In the '60s, early on, there were stories about racial unrest and things that hadn't made the mainstream media and I think that's still true today," he adds.
In fact, the largest PBS local station is trying to stay ahead of the pack by launching a video and Web content sharing system, to encourage the sharing of arts and culture content among other public stations.
"The spirit of innovation of public television hasn't gone away," proclaims Shapiro (pictured below). "What we've done is created a pool for everyone to send us all of their content and if you look at it together across all public TV, we probably spend five or six million dollars among ourselves making content."
"But until now it's stayed within those local communities. The idea now is to bring it all to New York, we look at it and send back to local stations suggested shows, with scripts and everything. If the station doesn't have a lot of money or content that week, they can read the script, put the stories together and they have their own art show."
The initiative has begun, focusing on a weekly arts and culture magazine show, and will offer a template for other public television stations to add their own local spin.
It's innovations such as this that have led to the staying power of Thirteen, as well as being the producer of so many PBS flagship series, including 'Nature' and 'American Masters,' according to Shapiro (pictured below). In addition, WNET was the producer behind what is widely called the first U.S. reality series, An American Family.
"An American Family was really about an American family. What made it so compelling is that you could really see a family come apart and the stress and strains were real. This was real breakthrough television," he says.
In addition to the remaining parts of Pioneers of Thirteen, the station's 2013 schedule includes six-part documentary series Shakespeare Uncovered (w/t); Henry Louis Gates Jr.'s The African-Americans: Many Rivers to Cross (w/t); 'American Masters' profiles on Mel Brooks and Joseph Papp; and the three-part 'Nature' series Attenborough's Life (w/t), looking at Sir David Attenborough.
"Producing for public television is a challenging business," Shapiro says. "You're always trying to raise money to do things, unlike our commercial counterparts. There are not a lot of profits that flow out of it, but there's a satisfaction in doing it. There's a financial risk, but you're doing the work of the angels and I think that's what keeps us going."