As the Camden International Film Festival's Points North Forum kicks off today, CIFF founder Ben Fowlie (pictured left) and Points North director Sean Flynn (right) talk to realscreen about nurturing the New England documentary community.
Today (September 28) marks the start of the Points North Documentary Forum, a two-day event that forms part of the Camden International Film Festival (CIFF) in Maine, New England.
Taking its lead from similar events such as the IDFA Forum and the Hot Docs Forum, Points North aims to bring the international doc community together via a series of hands-on workshops, panel discussions, one-on-one mentorships, networking events and public pitch sessions.
The event is overseen by CIFF founder and director Benjamin Fowlie and Points North director Sean Flynn, who first introduced the industry element to the American festival four years ago.
"Sean and I were both living in Boston at the time and we saw the documentary community there had been very strong – it has a great history," Fowlie tells realscreen. "What we realized is a lot of time people go to New York for these events – or Silverdocs, Hot Docs or whatever – but there wasn't really anything for the New England filmmaking community."
The first year saw the team starting out small with a single day conference around basic issues, expanding in the second year to incorporate a public pitching forum. "Last year we took it even further, where it became two-plus days of programming which is, in a lot of ways we think, the future of our organization," says Fowlie.
The Forum this year welcomes a number of notable industry delegates, including execs from PBS's 'POV', DirecTV, Investigation Discovery, Cinereach, Boston-based pubcaster WGBH, Chicken & Egg Pictures, and Naked Edge Films.
And it has some buzz about it, based on the successes of past documentary projects. Lucien Castaing-Taylor and Véréna Paravel's recent TIFF hit Leviathan pitched at the Forum last year, and CIFF's opening night doc Betting the Farm also came to prominence during its development phase by pitching at the Forum.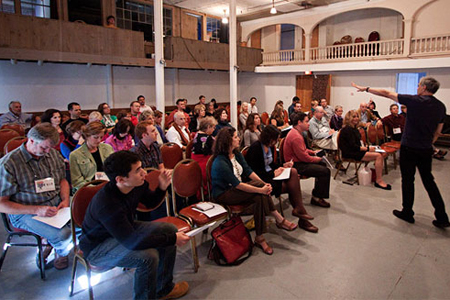 But is Points North now about attracting international filmmakers to come to New England to pitch their brightest ideas, or is it about offering a platform for New Englanders to pitch to the broader industry?
"We're a little bit in transition on how we answer that question ourselves," admits Flynn. "This year was actually the first year that we opened up submissions to pitch to filmmakers from outside of New England – we'd kept it exclusive up until now.
"We just wanted to cast a slightly wider net this year and see what projects would be interested. It is an expense for people to come up to Camden, but we were curious as to who was out there – and our submissions actually doubled this year. We had filmmakers applying from all across the U.S."
In the end, Fowlie and Flynn settled on eight pitchers for the Points North Pitch, five of whom are from New England. "We still wanted to stay true to those roots and provide this platform, and show all the great work that's being done in New England," says Flynn.
In addition, he adds that he and Fowlie have been discussing whether the public pitching forum-style format is viable long-term as an industry fundraising model – a question that has been much-discussed in doc circles in recent months.
"The way that we imagine the future of the Forum, we kind of see it going down parallel tracks," Flynn offers. "The pitching forum model has been a nice way to attract attention – it has visibility as an event and the filmmakers that do get selected tend to get very excited about it, as it's kind of a way to catapult them into the spotlight.
"So it does still serve that purpose. But we definitely recognize that it can only serve that purpose for a very small percentage of the filmmakers that apply, that are out there. So maybe even more important than the public pitch are these other sessions where we give people a chance to come in and set up a one-on-one pitch the way that they might do at IFP or at MeetMarket in Sheffield."
Flynn highlight the smaller roundtable discussions that Points North puts on "at a nice little restaurant overlooking Camden Harbor" as among the most valuable for filmmakers, since they are given a chance to connect with industry figures in a casual, intimate environment.
"We're not exactly trying to become a major market like Hot Docs and IDFA, and maybe to some extent Sheffield – those places serve those roles well," Flynn says. "Our primary mission is really to bolster and strengthen the regional filmmaking community."
Check out the Points North Documentary Forum website here.