Ahead of realscreen's third annual Branded Entertainment Forum in New York next Tuesday (October 23), we talk to the prodco and creative agency behind Spike's reality competition series GT Academy (pictured), which has brand backing from Nissan and Sony Playstation.
Dave O'Connor, executive producer at @radical.media, eventually takes the phone to chat with realscreen about the second season of reality competition series GT Academy following a last-minute rescheduling, and apologizes for having to shuffle the time.
Weather conditions in England, home to the Silverstone racing circuit where shooting for the series takes place, have been dismal – freezing cold and the second wettest summer on record, apparently. Not exactly optimum conditions for racing, or for shooting a series about racing.
Still, the exec producer behind the reality series which brings two brands – Nissan and Sony PlayStation – to the table as sponsors and indeed, as characters, is in good spirits about the second season, which will make its debut on Spike in the U.S. in October.
The series, adapted from a format that debuted with the launch of Europe's GT Academy campaign in 2009, follows the action as 16 Gran Turismo 5 gamers square off against each other in challenges on and off the racetrack in a bid to become a professional racecar driver.
Its U.S. debut on Speed last year garnered a 12% improvement on its timeslot over the previous year, and the series snagged a gold branded content Lion at the Cannes Lions this past June.
As one part of a multi-platform campaign executed with media agency OMD and creative agency TBWA\Chiat\Day, the series not only generated buzz for the brands, but it also worked as a valid entertainment property.
"We'd seen the European version of the show and knew that it was such an amazing format," says O'Connor. "Having seen the efficacy with which the show and the game actually trained a successful professional racecar driver, we knew it had potential. It needed a bit of format translation to make it right for an American audience, but we saw it as a great opportunity."
TBWA\Chiat\Day executive producer Brian O'Rourke says that with Nissan looking to reaffirm its "great racing heritage" in America, the idea of bringing a GT Academy series to the U.S., tailored to the American market, picked up speed fairly quickly.
Both O'Rourke and O'Connor think the success of the show, and the reason why it's seeing a second season beginning November 1, can be boiled down to the authenticity of the premise, and the natural role the brands play within it. It's not a far stretch to think that an avid racing gamer would jump at the chance to get behind the wheel of an actual racecar and take it for a serious spin around Silverstone. And it's certainly not a stretch to spot the potential for perfectly seamless product integrations.
"When we approach these branded entertainment projects, we ask ourselves, 'What is the Nissan character throughout this? What is the brand's character?'" says O'Rourke. "And it's much easier when the brand is essentially part of the plot. It goes beyond product placement and integration – it's part of the fabric of the story."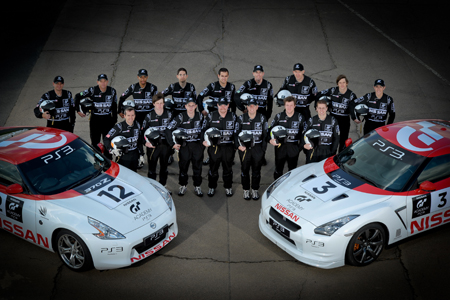 "Unlike a typical 'branded entertainment' show, one of the things that stands out about GT Academy is that it feels like an entertainment show," adds O'Connor. "And the branding, while prevalent, is so natural and baked into the story, it doesn't feel like you're taking a spoonful of sugar with your medicine. These brands need to be here to tell the story of what's happening."
But while the presence of the brands didn't provide too many challenges when it came to producing a bona fide reality series, O'Connor points to a few more typical considerations that could have provided roadblocks along the way.
"Coming from the reality show world, we didn't cast the contestants – they earned their place by being the best video gamers in a competitive national tournament," he explains. "So when wearing the reality producer hat, we had these competitors coming in who we had no ability to pre-screen or cast based on their abilities to be characters for the show. So that was a bit of a challenge – are these guys going to make great television?
"We found that they did – they all had interesting stories and good backgrounds. And the stakes of the show – how they all saw this as a potential life-changing opportunity – brought a lot of action and energy out of them.
"The logistical challenge was the reality of us trying to build a racecar driver out of a video gamer, doing that in a real, live racing situation and putting them through a professional racing academy where things can go very wrong very quickly," he adds. "There were a lot of tense moments, not the least of which was the final race which was a winner takes all scenario."
Indeed, both men say that while certain product categories – automotive, for example – lend themselves quite well to tension-laced, high-adrenaline competition-styled series, the secret to a successful integration is to simply find the point where the brand and the characters connect.
"With any great brand there can be an opportunity to tell an amazing story, because there's a connection you can make between the brand messaging and something that rings true to what people want to see," says O'Connor.
"Instead of bringing the brand's story to people, which is the traditional approach, we've been trying to bring forward people's stories and have them intersect with the brands," sums up O'Rourke. "And when you do that, a reality or documentary format can really work well."
@radical.media's Dave O'Connor and TBWA\Chiat\Day's Brian O'Rourke will talk further about their approach to GT Academy at realscreen's Branded Entertainment Forum in New York City on October 23. For more information, check out brandedentertainment.realscreen.com