From "real life sitcoms" to extreme singing competitions, realscreen looks at how more and more unscripted series are amping up the humor element in their programming and, in some cases, generating serious ratings.
Elaine Frontain Bryant, A&E's SVP of non-fiction and alternative programming, says that the original idea for Duck Dynasty (pictured above) was a different beast than the hit series that premiered its second season earlier this month.
When Gurney Productions first brought the project to her, its focus was more on the male members of the Robertson family and their love of hunting ducks. "It had a lot more male appeal than our current show does," she says, with "a lot of slow-mo shots of what the swamp looked like."
While she says her first notion was that it seemed more appropriate for History, there was something about the way the characters spoke on the tape that jumped out at her.
"They were funny without trying to be funny, which made the first light bulb go off," recalls Frontain Bryant. "They have a very iconic look which helps when you're trying to launch a new show; certainly those beards and the way they dress are unique.
"But there was a real regalness that came through," she says. "Even though they were talking about hunting, it was clear they're not just rednecks – they're very intelligent, successful people."
The Gurney Productions sizzle reel featured an interview with the matriarch of the Robertson family, Miss Kay, at the end and it sealed the deal for Frontain Bryant. She knew then the show could work as a reality series based on a family business, a formula that's worked for the network since Dog the Bounty Hunter and Gene Simmons Family Jewels.
"We were kind of off to the races at that point," she says.
But Duck Dynasty would prove to be a family business show with a difference, with a few more laughs than some of the others on air. "We realized that everything that came out of their mouths was funny, whether they meant it to be or not, and that was really the special sauce that was going to elevate the show from [being] just another family show," says Frontain Bryant.
"I think that Duck Dynasty has given the real life sitcom a kind of rebirth," she adds. "We hear over and over from other producers that every other cable network is looking for their version of Duck Dynasty."
Whether or not the networks are clamoring for another quack-happy family, one thing is clear when looking at the recent series generating buzz on U.S. cable nets. Comedy, or to be more precise, comedic reality, is increasingly clicking with audiences.
Another network that is bringing more comedic reality projects to its schedule is truTV. According to EVP and COO Marc Juris, the laughs need to be inherent in the show's source material, stemming from the concept, the cast and then, the crafting.
"While I've been told many times, 'I can make it funny in post,' I have never seen that to be true," he says. "What post-production does bring is the critical sense of timing. Comedy is about timing."
Both producers and editors need to have fine-tuned funny bones to make comedic reality fly, according to Juris. "It's critical that you understand the delivery of comedy, with a set up and a punchline in order to make it work," he says.
For one of truTV's upcoming comedic unscripted competition series, Juris took a pitch that wasn't even meant for the network. "Killer Karaoke… happened to be sticking out of a bag in a pitch meeting, and I'm always interested in the thing you're not pitching me, so I asked about it and we saw it," he says.
He saw the Zodiak USA series as a perfect companion to Wipeout, which truTV had recently acquired off-network rights for.
"It turned out to be a good thing that I'm nosy," he says. The "extreme singing competition" starring Jackass's Steve-O will debut November 23.
The Turner Broadcasting cable net also airs Impractical Jokers, a reality comedy that came to Juris and his team as a talent-based pitch of the cast – Sal, Q, Murr and Joe, members of the Tenderloins comedy troupe. "We thought they had such tremendous chemistry," he says, and they developed the hidden-camera dare show together with the cast.
But while comedic reality is catching on, network programmers and producer partners need to be sure that the laughs are on brand.
Viacom network CMT, which airs country music and lifestyle-related programming, currently features such titles as Redneck Vacation, Redneck Island and Bayou Billionaires, and has several light-hearted reality series on the way, including Chainsaw Gang and Trinity 911.
"We have a core audience with a very specific world view, which is a passion for having a hell of a good time," says CMT's EVP of development and programming, Jayson Dinsmore.
"They're not interested in heavy-handed producing or overly dramatic storylines." Dinsmore says the type of comedy that appeals to the CMT viewer is outrageous, but never offensive, adding that its shows aim to celebrate American culture, rather than exploit it.
Thus, the programming team looks for strong characters who are inherently funny and a bit loud and crazy – traits that are also reflected in the current crop of music artists that are hugely popular to CMT's viewers, such as Eric Church, Blake Shelton and Miranda Lambert.
"They seem to be unfiltered and very genuinely proud of being American," says Dinsmore. In order to find these strong characters, casting is key, but Dinsmore admits that finding an authentically funny character or family can be a "roll of the dice."
The most challenging thing about the burgeoning genre for Dinsmore, however, is the attention to detail that it requires. "Comedy is subjective and nuanced, and character-driven comedies are very different than a giant in-studio talent competition," he says.
"It's unexpected. They're not professional actors. We don't have a script. We have to work with what we capture on camera and then we craft it."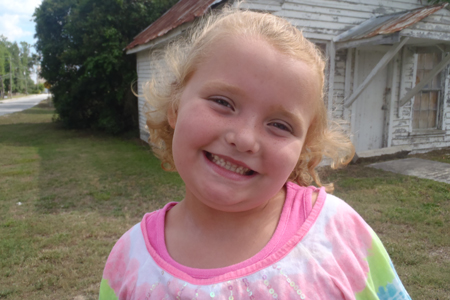 TLC GM Amy Winter describes the comedic reality content on her network, which ranges from Here Comes Honey Boo Boo (pictured above), to the long-running family business hit Cake Boss, as the product of a different shooting approach.
"I've seen shows where you can tell they tried to make a punchline out of an editing trick. I don't think we try to do that here," she says. "I think we try to loosen up the style to let you see the scene play out naturally and more often than not, that's far funnier."
With Honey Boo Boo, Winter knew TLC had a "funny little show" on its hands when the cable network decided to put Alana Thompson, one of the sparkly pint-sized contestants from Toddlers and Tiaras, front and center in her own series.
"Nobody really stole our hearts the way that Alana did when she appeared in that first episode of Toddlers and we found that her mom really resonated too," says Winter. "We felt that she's a character, her mother's a character – 'I wonder if there's more there.'"
Of course, there's the entire Thompson clan, including sisters 'Pumpkin,' 'Chubbs,' 'Chickadee' and dad 'Sugar Bear,' rounding out the cast.
The show has generated sizable ratings – it beat cable coverage of the Republican National Convention in the 18-49 demo in its timeslot, but tied with cable coverage of Bill Clinton's speech to the Democratic National Convention.
It's also attracted several negative reviews, with some critics calling the show exploitative, but Winter maintains that she doesn't put anything on air that is mean-spirited. "Of course, there are some series where we will show you warts and all, and we think Honey Boo Boo definitely lets some warts show, but I think that's part of the charm too," she says.
Winter says the network has taken a tip or two from scripted comedies such as The Office and Modern Family – sitcoms that are themselves direct satires of reality shows. Stripped-down music cues and "natural awkwardness" are two such elements that have made their way to the reality sitcom.
"We took a look at their approach… and said, 'You know what, they took some stuff from reality television and it's an opportunity for us to see where they've improved this model and apply this to reality television,'" Winter says. The network attempted it earlier this year with Leave it to Niecy, a "docusitcom" starring comedian Niecy Nash and her newly blended family.
"It was definitely a pacing change for us, learning from some of the great sitcoms that we see today," says Winter. So while it is a process to hit upon that "special sauce" of a solid concept, an authentically comical cast, and a comedy-savvy cutter, when it works, it can really work. But when it doesn't…
"If you start to talk yourself into the fact that it's funny, it's not funny," sums up Juris.