Ahead of the U.S. TV premiere of Crossfire Hurricane on HBO tonight, director Brett Morgen (pictured) talks to realscreen about making a doc to mark The Rolling Stones' 50th anniversary using outtakes from the most famous – and infamous – films in the band's personal archive.
When Rolling Stones frontman Mick Jagger called Brett Morgen (pictured) last fall and asked him to make a commemorative 50th anniversary documentary, the director balked.
Encompassing half a century in a two-hour film with less than eight months to do it was not an attractive proposition. He replied that a six-part mini-series might be a better approach but the 69-year-old rock icon insisted on something cinematic.
Morgen, a commercial and feature filmmaker best known for his documentaries The Kid Stays in the Picture and Chicago 10, was intrigued by the challenge: how to make a movie about a band that has already been filmed by the likes of Jean-Luc Godard, the Maysles Brothers, Peter Whitehead, Robert Frank and Martin Scorsese?
"I wouldn't expect anything from a film about The Rolling Stones at this point so it's an opportunity to do something really unique and blow people's minds," he tells realscreen.
Morgen agreed to direct the film if he could hone in on a specific narrative and Jagger agreed. Early on, he decided to focus on the period between roughly 1966 and 1981, a notorious and thoroughly documented time in the band's career that inspired landmark documentaries by many of the aforementioned filmmakers.
"The filmmaking process is a metaphor for The Rolling Stones," he explains. "The Stones were known for appropriating rhythm and blues and creating something new out of the traditional music that they were inspired by. What I've done is appropriate all of these films to create something new in its wake."
Crossfire Hurricane, which premieres on HBO in the U.S. tonight, is entirely comprised of stock footage and voiceover interviews with band members Mick Jagger, Keith Richards, Ron Wood, Charlie Watts and former members Bill Wyman and Mick Taylor. In taking this approach, Morgen's goal was to create an immersive, kaleidoscopic experience that is more about mythology than history.
The story begins when manager Andrew Loog Oldham decides to position the then-innocent London-based R&B group as the scruffy, anti-Beatles. The ploy works but it is not long before the Stones go from playing the part of hedonistic rock n' roll outlaws to living it. The film ends with guitarist Keith Richards' 1977 arrest for heroin possession in Toronto, an event that prompts the band to clean up its act somewhat.
Much of the footage used in Crossfire Hurricane comes from the Stones' archive, located just outside of London – a museum-like building that houses all of Mick Jagger's tour costumes, all of their recordings, and most of the films the Stones have been involved in.
In January, Morgen hired Global ImagesWorks president Jessica Berman-Bogdan, his go-to stock expert for the past 14 years, and researcher Jim McDonnell to search the major stock libraries and pull footage from the Stones' private archives.
Sources included music promos for "Children of the Moon" and "We Love You," as well as outtakes from Peter Whitehead's 1966 film Charlie Is My Darling, the 1966 concert film The Rolling Stones Rock and Roll Circus, The Maysles' 1970 documentary Gimme Shelter, and Robert Frank's rarely seen 1972 doc Cocksucker Blues.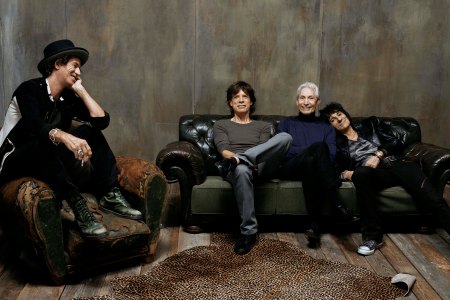 With less than eight months to complete Crossfire Hurricane, Morgen began reviewing footage in March, started editing at the end of April and locked the picture in August in order to have the film ready for its premiere at the London Film Festival in October.
"The difference between making an archival film now and in 2000 is one big thing called YouTube," says Morgen. "It creates challenges and frustrations but it also makes things easy."
The video sharing site became a starting point for the stock researchers. Morgen told Berman-Bogdan and McDonald to source every piece of Stones footage from the mid-1960s to the early 1980s that is on YouTube as their base minimum.
The biggest archive Morgen stumbled upon was the 40 hours of film shot by American photographer Robert Frank on the band's notorious 1972 U.S. tour for Cocksucker Blues. The doc became the subject of a court case when the band (pictured above), which commissioned the film, decided they didn't like its focus on backstage debauchery and attempted to block its release. A judge eventually ruled that Frank was allowed to screen it four times a year in an "archival situation" in which he is present.
After watching all 40 hours, Morgen says there are images in the archive "that I would rather erase from my memory."
"Robert Frank's covenant with the Stones on that film was they could never deny him access to anything," he explains. "That material is raw. It is illuminating. And after sitting through it for five days straight to get through all of it we really did need to take long showers."
Some of that never-used footage included shots of a roadie and a groupie asking the director to pass them a jar of Vaseline during sex, audio of Frank asking, "Do you think I'll be able to film Mick f******g?" and a shot of the director staging an emotional speech in the mirror over and over again.
"I think, unfortunately, the movie that Frank and Mick had discussed, Frank resisted," Morgen says. "Mick wanted it to be a combination of concert footage that would ultimately become Ladies and Gentlemen. Frank didn't want [to focus on] that concert stuff and I think it was a mistake. I think Cocksucker Blues is an interesting artifact but a very difficult film to sit through."
Morgen eventually spliced out-of-focus images from that film into a climactic performance of "Midnight Rambler," a song Keith Richards describes in the film as the essence of his creative collaboration with Jagger. It makes for the most viscerally thrilling sequence in Crossfire Hurricane but, initially, he received push back. Morgen countered it was key to the narrative and threatened to take his name off the film if it was axed.
"That sequence is the best illustration of my sensibilities as a filmmaker," he says. "[There are] lot of these gnarly, grotesque images I found from Cocksucker Blues but I found by presenting it in the context of 'Midnight Rambler'…  you suggest at this tawdry, ill-disciplined hedonism without really seeing it. But you experience it. I also think it's the single greatest performance on film in 50 years of The Rolling Stones."
The director conducted 80 hours of interviews with the band members, past and present, in New York and London. The most emotionally intense subject turned out to be Bill Wyman, with whom Morgen conducted four six-hour interviews. The ex-bass guitarist has published two books about the Stones but left out a lot.
"He goes, 'I left all this stuff out but I've got to get this off my chest' and he proceeded to pour his heart out to me," says Morgen. "It was incredibly emotional. It was probably the most intense interview I've ever been a part of. It was therapy. There's no other word around it. I think it was quite therapeutic for both of us to be honest.
"You learn as much about yourself from your subjects as you learn about them. It's sort of a symbiotic relationship," he adds. "My interviews would occasionally drift into a dark, dark place that was too dark for the purposes of this film. I generally would pull it back myself because there was no need to go there."
While a darker tale of the Rolling Stones' past 50 years in the music business might remain to be told, Morgen says he is happy with how Crossfire Hurricane turned out.
"I'm very proud of what we accomplished," he says. "Would I have liked more time? Of course I would have liked more time, but I think it's a wonderful addition to the canon of my body of work and their body of work in film."
Crossfire Hurricane premieres in the United States on HBO tonight (November 15) at 9 p.m. EST/PST and in the United Kingdom in two parts on BBC2 on November 17 at 10:15 p.m. and November 24 at 9:45 p.m.