Concluding realscreen's overview of every Central Pitch presented at this year's IDFA Forum in Amsterdam, the third and final installment of our report deals with gang leaders, Japanese society and the 2010 Gaza Flotilla.
(Part one of this report can be found here, while part two can be found here)
Samedi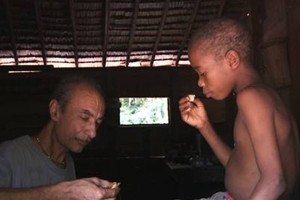 Director: Michael Obert
Production budget: €494,000 (ARD/WDR). Still needed: €124,000.
IDFA logline: "A father and son story from rainforest to skyscrapers."
Continuing the second day of IDFA Forum Central Pitches was Samedi, a doc showing a father-son journey, as the 13-year-old Pygmy boy of the title accompanies his father from the Central African rainforest to New York City for the first time. The film promises to offer fish-out-of-water escapades, as well as an exploration of why the father decided to abandon Western society in the first place to live with nature.
Lorenzo Hendel, commissioning editor for Italian broadcaster RAI's DOC3 strand, was among those offering praise for the project. "This is a great example of the stories we really like," he said. "It contains many universal stories that we can relate to."
Meanwhile, Madeleine Avramoussis, a commissioning editor for ARTE G.E.I.E., had questions about how the doc would reveal the protagonists' back stories. "The question that I had is how he perceived life in the rainforest," she said. "I don't get that back-story… I need to be filled in."
Also interested by the doc was BBC 'Storyville' editor Nick Fraser, who suggested the father-son relationship was the most interesting aspect of the film, rather than the contrast between two worlds.
"I think people will be clear about the film if the trailer had been more about his relationship with his son," he said.
Fraser also added that the film "doesn't need Jim Jarmusch," and said that the mention and inclusion of the Ghost Dog: The Way of the Samurai director in the trailer and synopsis (the film's subject is a friend of Jarmusch's, apparently) served as an unnecessary distraction. The latter point was echoed by several other commissioners.
One funder with doubts was Tribeca Film Institute's Ryan Harrington, who said: "I'd like to see some footage that resonates on a deeper level, and get a sense of some heightened stakes."
On the whole, however, the pitch was positively received. 'POV' executive director Simon Kilmurry said: "I think New York can be just as exotic a place in this film as an African jungle," and added that he wanted to see more footage of the son going forward.
A Gentrification Program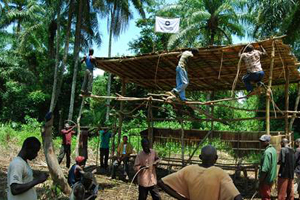 Director: Renzo Martens
Production budget: €442,000 (VPRO). Still needed: €350,000.
IDFA logline: "The film documents Renzo Martens' efforts to launch a process in the Congo, whereby the production of art will lead to gentrification. Plantation workers-turned-artists will be guided in producing critical art."
One of the more divisive projects of the 2012 Forum was A Gentrification Program, from Enjoy Poverty director Renzo Martens.
Where Poverty, which opened IDFA in 2008, stoked controversy by suggesting that impoverishment could be the Congo's biggest industry, Gentrification promises to see Martens take his provocative critique "one step further."
The director will go into the Congo to build a settlement, the Institute for Human Activities, which will encourage locals to create art. The most promising artists will then be flown around the world to meet those interested in their art and, crucially, will enjoy the revenue benefits of their creations.
The pitch seemed to divide execs into two camps, with execs either getting the pitch, or failing to understand it. Tribeca's Harrington was among those expressing unease with the film, saying he gets "a little nervous" about the tone of projects in which white characters from the first world come to the aid of black characters from the third world.
More enchanted was Iikka Vehkalahti, documentary commissioning editor for Finland's YLE TV2. "I love the provocation!" he exclaimed, before referring to the documentary, in a backhanded-compliment-sort-of-way, as being "documentary masturbation."
"My question to you is, what kind of documentary masturbation is this?" he asked of the slightly bewildered team.
Knowledge's director of independent production and presentation Murray Battle said he had faith in the filmmaker, having seen Enjoy Poverty, but admitted of the pitch: "I just don't get it," a sentiment echoed by commissioners from ARTE and other networks.
The BBC's Fraser accused the filmmakers of being "cynical" (a charge they denied) and 'POV"s Kilmurry said: "I am confused by it also, and uncomfortable with this kind of paternalistic tone."
Nevertheless, Vehkalahti rallied to defend the doc towards the end of the pitch, bemoaning "how often we make programs that are predictable" as commissioners. "I like this because it creates a confusion," he said.
The Devil's Lair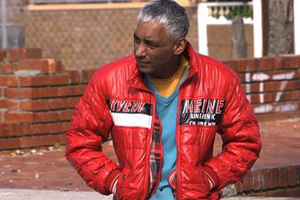 Director: Riaan Hendricks
Production budget: €146,000 (IDFA Fund, Britdoc Foundation). Still needed: €70,000.
IDFA logline: "We watch Cape-Flats gang-leader Braaim confront his violent past as he struggles to protect his young family while having to lead his men through a deadly drug turf-war."
With a strong trailer boasting fantastic access, The Devil's Lair presented a hard-hitting look at self-professed crime lord – and childhood friend of the director – Braaim, attempting to change his ways and escape from a life of misdeed.
The main thrust of the project's trailer seemed to show intimate footage of Braaim at home in Cape Town, South Africa, with his family, giving detailed instructions to a gang member on how to carry out an assassination.
The project comes backed by the Hot Docs Blue Ice Fund, among others, and director Hendricks told commissioners: "We have a large majority of our budget in place but we're looking for broadcast partners."
TVO commissioning editor Jane Jankovic praised the project, telling the pitch team "the access is unbelievable" and impressive. But she expressed concerns about why an ex-convict would allow himself to be documented so extensively in the film.
Hendricks replied that firstly, as a childhood friend, the gang-leader trusted him not to misrepresent him onscreen; and that secondly, while the trailer seemed to show the subject instructing a gang member on how to carry out a 'hit,' no one got killed and thus Braaim is not guilty of any crimes as seen in the action within the film.
Several commissioners responded that they found this line of thinking more than a little dubious. Patricia Finneran, producer for creative partnerships at the Sundance Institute's Documentary Film Program, was among those concerned by what she'd seen in the trailer. "Is this murder going to take place?" she asked.
'POV"s Kilmurry added: "It raises all kinds of interesting and troubling ethical issues. How much of this is real and how much of this is being constructed for the cameras?"
Tomoko Okutsu, NHK's producer for international coproduction and acquisition, also had concerns. "I'm not sure," she said. "I need to understand a bit more about the whole idea of everything. For me it didn't feel very 'documentary.'"
Last to weigh in was RTS commissioning editor for documentaries Gaspard Lamunière, who echoed the sentiments of many of the other commissioners. "When you say in the catalog the film is 'non-judgmental,' that's a real problem," he said.
The Visual Crash
Director: Yael Hersonski
Production budget: €319,000 (Channel 8 Israel). Still needed: €209,000.
IDFA logline: "Previously unseen visual documentation of the deadly raid on the 2010 Gaza Flotilla will uncover the dramatic gap between the chaotic real-time event and the virtual media event."
Heading into the final stretch, the IDFA Forum team seemed to have saved the best for last, with the final pitches ranking among the best of the two days. From realscreen's perspective, the best of the lot was The Visual Crash, which came courtesy of Yael Hersonski and Itay Ken-Tor, the director-producer team behind acclaimed 2010 Holocaust doc A Film Unfinished.
The project promises to be "a multi-perspective Rashomon," offering differing perspectives on a controversial event – the 2010 raid on the Gaza Freedom Flotilla. The raid consisted of a military operation by Israeli forces against six ships of the "Gaza Freedom Flotilla," resulting in nine deaths and multiple injuries.
The doc aims to show how the media's reporting of the event at the time used only a few video clips to construct a single narrative. Using previously unseen mobile phone footage and CCTV footage, the filmmakers propose to retell the raid from multiple perspectives, offering multiple counter-narratives of the raid.
ARTE Deutschland commissioning editor Katja Dünnebacke weighed in on the project first, telling the team: "I think it's a very well chosen example of visual manipulation – I would really be happy to bring it to German TV."
Meanwhile, Jason Springarn-Koff, a commissioner for The New York Times' online doc shorts program Op-Docs, said: "This project I find so interesting as a counterpoint to what's happening right now [in the Middle East]. Having seen the trailer, this really deepens my interest."
RTS's Lamunière was also positive. "This is the kind of project that really interests me – how news works and how images are used as propaganda."
Brakeless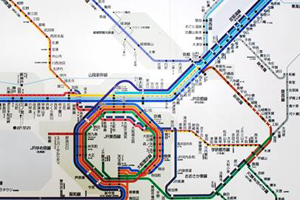 Director: Kyoko Miyake
Production budget: €290,000 (BBC 'Storyville'). Still needed: €147,000.
IDFA logline: "Through a fatal train crash and its aftermath, Brakeless considers fundamental aspects of Japanese society – punctuality and punishment."
The penultimate pitch of the 2012 Forum's public pitches came from director Kyoko Miyake, who previously pitched Beyond the Wave (aka My Atomic Aunt) at the Forum.
Using a Japanese train tragedy that left 107 dead as its basis, Brakeless looks at issues of discipline and timekeeping in society. The crash in question saw the late driver over-speed the train in an attempt to catch up with lag of just 80-seconds. The doc will question the rational of a society that takes punctuality so seriously.
Responding for Japan, NHK's Okutsu said that the accident in question "is still a really big talking point" in her country. "That being said, we have a really big in-house production team that's been covering this for a long time," she added.
TVO's Jankovic was among the enthusiastic commissioners, however, telling the team: "I think this is a fabulous story and very universal. The fact that Japan is pushing back on this issue is fascinating."
Ingemar Persson, SVT's head of documentaries, added that he found the film to be an "extremely interesting way to access Japanese society."
The pitch also found a supporter in Claire Aguilar, VP of programming for ITVS, who said of the project: "I think it's an incredibly fascinating visual metaphor," while 'POV"s Kilmurry added that he would love to see more of it.
E-Team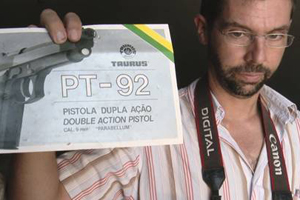 Directors: Katy Chevigny and Ross Kauffman
Production budget: €772,000 (National Endowment for the Arts, Tribeca Film Institute, Sundance Institute, Britdoc). Still needed: €526,000
IDFA logline: "Dramatic and crucial, the E-Team follows the intense and courageous work of three intrepid human rights workers on the frontlines of identifying international human rights abuses worldwide."
The final Central Pitch of the 2012 Forum came from Katy Chevigny (The Honor Code, Election Day) and Ross Kauffman (Born Into Brothels), and arrived with a healthy dose of anticipation.
Backed by Britdoc, Tribeca and Sundance, and featuring a notably high budget, the doc follows the work of a team of investigators charged with ascertaining whether or not international human rights abuses have taken place in conflict zones around the world.
The filmmakers plan to use Libya as a "jumping off point" for the doc, which will cover many international locations. "This is an independent film," they promised, "not hero worship." The trailer featured fantastic access and impressed many, with most commissioners keen to see more.
'POV"s Kilmurry said it was fascinating to get a behind-the-scenes look at how human rights abuses get documented. "We read these reports all the time, but we never really think about what goes into them," he said.
Yes Docu channel head Guy Lavie praised the project as being "very important," and remarked that Born Into Brothels was "the first film ever broadcast in Israel on Yes Docu."
Finally, WNET executive producer of documentaries and development Julie Anderson lent her support to the pitch. "I love the project," she said. "We're interested in three- to four-part series – if it would hold up as a short series, it could work for us."
Realscreen's top five picks of the 2012 IDFA Forum:
1. The Visual Crash
2. Prosecutor – A Modern Day Witch Hunt
3. Wind on the Moon
4. Brakeless
5. Cooper's Challenge