Last night (January 8) saw Canadian director Sarah Polley (pictured) scooping the Toronto Film Critics Association's highest honor, with her non-fiction debut, Stories We Tell, picking up the Best Canadian Film Award.
In addition to winning the gong – Stories beat Denis Côté's Bestiaire and Michael Dowse's Goon to take the CAD$100,000 prize – Polley also picked up the TFCA's 2012 Allan King Documentary Award, capping a rollercoaster few months for the filmmaker.
Stories We Tell enjoyed its world premiere at the Venice Film Festival last fall, with its North American premiere following at TIFF in Toronto shortly afterwards.
But the autumn launches belie the film's long birth – details for the project were first unveiled back in 2008, when it was named as one of the recipients of the inaugural CFC/NFB Feature Documentary Program, and the film has taken more than four years to come to screen.
The doc explores the director's complicated family history via the relationship between her mother and father. Blending recreations, old Super-8 footage, interviews and other innovative techniques, Polley creates an intimate and intriguing feature that examines the nature of family narratives, as well as her own.
Talking to realscreen last night at the TFCA's awards gala at The Carlu in Toronto, the 34-year-old discussed the challenges of making the film.
Stories We Tell was in development for a long time. Did it change a lot structurally over the years?
It did change a lot. I worked really closely with my editor Mike Munn and we were in the editing room on and off together for years. I think we really crafted together what the film was going to be out of the footage we were getting.
As we learned new things and got new footage it would slightly shift it and the structure would change – the structure itself was very complicated, so figuring that out specifically took a lot of time.
It's a very personal documentary, and during its festival launch last fall you spoke of the difficulty of discussing it. Do you feel more comfortable now talking about the film?
I do. It's still always an odd thing to talk about issues that are so personal, but I'm finding that what people are responding to are the more universal themes in it: their own family histories, and talking about themselves.
So in a way it's become easier than I thought it was going to be to talk about, because we're talking about the nature of storytelling, how you remember things in a family, and how you create a narrative out of your life, which are things that are interesting to talk about generally and in terms of other people's lives, not just my own.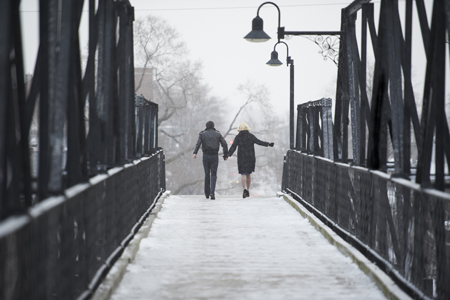 Given the success of this inaugural venture, do you feel that you would do further non-fiction films or docs?
I'm certainly a much bigger fan of documentary than I am of fiction film, and I always have been. I can sit through any documentary and be completely riveted, whereas my attention span for bad fictional feature films is very low. So I feel like I've always wanted to make a documentary.
I'd love to make more, but I think I'd have to find something I felt like I could explore well, and that I would be the right person to make the film. But also that I could do ethically – that, for me, is the biggest obstacle to making documentaries – to make sure that I'm treating subjects with a sense of ethics and humanity, which I think is a really, really hard balance to find.
How does it feel to get such recognition from the TFCA for your first non-fiction film?
It feels amazing – I just never imagined this film would have much of a life, to be honest, and it felt like something I really needed and wanted to do for myself and believed in.
But it also felt like a big break from my career and from the things I probably 'should be doing.' So to have this kind of recognition for this film specifically has really meant the world to me.