Some stories are stranger than fiction, others are "stranger than documentary."
That's how director Bart Layton (pictured above) describes The Imposter, his bewildering whodunit of a documentary that has won near-unanimous critical praise and grossed nearly US$2 million at the global box office.
Over the past couple of months, the co-founder and creative director of Raw TV – the production company behind hit Discovery Channel reality series Gold Rush and spin-off Jungle Gold – has been jet-setting from his home base in London to award shows and screenings in the United States.
Earlier this week (January 9), Layton attended the Cinema Eye Honors for Non-Fiction in New York, where The Imposter picked up the Best Production prize, before jetting to the Critic's Choice Awards in Los Angeles, where it was among the Best Documentary nominees. This week also saw the film pick up two BAFTA nominations.
"How you define the success of the film is constantly changing," Layton tells realsceen. "In that regard, The Imposter has surpassed every expectation we've had, especially in the UK."
The film tells the baffling case of Frédéric Bourdin, a serial con artist from France who, in 1997, assumed the identity of missing Texas teen Nicholas Barclay, secured a U.S. passport, and was welcomed with open arms by the boy's family despite looking and sounding nothing like him.
Layton pieces together the unlikely tale through a series of conflicting interviews with Bourdin, the Barclay family members, a dogged private eye and a skeptical FBI agent, archival footage and slickly shot recreations that are paced with the breathless feel of a Hollywood thriller.
"If it wasn't a documentary and real people weren't in it, people wouldn't be so gobsmacked by [the story]," he says. "It felt like part of it belonged in the real world and another part belonged in a Coen Brothers screenplay. I wanted to find a language for the film that reflected that – had one foot in a documentary and the other foot in a film noir."
Layton discovered Bourdin in a Spanish magazine that was gathering dust on a friend's coffee table in Spain. Intrigued, he read up on the imposter's various exploits and came across articles about his infiltration of the Barclay family. Two key questions arose in his mind: What kind of a person would deceive an anguished family? Moreover, why would that family fall for such an obvious ruse?
Despite not having a theatrical feature in his filmography, Layton and his Raw TV partner, Dimitri Doganis, felt the story would appeal to the kind of multiplex moviegoers that typically avoid docs and ambitiously set out to make something classically cinematic.
The first step was to persuade Bourdin to participate. Although initially circumspect, he agreed to fly to London to be interviewed on camera. The filmmakers then cut together a four-minute teaser and showed it to veteran doc-makers Simon Chinn and John Battesk (Man On Wire, Searching For Sugar Man), who signed on to executive produce.
As they secured financing from Britain's Film Four, A&E Indie Films, and several pre-sales deals, producer Poppy Dixon flew to Texas in search of the Barclays, who were difficult to track down and, once found, very uninterested in talking.
Still reeling from the media coverage surrounding the case, the family eventually decided that the doc would be a good opportunity to finally tell their side of the story in their own words.
"My intention was to allow all of these subjective accounts to coexist, coincide and conflict," says Layton. "The film was as much about the idea of the truth being what you want to believe as much as it is a story about deception; it's a story about self-deception."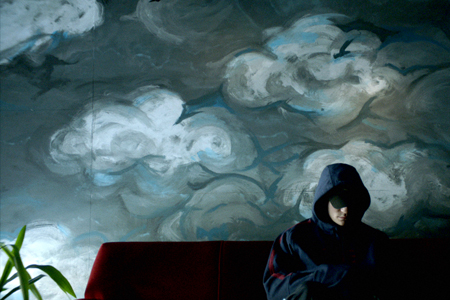 Once all the interviews were complete, Layton and editor Andrew Hulme (The American, Control) cut together the basic structure. The story would unfold in chronological order with each character introduced on screen as they entered the twisting tale, which begins with Nicholas Barclay's disappearance in 1994, flashes forward to the introduction of Bourdin three years later and then continues in unexpected directions. In the vein of a Hitchcock thriller, the audience knows only what the characters know when they know it.
With the structure in place, Layton began prepping dramatic recreations of the events as described by each character. He spent a week shooting in Madrid and another in Texas with cinematographers, art directors, set designers and costumers with experience on high-profile narrative features such as Les Miserables, No Country For Old Men and The Skin I Live In, many of whom signed on at less than their normal rates, he says, out of sheer creative interest in the project.
The reenactments are purposefully hyper-real and use subtle details, such as coloring and stylistic effects to guide the audience between the various story threads.
"I wanted to create something that doesn't look like documentary," explains Layton. "Most of the re-enactments have a subjective point of view. You go into each of the scenes through a point-of-view shot that becomes an over-the-shoulder shot. The idea is that you understand quickly whose version of the story you are inhabiting."
While The Imposter has a higher profile in the UK than it does in the U.S., Layton is now a much less risky proposition as a theatrical filmmaker than he was before Frederic Bourdin entered his life.
"I'm having conversations with people I would've been desperate to get a meeting with a year ago," he says.
For his next feature, he will return to this hybrid narrative-documentary approach for another "stranger than documentary" tale he hopes will star actor James Franco.
"James and I have been talking about it a lot and I'm hoping that he's going to be in it. There's something interesting about having a great Hollywood actor in a documentary," he says. "I think he's interested in challenging the form and doing something new and exciting. To me, it's not really about doing any of that for the sake of it – it is about finding a story and identifying the right way of telling that story.
"There's a way of telling the story where you preserve the truth of it, but it's not just a documentary or a drama," he adds. "If you get it right, it can be bigger than both of those things."