After venturing into the world of fashion with his portrait of Vogue editor-in-chief Anna Wintour, 2009′s The September Issue, director RJ Cutler – who also produced classic vérité doc The War Room and co-directed political doc A Perfect Candidate – is returning to the realm of politics with his latest documentary, The World According to Dick Cheney.
The Showtime-funded film, co-directed by Greg Finton, enjoys its world premiere at the Sundance Film Festival today (January 18) out of competition, and will get its TV premiere on the U.S. network on March 15, kicking off a new strand of original documentaries called 'Sho Closeup.'
The doc blends archival footage of Cheney's early years and most memorable moments in office with original interviews in which the former U.S. vice president reflects on his time working with President George W Bush, charting Cheney's journey from small-town Wyoming to becoming arguably the most powerful non-presidential figure America has seen yet.
Here, Cutler (pictured above) tells realscreen how he secured access to one of the most controversial figures in the 'war on terror.'
What first drew you to consider making a film about former vice president Richard Cheney?
Well, I'd made two other political films, that both now are around 20 years old – The War Room and A Perfect Candidate – and I had for a little while been thinking that I'd like to revisit some of the themes that I'd explored in those films.
About a year and a half ago, shortly after David Nevins became the president of entertainment at Showtime, he and I were talking about something we might do together, and he asked if former vice president Dick Cheney might be an interesting subject to me. And my initial reaction was that he very well might.
By his own description, he was the most consequential and controversial vice president this country has ever known, and because he's so polarizing, I think there's been very little that's asked the question of how he became who he was, and how he acquired so much power. Was there a guiding philosophy behind that and how did that form? Who were his principal and critical relationships?
As I started investigating these questions, I only became more convinced that this was something I was excited to do. And certainly, in part because of Cheney's 40-year relationship with [former secretary of defense] Donald Rumsfeld dating back to the Nixon administration, and many other things. So I told David Nevins at Showtime and we got to work on it.
Tell me about the process of approaching Dick Cheney and Donald Rumsfeld.
One of the things that I was advised and took to heart, was that if I was going to secure the former vice president's co-operation, it would require a lot of patience. Putting any sort of a time limit on it was a certain way to ensure that I would get a pass from him and his camp. So instead I wrote a long letter and chose the path of patience, and started working on the film in other ways – researching and working with archival footage and other things like that.
Showtime also had to back that plan, because they were financing a film that didn't know if its main subject was going to participate or not. And they agreed that this was the right way to go about things and they would support me in that approach.
About seven months after my initial inquiry, the [former] Vice President invited me down to the Washington area to have lunch with him and to discuss the project. We spoke for a couple of hours and about three months later he and I sat down for several days of interviews.
How long did you get to interview him?
I interviewed him for five hours a day for four days, and then on the fifth day he invited us to go fly fishing with him and we filmed him doing that.
The reason there was a gap of three months between our lunch and the actual interviews was because in the interim he had a heart transplant. Once he agreed to participate and support the film, we found it much easier to get the participation of Donald Rumsfeld and [Cheney's former chief of staff] David Addington, and those were the three critical people for me, as well as [Cheney's] family.
Were there any topics or areas that were off limits?
No. There were no topics off limits, there were no editorial rights – there wasn't even any discussion of that. And in the four days that I interviewed him, there was only one moment where he expressed any reservation about answering a question, which is in the film, when I asked him about the conversation that his then girlfriend and future wife, Lynne, had with him when he had been arrested for the second time for driving under the influence and had dropped out of Yale.
I asked about the details of that conversation and he said that he'd prefer to keep that private. But other than that he answered every question I asked quite openly.
Aside from The September Issue, you're perhaps best known for producing The War Room, a doc following American Democrat politicians. Was there any skepticism from Rumsfeld or Cheney about having you profile Republican politicians?
Well, A Perfect Candidate is very much about the Republican senatorial campaign of Lt. Col. Oliver North, and the men who ran his campaign in 1994 in Virginia. And that's a film which, like The War Room, has stood the test of time and been on the air continuously for close to 20 years now. And the former vice president was familiar with it or became familiar with it, and that was a big part of why he decided to move forward with his film.
In describing the film, what I told him was that I was eager for his story to be told in his words, and this was going to be the focus. No matter who the subject is, I'm making films that are character first. For me, the crux of this movie's power comes from the fact that in Cheney you have a character who demonstrates a lot of virtues or qualities that we recognize as virtues: fierce loyalty, vigorous intellect, patriotism, a conviction and passion. Even those who disagree with him politically would recognize those virtues as virtues.
Criticism of Cheney comes in the film primarily from commentators, rather than from a combative line of questioning. Was that a deliberate approach that you had from the offset?
I certainly present in my interview the point of view of his critics, but it's not my role in the film to be one of his critics. It wasn't my intention in interviewing him to put him on trial. It was my intention to have him articulate his point of view on a wide range of subjects – personal, professional, political and philosophical – and to allow other voices to challenge him, because that's what I was eager to do.
If you just get into a Fox News versus MSNBC debate, it gets very uninteresting very quickly. Here is an opportunity for us to really come to understand this man who is arguably the single most powerful and influential non-presidential figure this country has ever known, and is ever likely to know. And that's saying a lot.
Did you get a sense that some viewers, in approaching a doc about Dick Cheney, would be expecting you to put him on trial? And would be looking for a Frost/Nixon-style 'mea culpa' moment, which ultimately doesn't come?
Well, this is not a man in retreat. The power of this film is that, while the entire world changes around Dick Cheney, and while his key relationships – whether they be with David Addington, Donald Rumsfeld or George W Bush – completely alter, he remains the same. In fact, not just the same but even more convinced than ever of the rightness of his point of view, and even more adamant. It happened during his administration and it happened with his reflections.
With some characters, the story is the 'mea culpa'… and by the way, there's no 'mea culpa' in Frost/Nixon, it's the same moment! When Nixon says, 'if the president does it, that means it is not illegal,' [that moment is comparable to] the moment where Dick Cheney says [regarding torture] 'what's the matter, you're not going to do it, to preserve your honor?'
[Cheney] puts honor in conflict with duty. He says, 'are you going to do your job, or are you going to be honorable? Are you going to protect the country, or are you going to be afraid to be a mean and nasty fella?' Those are very direct defenses of his position.
There are other films where people come out many years later and regret the errors of their ways, but here's a man who remains today, in light – and some would say in spite – of all the evidence, as convinced as ever that his path was the right path and that he was successful. That's saying a great deal about who he is as well, and that to me is extremely revealing.
Also, further to your question about whether 'some would want a movie like this to put him on trial,' I would say that some would also want a movie like this to celebrate him. I mean, this is a polarizing figure, and he's a man about whom many have made up their minds.
As his biographer says in the film, there are those who will see him as being responsible for the debacle of the Iraq war, and certainly the American public has spoken out on what he calls 'enhanced interrogation,' and has rejected it as national policy.
On the other hand, we are still debating 'enhanced interrogation,' and it's come to the fore in recent weeks in the debate over Zero Dark Thirty, and in other ways. These hot-button issues, which Cheney often found himself at the center of, continue to be actively debated and are not necessarily settled.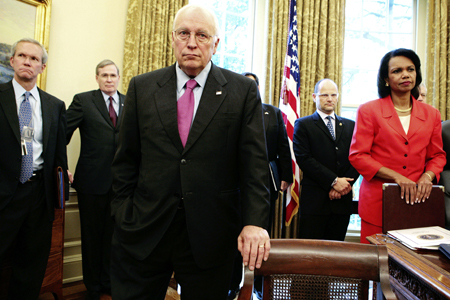 Did your opinion of Mr. Cheney change during the making of the film?
Well, my politics didn't change, certainly. But I think your opinion of a subject always changes if you get to know them – you develop a relationship with them. But what really struck me over the making of the film was that, while personally we couldn't be further apart on the political spectrum, I did come to recognize that he had many qualities that I recognized as virtuous.
The fact that he was willing to end his relationship with President Bush over his conclusion that Bush had been disloyal to [former Cheney advisor] 'Scooter' Libby, that's a fascinating quality; that fierce loyalty. And his impressive intellect, his conviction, his passion. I am a believer that democracy requires men and women of conviction and passion in order to function successfully.
At the same time, clearly, there's a point where conviction becomes dangerous and leads to demagoguery.
Has Mr. Cheney seen the film yet?
He has seen it, I screened it for him.
And how did he react?
Well, you'd have to speak to him – I'm not really comfortable speaking on behalf of the former vice president. But we did have what I felt was a fascinating and rich conversation about it afterwards, and I'd certainly encourage you to ask him what he thought about it. It's not my place to speak for him.
The World According to Dick Cheney premieres today (January 18) at The MARC in Park City at 5:30 p.m. MST, with subsequent Sundance screenings following on January 19, 22 and 26.