As the Impact Media Summit, kicking off in New York City today (January 23), prepares to honor PBS strand 'American Experience' with an outstanding achievement award, realscreen chats with EP Mark Samels and others about its 25-year legacy.
With the aim of creating a documentary series on American history for WGBH, the PBS affiliate in Boston, then-executive producer Judy Crichton and then-senior producer Margaret Drain created a program that would eventually become an acclaimed and award-winning institution.
Fourteen George Foster Peabody Awards, four duPont-Columbia Awards, and 30 Emmy Awards later, the 'American Experience' strand continues to pull in millions of viewers for the American pubcaster, even in this age of fragmented media.
In its previous season, Barak Goodman's two-part presidential portrait, Clinton, reached more than 10 million viewers; David Belton's The Amish captured more than eight million viewers; Stephen Ives' Custer's Last Stand garnered nearly 6.8 million viewers; and Ric Burns' Death and the Civil War nabbed more than 5.7 million viewers.
But instead of shouting from the rooftops about 25 years of trophies and accolades (including the latest – an outstanding achievement award to be presented at the Impact Media Summit, which begins today), Mark Samels, current executive producer for the strand, says the 'American Experience' team prefers to mark the quarter of a century milestone with a great television season.
"If you're a certain age, you want it to be noted but you don't really want it to be emphasized," he says. "We're quietly celebrating it ourselves."
However, he does allow that it is remarkable that the strand has survived a quarter of a century in a tough industry. "Twenty-five TV years to human years is like 165," he quips.
Samels is only the third executive producer to oversee 'American Experience,' following Judy Crichton, who held the role from 1988 to 1997, and who passed away in 2007; and Margaret Drain, who stepped up from her senior producer role into exec producing the strand in 1997. Samels took the reins in 2003, after serving as senior producer to Drain, and now works closely with current senior producer Sharon Grimberg.
Of Crichton and Drain, Samels says: "They'd established a peerless form of historical storytelling that really emphasized smart and deep research, careful attention to detail and accuracy, getting the right kind of commenter to comment on something, getting witnesses to contribute whenever possible, and putting stories in a really strong narrative form."
While he has taken that template and brought it forward, he's also steered the strand towards more contemporary storytelling, with non-narrated, witness-driven and hybrid programming.
"Increasingly over the last five or six years we've entered this space of borrowing dramatic elements from feature films [and combining them] with documentary elements and archival photographs and interviews, so we have this interesting blend that we're still tinkering with," says Samels.
The beginnings of what he calls "light recreations" came with a five-part series on Native Americans which aired in 2009, We Shall Remain.
"We were faced with three of the five programs being deep in the shadows of visual history," he recalls. "They were stories that just did not have a lot of supporting imagery. Rather than just show endless shots of empty spaces and sunsets, we decided to try to bring those worlds to life."
Stanley Nelson, who directed the miniseries' "Wounded Knee" episode, is a repeat 'American Experience' filmmaker, having also contributed with films Jonestown: The Life and Death of Peoples Temple; Marcus Garvey: Look for Me in the Whirlwind; and Freedom Riders – with the latter winning three Emmy Awards and an American Cinema Editors award.
"[With] a lot of stories in our history, nobody's spent the time, effort or money to tell them extensively and with depth. One of the great things about 'American Experience' is it gives you the opportunity to do that," says Nelson. "What they're asking me for as a director, producer and writer is to really get into the story in depth and that's rare."
Additionally, the films he's made for 'American Experience' have all gone on to have lives outside of their PBS broadcasts, and have screened at festivals including Sundance Film Festival and Tribeca Film Festival.
Nelson will be producing yet another 'American Experience' film for 2014, marking the 50th anniversary of Freedom Summer – a campaign launched in 1964 that attempted to register as many African-American voters as possible in Mississippi, which sparked both violence and progress.
Samels agrees that an important part of the strand's success is its ability to hone in on and accurately capture the great stories prevalent in U.S. history. "We have tried to tell meaningful stories that are relevant and enduring, and when you put those filters on the great scope and sweep of American history, you really narrow down the field," he says.
There is, however, a certain group of Americans that almost always presents the makings of great stories – the men who occupy the White House.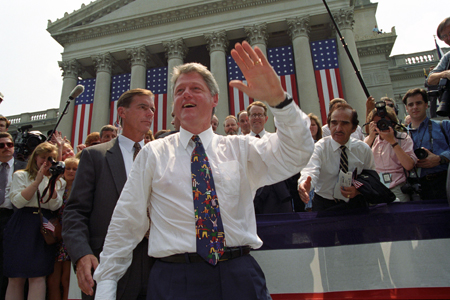 "There's no question that one of the things that we feel proudest about is our lineup of presidential biographies," says Samels.
With 15 documentaries on presidents ranging from George Washington (The Man Who Wouldn't Be King) to the most recent installment, Clinton (pictured above), Samels considers them to be the definitive biographies of the Commanders-in-Chief.
"We've been able to repeat them 10 to 12 years later and they really stand up. That's a huge legacy," he says.
Barak Goodman, who directed Clinton as well as the Peabody- and Emmy-winning My Lai for the strand, says that all of his 'American Experience' films were true collaborations with Samels and Grimberg.
"Mark likes films that are complicated and challenging – not films that are taking an easy black and white view of history, but films that really wrestle with nuances and the grays," he says. "I think we're really in sync that way."
In addition to the vault of presidential documentaries, which will see a John F. Kennedy addition next fall, Samels believes that another important element of 'American Experience' is its comprehensive approach to documenting iconic stories, citing Ric Burns' The Donner Party as an example. He also sees great value in the strand's focus on "American history beyond the founding fathers."
The Abolitionists, the drama-documentary blend that kicked off 'American Experience' earlier this month, leads a season that also includes Henry Ford, a biography of "the most influential American innovator of the 20th century"; Silicon Valley, a documentary about the early days of the tech hub; a look at forensic toxicology in Jazz Age New York via The Poisoner's Handbook; a doc marking the 75th anniversary of The War of the Worlds; and more.
Henry Ford, which Samels describes as featuring "a compelling mix of the story of someone who shaped the 20th century, but also a story of a father and son [with an] almost Shakespearian tragic relationship," was directed by Sarah Colt, who has helmed a number of other 'American Experience' documentaries, including the We Shall Remain episode "Geronimo."
Tasked with telling the story of an American legend, she looked closely at Ford's rise to success and what power and money did to him. "I think it winds up being a [story] where you can't believe it's unfolding," she says.
That's the challenge for 'American Experience' over the next 25 years – to continue to find new perspectives and new ways into old stories.
"I feel good that we're not only still around, but we're still working on new forms, telling new stories that haven't been told, and doing what we should be doing," sums up Samels.
This feature originally appeared in the January/February 2013 edition of realscreen magazine. Not a subscriber? Click here for more information.